Sterling Heights releases shortlist for its Golden Ring naming contest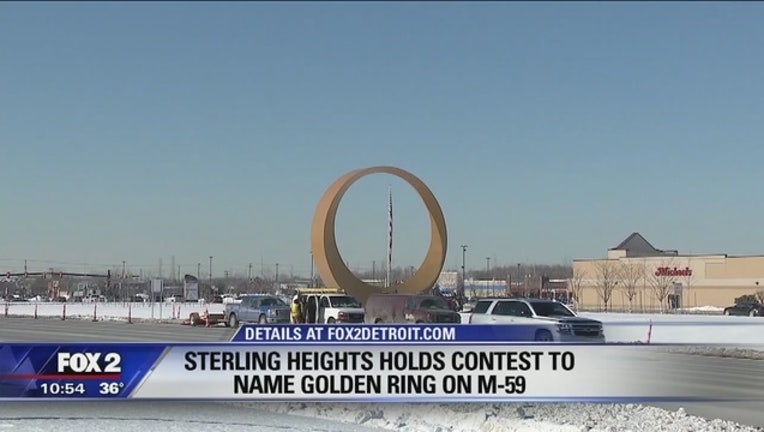 article
(FOX 2) - In the city's quest to rename its newest landmark, Sterling Heights has released the shortlist for the recently-constructed Golden Ring.
After considering 6,070 individual submissions, the naming contest has boiled down name possibilities to five potential names:
The Aurum. "Aurum" is latin for "gold." You might have seen the letters "Au" on the periodic table of elements, referring to the gold's chemical symbol.
The Halo. "Halo" refers to that ethereal disk of hovering light that some might have seen drawn over angels in paintings.
The Overture. "Overture" is an introduction into something substantial. 
The Sun Gate. You might have heard of cloud gate in Chicago. Well this mimics a similar asethetic when you stands facing east. In the mornings, the sun can be spied through the ring.
Standing "O": Short for standing ovation.
The original construction of the sculpture gave way to a branding snaffu when the creativity of the internet gave momentum to a more vulgar name. You'd have to be living underneath the golden ring to not have seen the news.
In keeping with the lighthearted nature of the naming contest, there was a list of funny submissions the city saw fit to share. Enjoy:
Bob, Steve, Pizza, Oprah's Bat Signal, Hall and Oates, My Precious, Ringy McRingface, 2008 Detroit Lions Wins Memorial, O Hall Yeah, Hall Road Hulahoop, One Ring to Rule the Hall, Sonic's Manifesto, Terrance, The Golden Cheerio.
Voting will be open until Midnight on Thursday, March 28. You can cast it here. The winner will be announced at 10 a.m. on Friday.