Storm moves up East Coast dumping snow, knocking out power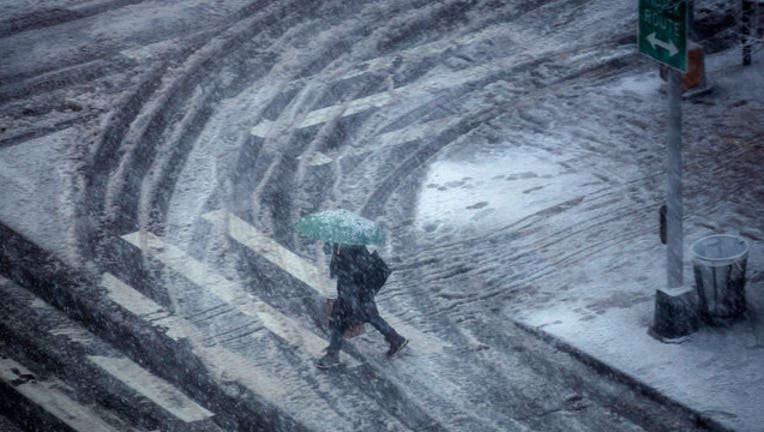 article
NEW YORK (AP) - The second major storm in less than a week moved up the East Coast early Thursday, dumping heavy snow and knocking out power to hundreds of thousands of homes and businesses from Pennsylvania to New England. 
Some places saw more than 2 feet of snow by late Wednesday. Montville, New Jersey, got more than 26 inches from the nor'easter. North Adams, Massachusetts, registered 24 inches and Sloatsburg, New York, got 26 inches. 
Major cities along the Interstate 95 corridor saw much less. Philadelphia International Airport recorded about 6 inches, while New York City's Central Park saw less than 3 inches.
The storm made traveling treacherous. Thousands of flights across the region were canceled. 
It was not much better on the ground. Members of the Northeastern University women's basketball team pushed their bus back on course after it was stuck in the snow outside a practice facility in Philadelphia. The Huskies were in the city to compete in the 2018 CAA Women's Basketball Tournament. The team posted a video of the feat on its Twitter account.
Amtrak suspended service between New York City and Boston until at least 10 a.m. Thursday. New York City's Metro-North commuter railroad suspended service on lines connecting the city to its northern suburbs and Connecticut because of downed trees. It was not immediately known when service would be restored.
"It's kind of awful," said New York University student Alessa Raiford, who put two layers of clothing on a pug named Jengo before taking him for a walk in slushy, sloppy Manhattan, where rain gave way to wet snow in the afternoon. "I'd rather that it be full-on snowing than rain and slush. It just makes it difficult."
The storm was not predicted to be as severe as the nor'easter that toppled trees, inundated coastal communities and caused more than 2 million power outages from Virginia to Maine last Friday. 
It still proved to be a headache for the tens of thousands of customers still in the dark from the earlier storm -- and for the crews trying to restore power to them.
In New Jersey, the state's major utilities reported more than 300,000 customers without power by late Wednesday, with some left over from last week. Utilities across the Northeast also reported tens of thousands of homes and businesses without electricity. 
The National Weather Service issued a winter storm warning through Thursday for most of New England as the storm continued to make its way through. 
In Worcester, Massachusetts, public works crews late Wednesday had a hard time keeping up with the snow.
"It's heavy. Well, it was so warm earlier that it just melted when it hit the ground and now it's heavy," said Jesse Nadeau. "It's the heaviest part of the storm right now for the next couple of hours. Heavy and wet."
In North White Plains, New York, 10 people were taken to hospitals with symptoms of carbon monoxide poisoning after running a generator inside a home, police said. All were expected to survive. 
In Manchester Township, New Jersey, police said a teacher was struck by lightning while holding an umbrella on bus duty outside a school. The woman felt a tingling sensation but didn't lose consciousness. She was taken to a hospital with minor injuries.