Strawberry outlook deemed 'promising' despite impacts from hurricanes, atmospheric rivers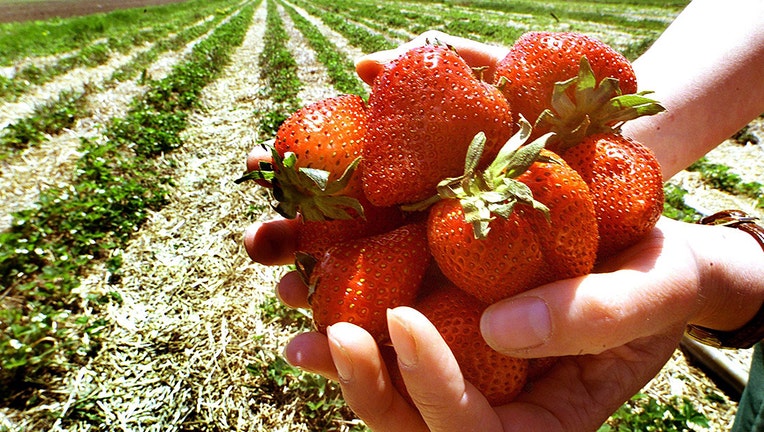 article
A heart-shaped fruit that is the favorite of millions has found itself in the center of disasters from coast-to-coast, but strawberry farmers believe the extreme weather will not be impactful enough to leave bare shelves for consumers.
The U.S. Department of Agriculture reports California and Florida annually produce a combined total of 98 percent of domestic production, with the Golden State accounting for the vast majority of more than 2 billion pounds of the crop.
A series of hurricanes in Florida and a parade of storm systems in California caused billions of dollars in damage, but agricultural specialists said when the disasters struck, farmers were not in full harvest mode, limiting their exposure.
"Both the hurricanes and December's arctic weather events have shown to moderately affect the volume of fruit in this year's crop. However, the taste has remained superior due to the cooler nights we have experienced," said Brianne Reichenbach, a director for the Florida Strawberry Growers Association. "Given we have now reached the midpoint of our season, the industry as a whole is behind last year's totals in volume of production. However, the plants are proving to catch up in production with the ideal weather we have experienced in the past few weeks."
NOT GETTING ENOUGH WATER? FIND IT WITH THESE HYDRATING FOODS
Sites are similar to California, where record-breaking rainfall led to an estimated 32 trillion gallons of water that fell in just over three weeks.
"We were fortunate that these storms came at a time when most farms are dormant, and thus farm worker jobs have had minimum impact," Rick Tomlinson, California Strawberry commission president, said in a statement.
The commission estimated that damages could reach $200 million dollars due to impacts experienced mostly in the central part of the state on some 1,840 acres of crops.
FLORIDA SUFFERS $1 BILLION HIT TO AGRICULTURE INDUSTRY FROM HURRICANE IAN
Due to Florida's harvesting season happening before the Golden State's and available imports from Mexico, impacts from reduced production on the 31,852 planted acres of strawberries could be minimalized.
"The rain washes the soil and improves plant health," said Tomlinson. "As soon as we get a few weeks of sun, the strawberry plants should recover in time to start harvest in the spring. With improved soil health from the rains, we should have a good season."
EARLIER: Kale, strawberries, spinach top 'Dirty Dozen' list for pesticide contamination
Despite the double whammy on each coast, over half a million strawberry lovers are expected to visit the country's largest festival honoring the fruit in Plant City, Florida.
The Florida Strawberry Festival is scheduled to take place from March 2 through March 12 and add an additional economic boost to the $300 million impact the fruit generates for the Sunshine State.