Striking UAW members have mixed reaction on visits from Biden, Trump
WAYNE, Mich. (FOX 2) - Although the UAW has traditionally sided with the Democrat party, striking workers at Ford's Michigan Assembly are looking forward to hearing from both President Joe Biden and former President Donald Trump.
We found the rank and file reaction is indeed mixed, with Biden set to join UAW President Shawn Fain on the picket line Tuesday.
Elytn Wheeler is one of many Ford workers with a take on President Joe Biden and former President Donald Trump meeting with auto workers this week, as the UAW's historic strike against the Detroit three continues.
"Actually I really don't like either one, so," Wheeler said. "I just don't like the taxes they use, you know what I'm saying? On the world. We all in a bad situation as it is. This is why we are out here striking - for more money."
"Hopefully he's on our side. I would expect that," worker Jazante Orr said. "He says that he's labor-friendly so I hope that he does come with some good intentions to benefit us."
Trump will meet with about 500 workers Wednesday at Drake Enterprises, an auto parts supplier in Clinton Township.
"I like it as well. I don't believe the UAW should be limited to Democrat or Republican," Orr said. "I believe we should hear both sides and whoever is for us, I believe that's who we should support. "
"Well hopefully there's no fighting and him and Biden can stay neutral," said worker Fallon Ferguson. "But I feel like that's a good thing too. Our old president's coming, he's supporting us. Biden is supporting us, so more love, the more the merrier."
The stakes get higher every day. The union says they are closer with Ford on striking a deal than they are with Stellantis and GM.
Related: Visits by President Biden, Trump to UAW workers this week underscore significance of strike
Unifor which represents Canadian workers, ratified a three-year agreement with Ford and have now turned their sights on to GM to strike a deal.
"President Biden is coming here to I think, help fulfill his promise to be the most pro-union president we've ever had," said Dave Dulio."I think it would look a little strange if he didn't show up and support them and try to make that claim. "
Dulio is a political science professor at Oakland University. He also weighed in on the impact of Trump's visit.
"In 2016 when he came to Michigan and campaigned on issues mainly around trade and manufacturing jobs, and talked to voters, many of whom worked for Ford, Stellantis, GM suppliers, and talked about backing out of, redoing NAFTA, backing out of the Trans Pacific Partnership - which he did, renogiated NAFTA and I think he's going to try to talk to those same voters in that same way."
Stellanbtis released a statment about the visits saying:
"On the first day of the strike, President Biden said UAW workers 'deserve a contract that sustains them and the middle class.' We agree and presented a record offer. Here are the facts: 21.4% compounded wage increase, $1 Billion in retirement security benefits, inflation protection measures, job security and more.
Unlike the non-unionized transplants and EV startups who comprise the majority of the U.S. market, Stellantis relies on the collaboration between management and labor to ensure that our company remains competitive, and, therefore, sustainable. That is a position we have proudly embraced.
But it also requires a balanced agreement that fairly rewards our workforce for their contribution to our success, without significantly disadvantaging Stellantis against our non-union competitors. We stand ready to sign a record contract that positions our company to continue providing good jobs here at home and be the winner as the U.S. transitions to an electrified future."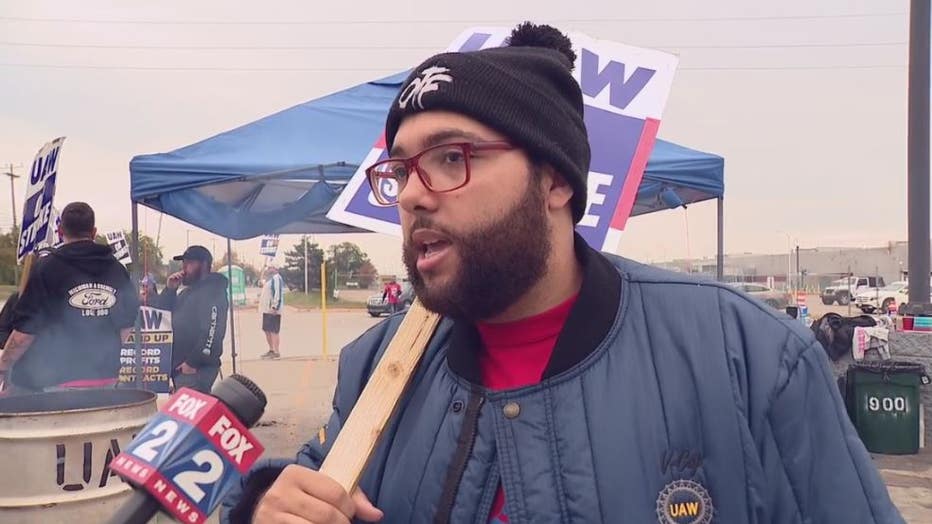 Striking UAW member Jazante Orr