Suspect shot by Detroit police after opening fire on squad car, gets arrested
DETROIT (FOX 2) - A suspect is in custody after a police-involved shooting Friday night on Detroit's northwest side at San Juan and Puritan streets.
The suspect fired shots at officers in a Detroit police cruiser with at least one bullet hole visible in the windshield. No officers were wounded. A police officer shot the armed suspect, wounding him.
Officers caught up with the suspect after he hid inside a house, and took him into custody. The man is hospitalized in stable condition.
"These officers day in and day out are the bravest in the country," said DPD Assistant Chief Charles Fitzgerald. "They were being fired upon, they kept their cool, they did everything they were trained to do. They followed him, another gunfight ensued. And they still had the wherewithal to set up a perimeter. Thankfully the suspect is in custody and getting the medical attention he needs."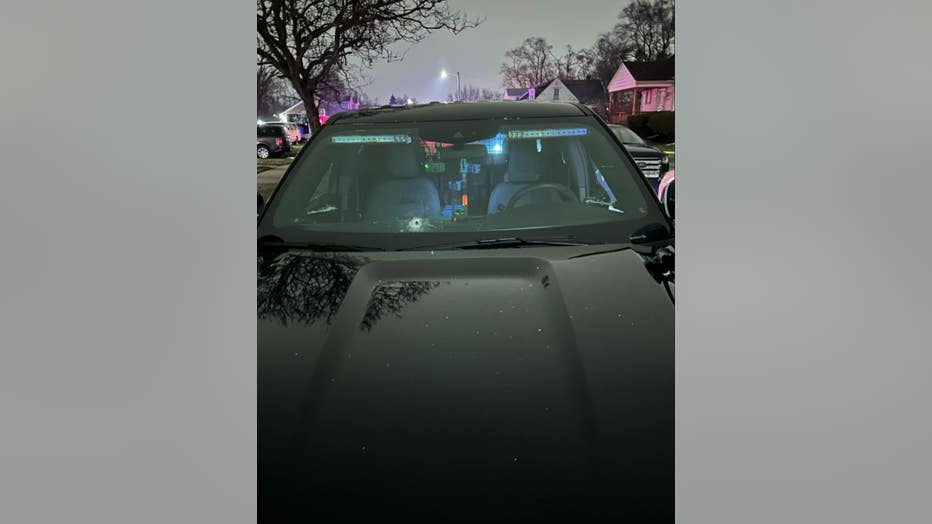 A Detroit police cruiser with bullet holes visible from Friday night.
According to Michigan State Police, K-9 units were assisting with the evidence search and troopers were handling traffic in the area.
Stay with FOX 2 for more information as it becomes available.