Ted Lindsay public visitation today at Little Caesars Arena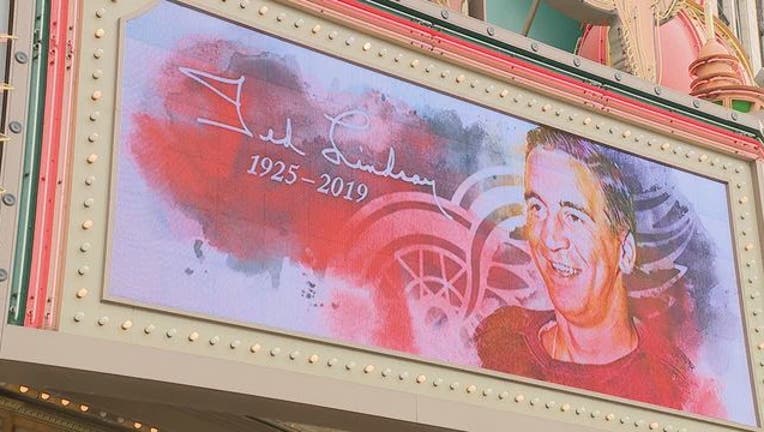 article
DETROIT (FOX 2) - Hockey fans will have the chance to say farewell to a Red Wings legend Friday at Little Caesars Arena. 
The public visitation for Ted Lindsay begins at 9:07 a.m. and lasts until 7:07 p.m., the time being a tribute to his number "7" which currently hangs in the rafters of Little Caesars Arena. It's one of only eight Red Wings to earn that honor.  Lindsay died while in hospice care earlier this week at the age of 93. 
For those attending, enter the arena through the Meijer Entrance, which is located at the southwest corner of the arena. There you'll be able to see the Ted Lindsay statue and sign a tribute banner which will be presented to the Lindsay Family. You can park in the Henry West Garage (128 West Fisher Service Drive) or Little Caesars Arena Garage (165 Sproat Street).
After proceeding down the arena stairs or elevators to the event level, fans can walk onto the carpeted ice of Little Caesars Arena, where Ted Lindsay will lie in state inside the arena bowl. Members of the Lindsay Family will be present to greet the public, and various historical artifacts will be available for viewing throughout the arena.
Known as "Terrible Ted," he scored more than 800 points during his incredible 17-year career and won the Stanley Cup four times. He was also the first player to ever lift the cup over his head and take a victory lap, starting a tradition that continues to this day.
Off the ice, Lindsay was a pioneer in the formation of the National Hockey League Players' Association, which was instrumental in raising player salaries. He also started the Ted Lindsay Foundation, which has raised millions of dollars for autism research. 
Lindsay retired after the 1964-65 season, but he did not sit still. In 1966 he was inducted into the Hockey Hall of Fame. In 1972 Lindsay was a part of the NHL's national broadcasts as a color analyst. And in 1977 lindsay was named Red Wings general manager. 
In November of 1991 the Red Wings retired Lindsay's number 7 and Alex Delvecchio's number 10 together. And in 2008 the team commissioned an original statute of Lindsay for the Joe Louis Arena concourse. 
However, the biggest honor came from players when the NHL Player's Association renamed the Lester B. Pearson award the Ted Lindsay award back in 2010. It's Given to the league's most outstanding player.
It was a fitting honor for Terrible Ted who may be gone - but who can never be forgotten.
A private funeral is being held on Saturday, March 9.