The American's with Charlie LeDuff: Missouri Governor activates National Guard in Ferguson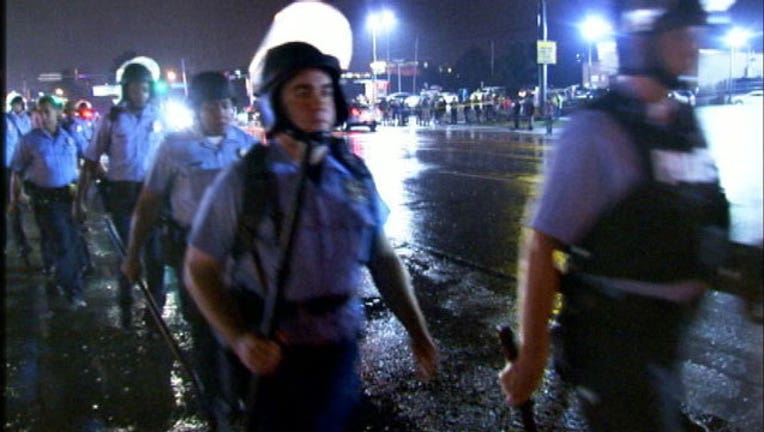 article
Ferguson, MO - As the grand jury prepares to decide whether to indict a white Missouri police officer who shot and killed a black teen, activists are preparing to protest the decision and on in anticipation of the announcement, the state's governor activated the National Guard.
Missouri Gov. Jay Nixon declared a state of emergency Monday and activated the National Guard in advance of the decision. Nixon said it would assist state and local police as needed.
The decision is looming over the St. Louis suburb and the nation and Charlie LeDuff is traveling to Ferguson for special reports of The Americans with Charlie LeDuff. The Americans team will be providing live images and video to this page as well as The Americans YouTube channel.
LeDuff spent some time in Ferguson immediately after the shooting and during the subsequent protests of the killing of Michael Brown. 
Brown, who is black, was shot and killed by Officer Darren Wilson, who is white, on Aug. 9. Weeks of protests followed the shooting and some of the unrest included looting and rioting. Many businesses along West Florissant Avenue in Ferguson, a St. Louis suburb, still have boards on their windows.
There is no indication an announcement is imminent and there is not a specific date for a decision to be revealed.
During the first days of mostly peaceful protests, police donned riot gear and patrolled in armored vehicles, drawing widespread criticism and raising questions about a program that supplies surplus military equipment to local police departments.
A small number of protesters attacked squad cars, tossed molotov cocktails at officers and, in a few cases, shot guns in the direction of police, who responded with tear gas, smoke canisters and rubber bullets. On many nights, dozens were arrested.
St. Louis County police initially handled security, but criticism of their tactics prompted Nixon to put Highway Patrol Capt. Ron Johnson in charge. He and other police leaders said the response was necessary to protect officers, protesters and the public.
This time around, officers have undergone a combined 5,000 hours of training and police leaders have reached out to civil rights and protest groups to urge cooperation. Last week, a coalition representing more than 50 activist groups asked St. Louis County prosecutor Bob McCulloch for 48 hours' notice before a grand jury decision is announced, saying that will allow them to help prevent violence.
Information from the Associated Press was used in this report.