'The Masked Singer' reveal: Pickle sent home, but not before roasting everyone
LOS ANGELES - "I hope you don't mind. I hope you don't mind…" us telling you who was underneath the mask during tonight's "The Masked Singer" reveal. 
It was "A Celebration of Elton John" on Wednesday's episode and what better to way to give such an iconic artist his flowers than by dedicating an entire night to him on one of America's favorite singing shows. 
And an eventful night couldn't go by without another epic reveal.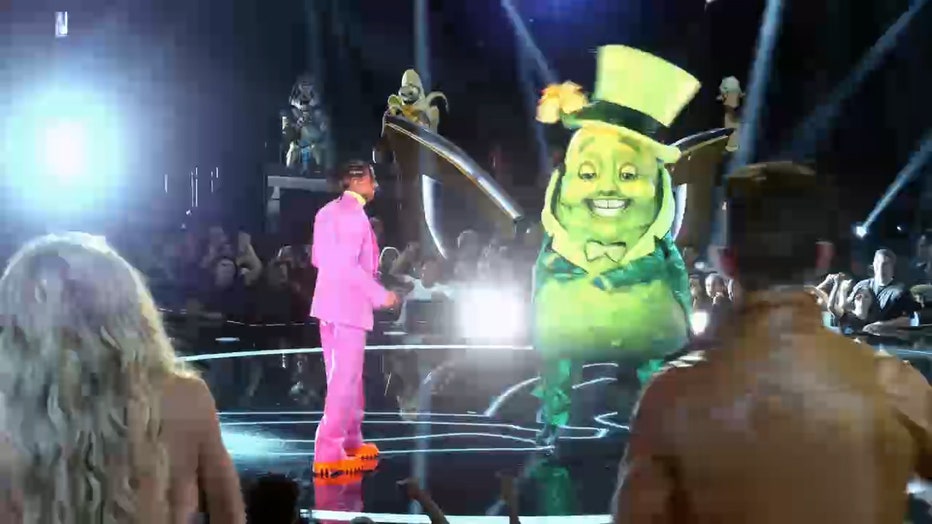 "The Masked Singer" reveal for Wednesday night. Pickle gets sent home.
The Pickle was in quite a, well, pickle, and was the latest contestant to be sent home from the "Masked Singer" stage. 
RELATED: 'The Masked Singer' NFL Night: Diver revealed, swims out of the competition 
Michael Rapaport, famed comedian, actor and director, was revealed as the giant vegetable. 
Host Nick Cannon razzed Rapaport, saying he knew the comedian very well and could tell Rapaport was not the happiest camper after being revealed.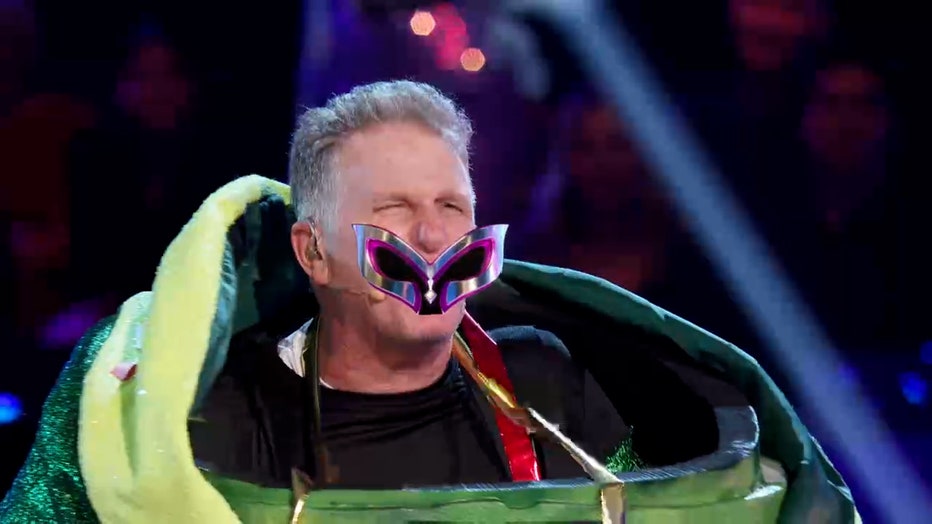 Michael Rapaport was revealed as Pickle on "The Masked Singer." (FOX)
"This is a personal friend of mine," Cannon said. "He is a real competitor and I know he's really mad that he did not win 'Masked Singer.'" 
Rapaport, who is known for his rants and boisterous personality, began to roast the panelists and even had to be censored for his colorful language. 
Ken Jeong praised Rapaport after his rant, to which Rapaport replied, "Oh no, I didn't just do great, I did fantastic! I was unbelievable!" 
"In all seriousness, I had a great time. I love the show. I love Nick, I love all of these guys (panelists). The crowd was great. I hope they're feeding you. It was awesome," Rapaport said. 
RELATED: 'The Masked Singer': Rubber Ducky sent 'quacking' after 1st reveal of Season 10 premiere
About "The Masked Singer" Season 10
The new season returned with an all-new format with three incredible groups and a special Battle Royale semi-final.  
Like previous seasons, Wild Card contestants have returned to shake up the competition with one Wild Card introduced to each group.  
The "Ding Dong Keep It On Bell" also came back, allowing judges to choose to save a contestant from elimination and move them directly into the finale. 
The season will continue to feature iconic-themed episodes including "Trolls Night" and "Harry Potter Night" during Halloween week. 
RELATED: 'The Masked Singer' makes splash with costume reveal for upcoming 10th season 
"The Masked Singer" Season 10 airs Wednesdays at 8/9 p.m. ET/PT on FOX. 
This station is owned by FOX Corporation.