This dream car rental business is a nightmare, say customers
FOX 2 (WJBK) - Sam Zahr is not a felon.
"I am not a felon," he said.
But some customers of his luxury car rental and limo business say he won't give them back their deposits.
Some say he tricks them out of the fancy-pants cars they reserved - right before their events.
Others say he changes his company name to baffle them.
Some say his employees run defense protecting Sam Zahr - and when they do get to talk to him some say, he's just mean.
"He starts yelling and screaming, and he wants to fist fight with me," said former customer Hafez.
But whatever you say about Sam Zahr, don't say he's a felon, because he's not.
Rob Wolchek: "You were convicted of eight felonies."
"Yeah. Now I am not," Sam said. "I am not a felon."
And why he's 'not' a felon might surprise you.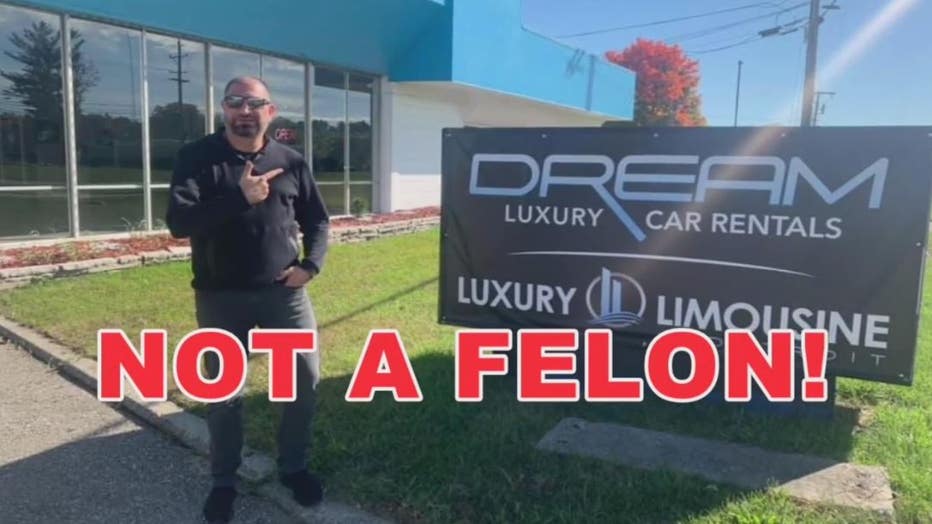 Dewey got married last summer.  He reserved a fancy ride as a surprise for his new wife.
"So we booked a Rolls-Royce Phantom that he had available," Dewey said. "And on the day before the actual wedding, he told me that the car got in an accident."
They offered to switch Dewey to a Cadillac Escalade, but he didn't want that.   

So they promised to return his deposit of $923.
Dewey shared the deposit receipt on the Rolls-Royce that "they" didn't have for his wedding day, but he says he never got his deposit back.
Dewey went to Dream Luxury Car's Southfield office several times, and he was always promised his deposit back - but Sam was never there to get it to him.
"I sent him multiple requests, three or four in a row," Dewey said. "And he didn't answer not one of them. So to be honest, it's not looking like he has the intent of doing it."
Dewey shared a phone camera video: "No. We're going to pay you," said an employee of Sam's. "You didn't use the service you're going to get your money."
But he hasn't.
JJ reserved a Bentley, and put down $1,500 to hold it for last year's Fourth of July weekend.  
"The morning of, she called me and told me the vehicle had been in an accident.so I had to pick between three other vehicles that were on the lot," JJ said.
Boy, another accident - the day before the event.
She took a different car - a Corvette. She ended up paying the exact same amount as the Bentley.  Her $1,500 deposit was supposed to be returned to her when she brought the car back. But one of Sam's employees told her.
"'I don't know what to tell you, I don't have your money, Sam does, and he's out of the country,'" JJ says she was told.
So she sued  and won a judgment of $1,700  but hasn't been paid a dime.  
Former customer Patrice got the last-minute "It's been in an accident" excuse when she rented a Rolls-Royce for her daughter's prom.
She was offered an Escalade as a switch but turned it down. She got her $1,600 deposit back, but says it wasn't easy.
"I'm kind of teed off because if we gave you cash, you give us cash back," Patrice said. "Not a check."
Hafez reserved a Mercedes for his son's wedding. But at the last minute -
"He said it's not available, it's at the shop for repairs," Hafez said. "So he got a Corvette instead. Now the Corvette was empty of gas, and didn't have air conditioning, and it was summertime."
Hafez returned the Corvette after the wedding and says he mentioned to a worker they were disappointed in the replacement vehicle.
"He called the owner Sam; he came over with a really angry face," Hafez said.
Hafez, who stands about 5 feet, 7 inches, was confronted by Sam, who's 6 feet, 4 inches.
"He was ready to do damage to me," he said.
Former customer Amy says Sam went crazy on her as well, over the phone.
"I had to hold the phone way out here it was ridiculous," she said. "He started screaming at me, 'You've been calling for three days. Leave us alone, go to hell.' and he hung up on me."
Amy was complaining because she paid for a high-end package for her daughter's wedding.
"There was no red carpet, no champagne, and the driver was in a Hawaiian shirt," Amy said.
And she says the driver kept bothering the bride.
"(He said) 'Where's my tip? Where's my tip?  Where's my tip?'"
Amy tipped him $250 to shut him up.  
Tyrone says his driver was even worse.
"When the Rolls-Royce arrived, before we even left the hotel, he told me 'Before I leave this spot; I need $60 for the tip upfront.' So I gave it to him. He took me to the venue. Then my wife told me he did the same thing to her."
The old double-dip tip trick.
Worse than that, this couple says they were stranded when the car they reserved never showed up after the wedding. They had to bum a ride from their venue in Shelby to Detroit Metro Airport in Romulus.
"We had a contract and paid for services and this company totally disregarded us as a customer," said Sharissa.
And speaking of stranded, there's Nichelle.
FOX 2: "So you got abandoned on your wedding night?"
"Abandoned on my wedding night," she said.
Nichelle and Waymon hired a party bus to carry their wedding party to their ceremony on Belle Isle. The bus showed up two hours late.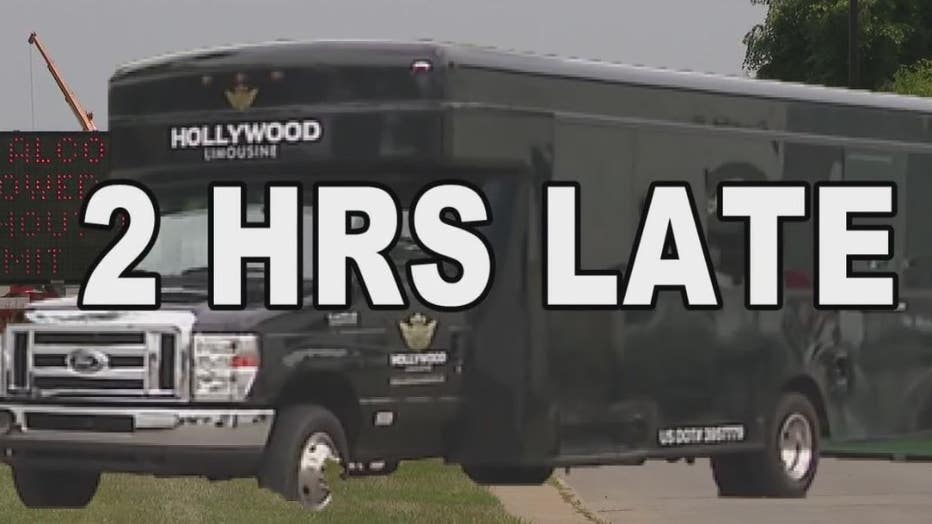 "After the bus got there and he seen me, he decided he was not pulling off unless he got a $250 tip."
Nichelle says then the driver left the island early. And everyone was stranded.
"I'm supposed to be happy," she said. "I shouldn't have been standing on Belle Island at the Dawson Museum on my wedding night because I don't have a ride. And my grandmother is 87 years old sitting there, tired on her walker and she don't have a way home."
Nichelle went to the business to get her money back but was always told Sam was out of town.  She shared video of her talking to one of Sam's employees.
Nichelle: "I want this to be resolved today."
Employee: "I'm sorry it's not going to be today."
Nichelle: "You need to call him and explain to him exactly what I said,  and he needs to call me today. He needs to resolve it."
Employee: "I'm not going to call him today. He's on a business vacation."
Nichelle: "If his vacation is more important than my wedding ..."
Employee: "It's business trip."
Finally, there's former customer Cyfian.
"I have receipts from dream luxury and luxury limousine, both same guy," he said.
Cyfian got three cars for his wedding. He says Sam demanded a $6,000 payment for the cars plus a $6,000 deposit.
Cyfian's cousin paid the deposit. But after the wedding, they say the deposit wasn't returned.    
He said he called with this message, "'Sam, this is haram (Arabic word meaning b.s.). This is my life we're talking about here, $6,000 dollars is no joke. Call me."
Cyfian has waited nearly three years for the $6,000.
His lawyer sent letters, which sam ignored - and Cyfian's been locked out every time he's gone to the business.  
"There's a buzzer so you can't even get in," Cyfian said. "You can't even get in through the front door, let alone getting into the office."
So Wolchek lucked out when he saw Sam in the parking lot one day.
Wolchek: "Hi Sam, Rob Wolchek from FOX 2. You running a bait and switch with some of these cars?"
Sam: "Bait and switch, what do you mean bait and switch?"
Rob explained to Sam about Dewey, Hafez, Patrice and JJ who all put deposits on super luxury cars but were told at the last minute those cars weren't available.
Wolchek then showed him the judgment JJ got for not returning her deposit - even though she took a Corvette when she'd reserved a Bentley. But Sam's not worried.
Sam: "She sued the wrong company. We are Dream Luxury Car Rental.  It used to be Detroit Luxury Car Rental.  This is Dream Luxury Car Rental. That's why \I wouldn't go to court."
Wolchek: "But it's the same company."
Sam: "No it's not the same company, sir."
Wolchek: "Well you've changed your names a whole bunch of times, haven't you?"
Sam: "It doesn't matter."
Sam Zahr doesn't really seem concerned about this customer, so Rob mentions some other unhappy customers.
Sam: "You're mixing me up with someone else, my friend."
Wolchek: "I don't think so."
Sam: "Well..."
Wolchek: "They all say they talked to Sam."
Sam: "I'm not the only Sam."
Wolchek: "But this place has been here, how long you been here?"
Sam: "I've been here about, since 2013."
Wolchek: "Okay."
Sam denies switching out cars at the last minute for no reason. He denies not paying back deposits for no reason and he claims he doesn't need the money.
Sam: "I am the largest luxury rental cars in Detroit.  I'm the only crazy dude who put almost $10 million of cars in Detroit every night."
And speaking of crazy, he even denies getting crazy mad at customers like Hafez.
Wolchek: "He says you threatened him. You balled up your fists and you were going to fight him."
Sam: "Me?"
Wolchek: "Yeah."
Sam: "Why would I do that?"
Wolchek: "I don't know."
So now, Rob's going to mention something that's going to make Sam mad.
When Rob started investigating Sam, he had a big criminal record.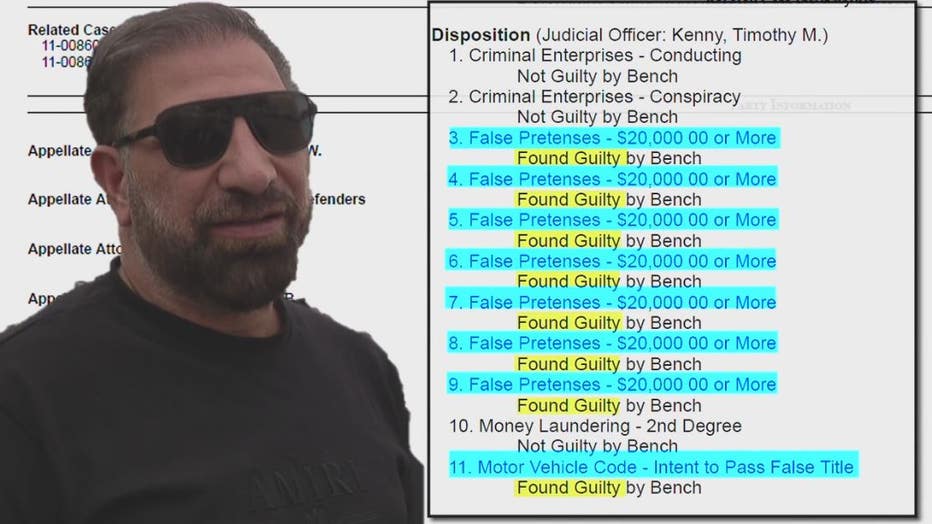 He was involved in a fraud scheme that made the local newspapers.
There's also his court papers, 10 years ago a judge found him guilty on seven counts of taking money under false pretenses, involving tens of thousands of dollars, and trying to pass a false vehicle title.  
Eight felonies that suddenly disappeared from his record.
Sam: "I took advantage of Governor Whitmer, the law that she passed. Somebody one time in their life do a mistake, whatever. I went, I was a model, what happened, and I was granted to be totally quashed. And you're not even allowed to talk about it."
Wolchek: "I can talk about it."
Yep. The state passed the Clean Slate Law in 2020 but here's what it says:
"Up to two felony convictions are automatically expunged after 10 years as long as their records have been clean since."
So Rob is not sure why Sam's eight felony convictions are expunged - but they appear to be.
Regardless, he was convicted of eight felonies and his customers say he's not returning their deposits. Just like Dewey who says he was a victim of an attempted bait and switch, didn't fall for it - and didn't get his deposit back.
Dewey phone video:
Employee: "We're going to give you your money," the employee said. "If you want to catch the owner he'll be here between 10 and 2."
Dewey: "I shouldn't have to catch someone."
Employee: "I'm just saying. We will get you your refund, give me 24 hours."
Anyway, back to Rob and Sam.
Wolchek: "I'm hoping you pay these customers back."
Sam: "If i owe them the money. If I owe them, I will definitely pay them."
Wolchek: "Okay."
Sam: "With interest."
But Sam's taking Rob for a ride.
Wolchek gave Sam the phone numbers and details of all of the customers mentioned in this story. That was three weeks ago, and no one has told Rob that Sam paid them back or even apologized.
Sam, you may no longer be a convicted felon, but you are a member of the Hhhhhhalll of Shame!"