Three Nigerian men charged with sextortion of Michigan teen who died by suicide
DETROIT (FOX 2) - Warning: this story contains information about suicide. If you or a loved one is feeling distressed, call the National Suicide Prevention Lifeline. The crisis center provides free and confidential emotional support 24 hours a day, 7 days a week to civilians and veterans. Call the National Suicide Prevention Lifeline at 1-800-273-8255. Or text to 741-741
Jordan DeMay was a 17-year-old from Michigan's Northern Peninsula. He had a vibrant smile this family said could light up any room and was contagious while drawing people in. 
But Jordan's story ended 13 months ago when the Marquette teenager died by suicide while being sexually extorted by three men from Nigeria, authorities say. Now those three men have been charged and are going to be brought to the United States for criminal charges.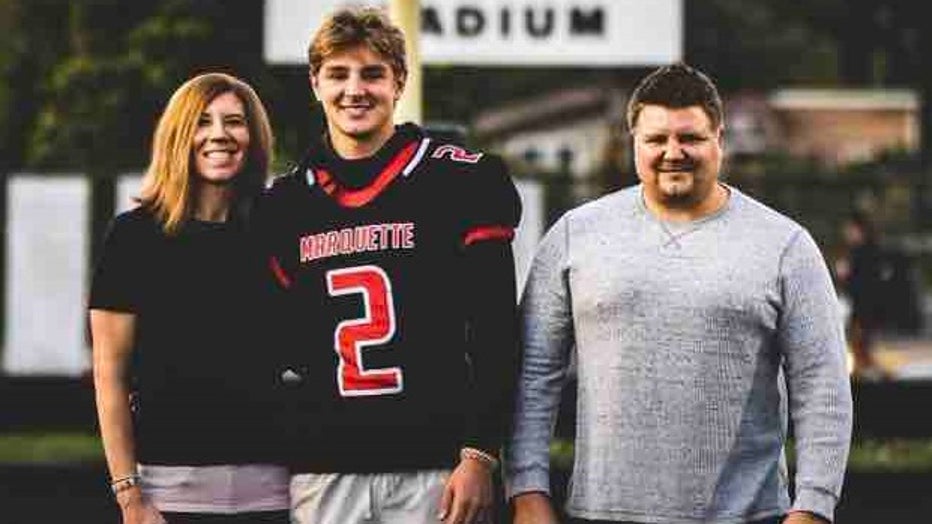 Jordan DeMay, 17, died last spring by suicide after he was a victim of sextortion by a gorup of men from Nigeria.
The U.S. Attorney unsealed an indictment on Thursday that was originally filed in the fall of 2022. According to that indictment, Samuel Ogoshi, Samson Ogoshi and Ezekiel Robert are all facing extradition to the United States for their role in a sextortion ring.
According to the indictment, the three men were part of a ring that stalked users on social media and would hack accounts to harass and intimidate victims into paying money. As part of the scheme, someone hacked social media accounts and then sold the hacked accounts to three charged. In turn, these three men posed as young women and girls to lure teenage and young adult men to engage in sexual chats.
The would initiate the conversation with the victims while simultaneously researching them online – including information about where they lived,, went to school, and worked. Once they gained their trust, they solicited the victims to make and send sexually explicit images of themselves. Once received, they would create a collage of pictures that showed the sexually explicit image and others of the victim from social media, including photos of their friends and family.
Then they threatened to send the collages to the victim's followers unless they agreed to pay money. The script sent to victims was like this:
"Hey I have screenshot all ur followers and tags and those that comment on ur post. I can send this nudes to everyone and also send your nudes Until it goes viral....All you've to do is to cooperate with me and I will not expose you"
On March 25, 2022, Samuel Ogoshi reached out to Jordan under the Instagram account dani.robertts and had this exchange:
dani.robertts: "I have screenshot all ur followers and tags can send this nudes to everyone and also send your nudes to your Family and friends Until it goes viral…All you've to do is to cooperate with me and I won't expose you"
dani.robertts: "Are you gonna cooperate with me"
dani.robertts: "Just pay me rn"
dani.robertts: "And I won't expose you" 
Jordan: "How much" 
dani.robertts: "$1000"
Jordan paid $300 and Samuel Ogoshi made more threats and even encouraged him to kill himself.
dani.robertts: "Goodbye" 
dani.robertts: "Enjoy your miserable life" 
Jordan: "I'm kms rn" ["I'm kill myself right now"] 
Jordan: "Bc of you" ["Because of you"] 
dani.robertts: "Good" 
dani.robertts: "Do that fast" 
dani.robertts: "Or I'll make you do it" 
dani.robertts: "I swear to God" 
Another victim in Wisconsin, a 21-year-old man, had also been contacted by Samuel Ogoshi, who encouraged him to send an explicit image. He was extorted for $800 and told him he would "make him commit suicide".
Authorities said Ezekiel Robert sexually exploited a 16-year-old from New York and demanded money as well. 
The three Nigerian men were arrested in their home country with help of the Economic and Financial Crimes Commission, a Nigeraian law enforcement agency. They're all awaiting extradition to the U.S. for formal charging and prosecution. 
Jordan died by suicide in the spring of 2022, shortly after the conversation with Ogoshi. His family released a statement when the indictment of the three men came down and said there was no hesitation to share their son's story.
"We wanted everyone to be aware about sextortion and have those tough conversations with their families so if it did happen to them they knew to talk to someone," his mother, Jennifer Buta, said.
The family has a GoFundMe page set up to help the family and donate to charity in Jordan's name. 
The family expressed gratitude to the Marquette County Sheriff's Department, Michigan State Police, Marquette Township Fire Department, Marquette City Police, the Federal Bureau of Investigation, the United States Attorney's Office and the Department of Justice – while also thanking the Nigerian government for their cooperation.
"We know that this was no small task and your commitment to Jordan's case will make us forever grateful. Each and every person who touched this case needs to be commended for their dedication and resiliency that got us where we are today," Buta said. "Jordan will never be forgotten. He will forever be in our hearts and will drive us forward to share his story and help others."
If you or a loved one is feeling distressed, call the National Suicide Prevention Lifeline. The crisis center provides free and confidential emotional support 24 hours a day, 7 days a week to civilians and veterans. Call the National Suicide Prevention Lifeline at 1-800-273-8255. Or text to 741-741
CLICK HERE for the warning signs and risk factors of suicide. Call 1-800-273-TALK for free and confidential emotional support.