Tigers fan keeps Albert Pujols 2,000th RBI ball; Pujols: "we play for the fans"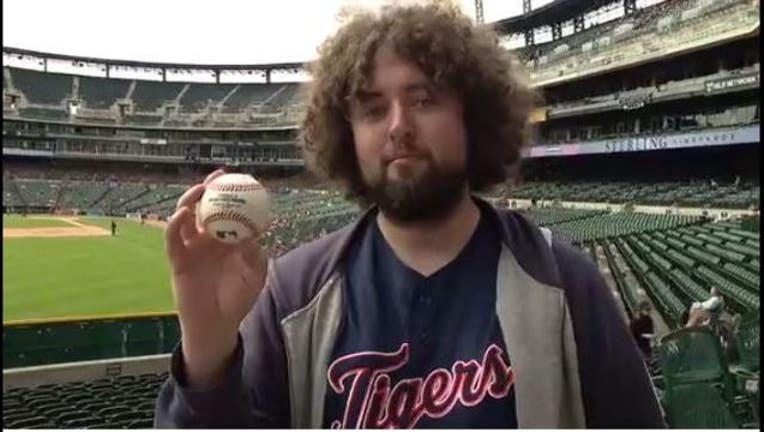 DETROIT (FOX 2) - Albert Pujols is one of the greatest hitters in baseball's history. On Thursday, he added to his legacy when he knocked in his 2,000 career RBI against the Detroit Tigers. But he's not getting the ball back.
Tigers fan Ely Hydes was in the left field seats, just past the Tigers bullpen, when Pujols hit the solo homerun in the top of the 3rd. It was Pujuls' 2,000th RBI in his illustrious career - and one of several runs the Angels put up against the Tigers in a 13-0 route.
As Ely was in left, the ball came flying into the stands and he scooped up the souvenir.
Pujols is no doubt a Hall of Famer and joined Hank Aaron (2,297) and Alex Rodriguez (2,086) as the only baseball players with 2,000 RBI in their career. Babe Ruth (2,213) and Cap Anson (2,075), also had 2,000 RBI but it wasn't a stat until 1920. 
Ely says after he grabbed the ball - he was surrounded by Tigers officials.
"I'm not opposed to giving it back to Albert, but they were very pushy and mean and acted like I was an opportunist for just catching a baseball. I didn't know who hit it when I caught it,"  Hydes said. "I come from a baseball family and respect the game. I'm not opposed to giving it up. I don't wnat money or whatever - but don't insult my integrity."
Ely, a law student, said that the team told him Pujols wanted to meet him and give him a signed bat. He said that's a cool offer but says his law school education taught him never to take an offer without thinking about it. 
But he said the Tigers weren't giving him that chance. Ely told FOX 2 that the Tigers told him the offer was a one-time offer and that the ball could not be authenticated - so it can't be worth any money if he tries to sell it.
The Tigers Public Relations office said that two staff employees employees spoke to him once and gave him "a very generous memorabilia offer" including meeting Pujols - but Ely turned them down. They said Ely's account of what happened isn't entirely true. 
He said he wasn't surprised by the interaction and says traditions of the games are just "going bye-bye.
So what will he do with this unauthenticated ball? 
"My brother is a die-hard Cardinals fan so this could be the best Christmas ever. Or I have a kid being born in 2 weeks and I'll put it in a cryogenic chamber and that will be a family heirloom."
In the postgame interview, Pujols told the media he wouldn't pay a penny for the ball. He also said they play games for the fans: