Times Square victim killed in crash was teen from Michigan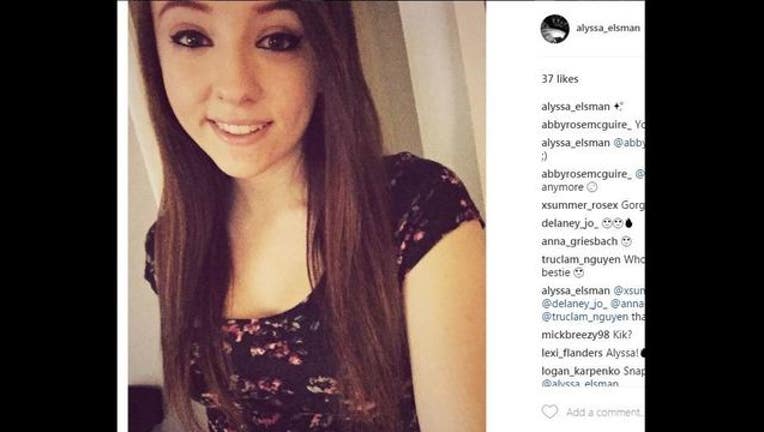 article
NEW YORK (WJBK) - The tourist killed when a man drove into a crowd in New York City's Times Square was from Michigan.
According to the New York Post, the woman killed was identified as Alyssa Elsman from Portage. The 18-year-old was reportedly visiting the city with her family when tragedy hit.
Elsman and her 13-year-old sister both on the sidewalk when the speeding car crashed into them and at least 20 others. One of Elsman's last social media posts was a video from Times Square recorded earlier in the day on Thursday.
Four others suffered critical injuries when the speeding car came the wrong direction down 7th Avenue. It jumped onto a sidewalk and drove for three blocks while plowing into pedestrians, authorities said. The car eventually crashed and caught fire.
Pedestrians chased and captured the driver as he tried to run away from the scene. The incident happened just before noon on a hot, clear day that had brought crowds of tourists and Manhattan workers into the area.
The out-of-control car crashed into a sidewalk at Broadway and W. 45th. The maroon Honda sedan was left on top of a pole at the intersection after the incident.
A witness told Fox 5 News that people were screaming as the car ran into people and that several people were run over.  Other people started running away in the chaos.
Police did not suspect a link to terrorism in connection with the incident but the White House says that President Donald Trump was "made aware" of the incident.
Jared Sabater was in Times Square and says he saw the car racing at him but crashed just short of him.  He says he and a group of about 5 other people chased the driver after he jumped out of the car.  They tackled and restrained him until police were able to arrest him.
IMAGES:  TIMES SQUARE CRASH SCENE
26-year-old Richard Rojas, from the Bronx, was being tested for alcohol after the NYPD took him into custody.  Fox News reported that Rojas has had two prior driving while intoxicated incidents.  New York City Mayor Bill de Blasio says Rojas is a U.S. citizen and former member of the United States Navy.
Police had backed up crowds from the area had removed several items from Rojas' vehicle as part of the investigation.