Tow truck driver killed, 7 others injured in I-94 crash involving school bus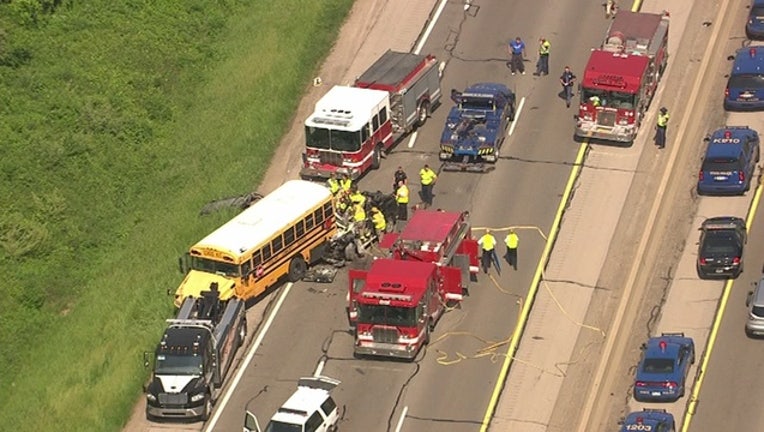 article
PITTSFIELD TOWNSHIP, Mich. (WJBK) - The Michigan State Police Department says a tow truck driver was killed Tuesday morning while helping a disabled school bus on I-94 just outside of Ann Arbor, Mich.

UPDATE (4:40 p.m.) The identity of the tow truck driver has been released.
Troopers say the tow truck driver was helping the school bus when an SUV crashed into the back of it. He was at the rear of the bus when the SUV with five people inside crashed into the bus.
Seven other people were injured, including three children who were in the SUV. 
Michigan State Police say the tow truck driver was out assisting a school bus that had engine problems when an SUV slammed into the back of the bus. Police said the driver was at the back of the bus when the crash happened.
The tow truck driver was killed as a result of the crash. We're told he was the daytime supervisor over drivers at the towing company, a husband and a father of two children under the age of 5.
FOX 2 News Now was live with updates from the crash.
Five people inside the SUV were all critically injured. Police say two adults and three children were in the car. Two other people were treated at the scene and are okay. 
Ypsilanti Community Schools says no students were on their bus at the time of the crash. The bus was disabled at the time. The school says the bus had a flat tire but police said the driver was checking it out for engine problems. 
The accident is on eastbound I-94 at State Street, exit 177, which is about 4 miles south of downtown Ann Arbor in Washtenaw County. 
The crash was reported just before 10:30 a.m. The road reopened just before 2:30 p.m. 
It's not known right now why the SUV crashed into the school bus. The crash is still under investigation.
This is a developing story. Stay with FOX 2 for updates.