Trump to speak Wednesday with UAW members at non-union plant in Macomb County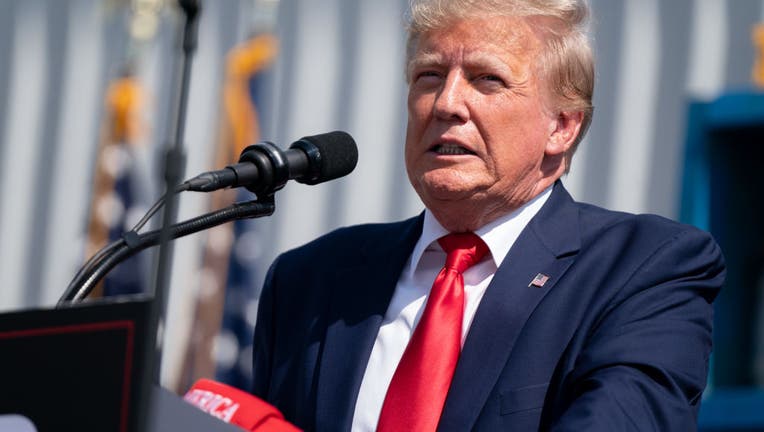 article
SOUTHFIELD, Mich. (FOX 2) - On Wednesday, former President Donald Trump will speak with a group of mostly retired UAW members in Macomb County at a plant that is not affiliated with the UAW as he skips a second Republican debate.
The Republican front-runner will be making a speech Wednesday night at Drake Enterprises in Clinton Twp. as he comes a day after President Joe Biden stood on the picket line with striking UAW members in Belleville.
Trump announced his visit early last week, saying he would be meeting with current and retired UAW members. The facility was not announced until Monday and, according to the Michigan AFL-CIO, Drake Enterprises is a non-union manufacturer and supplier.
Biden tells UAW workers: 'Stick with it, you deserve a significant raise'
The former President has also blasted Biden's trip to Detroit on Tuesday, saying the Democrat did not announce his trip until Trump planned his. 
The battle of the two Presidents is putting Michigan once again as a key swing state in the race for the White House in 2024. Four years ago, Biden won the UAW's endorsement and is vying for it again. If current UAW President Shawn Fain's words and actions are any indicator, it would appear that Biden will do just that.
Fain said last week that Trump doesn't work for the working-class members of the UAW.
"Every fiber of our union is being poured into fighting the billionaire class and an economy that enriches people like Donald Trump at the expense of workers," Fain said. "We can't keep electing billionaires and millionaires that don't have any understanding what it is like to live paycheck to paycheck and struggle to get by and expecting them to solve the problems of the working class."
On Tuesday, Fain was on the tarmac at DTW when Biden arrived and rode with the President to Belleville as they stood next to each other on the picket lines as Biden told members outside the General Motors redistribution center that they deserved a "significant raise."
It was an historic moment for both the union and the presidency as both have never been so close. But on Day 13 of a strike against GM, Ford, and Stellantis, the president was alongside workers on the picket line. 
Fain echoed the sentiments of the president, before paying homage to the plants' significance during World War II.
It was where the arsenal of democracy was built 80 years ago, Fain said. Today, "it's a different kind of arsenal democracy and a different war we're fighting. Today, the enemy isn't some foreign country miles away, it's right here in our own area.
MORE: Biden joins UAW picket line: 'The UAW saved the auto industry'
"It's corporate greed," he said to applause. 
"And the weapon we produce to fight that enemy is the true liberators, the working class people, all of you working your butts off on those lines to deliver great product for our companies," he said. "That's how we're going to defeat these people, by standing together."
Charles Ballard, a Michigan State University professor emeritus of economics, told Michigan Advance that it's clear Michigan and it's blue-collar workers are a major focal point for both parties. Biden is appealing to the UAW's effort for increase raises and benefits while Trump is pushing for white working class voters.
"I think he's going to try to continue to appeal to white working class voters, which includes a lot of people who are union members," he said.