UAW's Fain denounces Trump's planned Detroit visit: 'Can't keep electing billionaires and millionaires'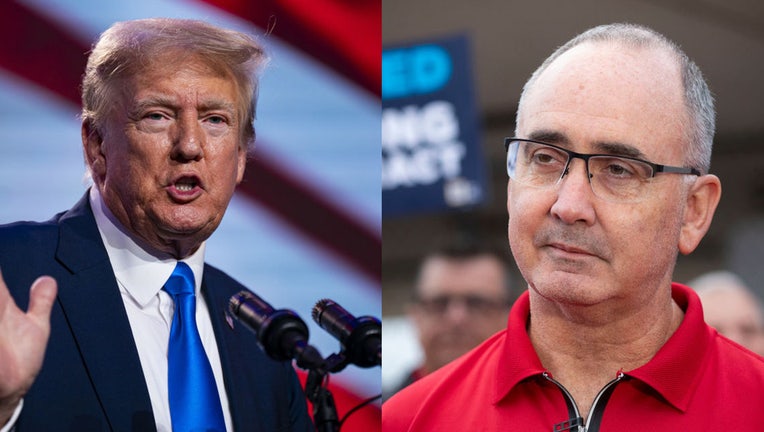 article
DETROIT (FOX 2) - The head of the United Auto Workers has denounced Donald Trump's plan to visit Detroit to speak with UAW members, saying that the union's fight against people like the former president.
Trump announced last week that he would be skipping the second GOP debate and instead come to Detroit on Sept. 27. In a statement on Tuesday, UAW President Shawn Fain slammed the plan, saying the President doesn't work for the working class members of the UAW.
"Every fiber of our union is being poured into fighting the billionaire class and an economy that enriches people like Donald Trump at the expense of workers," Fain said. "We can't keep electing billionaires and millionaires that don't have any understanding what it is like to live paycheck to paycheck and struggle to get by and expecting them to solve the problems of the working class."
This will be the second debate that Trump has skipped. Last month, he recorded an interview with Tucker Carlson while other candidates were debating. The former President has signaled that he is already focused on the 2024 election against President Joe Biden as he maintains a wide lead against his GOP rivals in primary polls. In recent days, he has been leaning hard into the strike, painting himself as sympathetic to the workers and accusing Biden of trying to destroy the car industry by expanding electric cars and other green energy policies.
About 13,000 UAW workers are currently on-strike against all of the Big Three. President Shawn Fain has targeted specific plants for current walkouts including the Michigan Assembly in Wayne, owned by Ford Motor Company.
RELATED: UAW strike could extend to more plants on Friday
Trump has long sought to paint himself as a fighter for the "forgotten men and women" of the working class and spent much of his 2016 campaign campaigning in Rust Belt towns suffering from the shift away from mining and manufacturing. Earlier this year, he visited East Palestine, Ohio, after a train derailment, a visit aides have considered a key moment in his campaign as he worked to recover from midterm losses, and as they tried to move his focus away from his 2020 loss.
However, he may not receive a warm welcome from UAW leadership. Dave Green, a UAW regional director in Ohio and Indiana, said the former president's actions during his time in office give him "zero credibility" with organized labor now, adding that he doesn't see a way the UAW would ever endorse Trump.
"His only intention here is to try and get votes for himself. And also divide our members against each other using political rhetoric," Green told The AP on Monday.
Fain's central argument for the UAW's request of increase wages of 40% over the next four years is based on the heads of Detroit's Big Three getting similar raises. He opened negotiations with a demand for a similar 40% wage increase over four years, along with the return of pensions and cost of living increases. The UAW has since lowered its demand to a 36% wage increase.
Information from the Associated Press was used in this report.
Watch FOX 2 News Live