TSA agents find 5 guns in 4 days at Detroit Metro Airport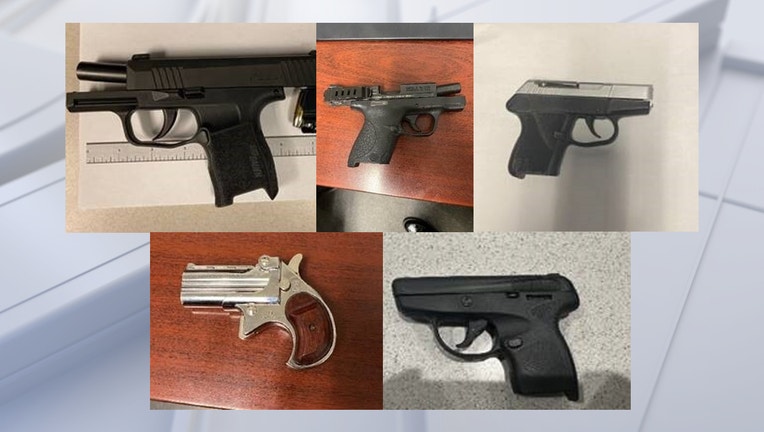 article
ROMULUS, Mich. (FOX 2) - Transportation Security Administration officers found five loaded guns at Detroit Metro Airport in four days, an unusually high number in such a short amount of time.
According to TSA, the first gun was found Thursday when a passenger who was entering the body scanner asked an agent if he could give her something he forgot.
READ: TSA stopped 100 guns at Detroit Metro Airport in 2022
Three of the five firearms were found between 6:20 a.m. and 7:45 a.m. Friday. Another gun was found Sunday. These guns were found on X-ray scans of carry-on luggage.
The guns were seized and the passengers were cited.
Passengers can only travel with firearms in checked baggage. The guns must be unloaded, packed separately from ammunition in a locked hardback case, and declared at the airline check-in counter.
TSA may impose civil penalties of up to $14,950 per violation per person. If a traveler with a gun is a member of TSA PreCheck, they will lose their TSA PreCheck privileges for at least five years. 
"Although it's extremely troubling that so many passengers continue to make this careless, expensive mistake, the general public should feel safer knowing that the TSA officers in Detroit continue to perform their jobs exceptionally well and are stopping these firearms from going past the checkpoint," said Michigan TSA Acting Federal Security Director Bill Byrne. "When dangerous items such as loaded guns are brought to a security checkpoint, it represents a serious security and safety concern. Remember that a concealed carry permit or enrollment in the TSA PreCheck® program are not exemptions from this policy."