Turkish government officals say coup attempt has failed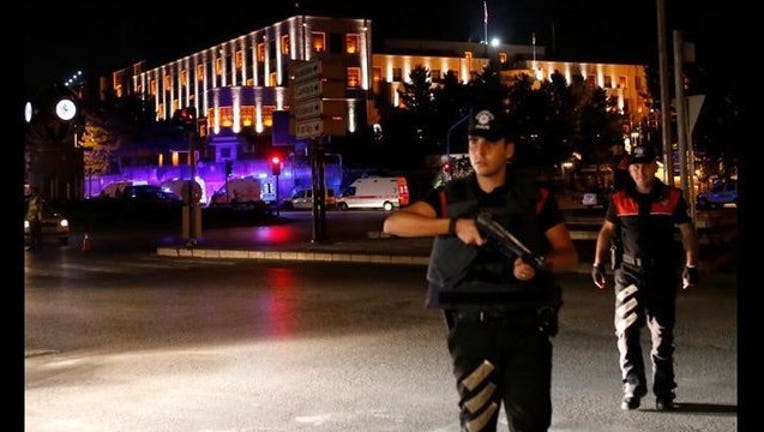 article
ANKARA, Turkey - A top Turkish official said early Saturday morning that a coup attempt there appears to have failed, and that all government officials are in charge of their offices. That came hours after a statement read on state television in which the military said the armed forces had seized power, in response to a rise in autocratic rule and increased terrorism.
It was not immediately clear whether the Turkish government retained control of the nation. But late Friday, a spokesman for Turkey's intelligence agency said that the coup attempt had been "repelled".
 Turkey's president Recep Tayyip Erdogan called the military action "an attempt at an uprising by a minority within our armed forces." He called on Turkish citizens to take to the streets in a show of support for the government. The president went on to say, "I have never recognized any power above the will of the people."
Still, there were reports of violence ongoing overnight into Saturday morning, A news agency reported that a bomb struck the Turkish parliament building in Turkey's capital, Ankara. Turkish media reported late Friday that military helicopters had attacked multiple targets in Ankara, including the city's police headquarters and the offices of a satellite broadcaster. Other reports said soldiers had shot at people trying to cross the Bosporus bridge in Istanbul in protest of the coup attempt, and some injuries were reported.
The prime minister of Turkey said earlier that a military faction engaged in what appeared to be a coup attempt. Military jets were flying over Ankara, and reports indicated vehicles had blocked two major bridges in Istanbul. Gunfire was reported outside the headquarters of the Turkish military.
Soldiers blocked access to Ataturk Airport in Istanbul Friday evening. A number of tanks were seen there. A news agency reported that soldiers entered the control tower and stopped all flights.
Prime Minister Binali Yildirim told a Turkish broadcaster that Turkey would not allow any "initiative that would interrupt democracy". Yildirim went on to say "There was an illegal act by a group within the military that was acting out of the chain of military command. Our people should know that we will not allow any activity that would harm democracy."
But in a statement published by a Turkish news agency Friday afternoon, the military claimed that armed forces have "fully seized control" of running the country, The statement also said "... all international agreements and commitments will remain. We pledge that good relations with all world countries will continue."
Video from Istanbul showed military vehicles on bridges there. Media reports indicated that ambulances were positioned outside the headquarters of the Turkish military.
U.S Secretary of State John Kerry said Friday afternoon that he hopes for stability, peace and continuity in Turkey. The White House said that President Obama was receiving regular updates on the situation in Turkey, which is a key NATO ally of the United States.
The Associated Press contributed content to this report.