'Undesirables': GM RenCen officers accused of racism, assaults to keep some away from Riverfront
DETROIT (FOX 2) - Renaissance Center security officers accused of racism and assault were removed from their positions and are under investigation following FOX 2's report that shined light on years of abuse. 
The RenCen was brought to life by the family of another Detroit-area carmaker: Henry Ford II. After the 1967 uprising split the city in half, Ford and civil leaders worked together in hopes of reviving downtown. A decade later, in 1977, the building held its grand opening.
However, Detroiters felt less than welcome and criticized the building's confusing maze and fortress-like concrete that blocked the entrance off Jefferson Ave. Two decades later, new owner General Motors agreed to remove the two-story cement blockades that blocked the corporate castle…or were they just replaced with a more menacing type of guard?
Robert Barnes started his professional career in the U.S. Army, but he's spent the past 32 years working as a security police officer in Detroit's most famous building: The GM Renaissance Center.
Barnes said that, over the past few years, the buildings have become a backdrop for some of the most horrific and racist acts of violence that have not only been covered up but even rewarded.
"I still have a duty to everyone, regardless of the color of their skin. Someone stuck an opposing force on my team. My management went rogue," Barnes said.
The problem, Barnes claims, started when Larry Payne became the new Security Director at the RenCen in 2017. Payne works under G4 Secure Solutions USA, GM's security contractor. In 2017, Barnes claims the culture quickly started to change and it was glaringly obvious who security was targeting.
"Then I called Larry Payne and explained the situation. I was like it happened again. That's when he made the comment that General Motors wants us to be more aggressive with 211s," Barnes recalled. "211 (is) our radio code for undesirables."
That term is not used to describe what that person is doing. Rather, it's used to identify a person. The code Barnes first heard about years ago would soon lead to seemingly unwarranted, unprovoked, and race-based violent attacks against people like Demarco Brown.
In October 2020, Brown got a room with his girlfriend at the RenCen Marriott to celebrate his birthday. When he left the hotel to get the cake, five security officers refused to let him back in because he didn't have a mask. It was a policy due to COVID-19 but it wasn't in effect at the time.
"(There were) so many people, what else could I do? I weigh 140 pounds," Brown said. "I just said Black Lives Matter because he was obviously discriminating against me to not get into the building, and that is when everything took a turn. It went from him to a bunch of security guards."
Brown had no weapon, made no threats, and no physical contact was made. But apparently, the absence of those things warranted five security guards to push and attack him.
Brown is considered an expert on the use of force and has been training security officers for the past 20 years. He says, instead of deescalating the situation, one officer started to antagonize him as another officer inched closer. That's when one officer jumped Brown and several others followed, eventually pinning his arms behind his back.
"So his arms are pinned so he can't break his fall. That's when the same officer who pushed him several times – he used his upper body so his head hit the concrete," Barnes said.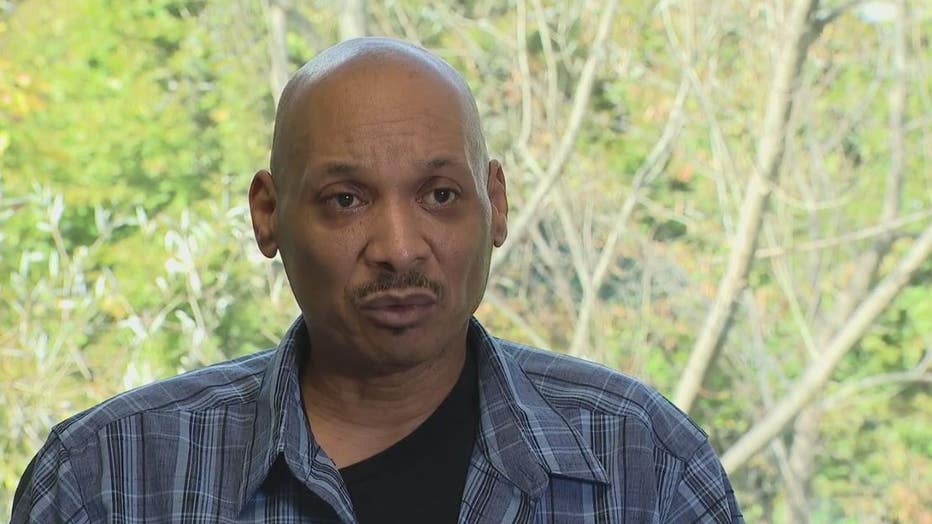 Brown told us he wasn't sure what was going to happen to him and he was scared.
The security guards arrested him and put him in the building's holding cell for hours. But Brown was never charged with a crime.
Barnes started to preserve the video and several others after he says he reported the violations. Instead of discussing or disciplining the officers, his superiors did neither, Barnes said. In fact, he claimed he witnessed one superior deleting video evidence.
The culture shift and crackdown on 'undesirables' started around 2017 when the Detroit Riverfront Conservancy – which was founded in part by GM in 2003 – made a historic announcement of plants to complete the east riverfront. It's the final phase of the 20-year redevelopment plan that included millions in funding from the automaker. Much of that money was invested to clean up and transform the riverfront for future generations.
That's also around the same time that rapper Obie Trice claimed he was attacked by five security guards as he tried to find a bathroom for his girlfriend inside the RenCen's Riverfront Marriott.
According to Barnes, that evidence was changed.
"The report was altered. The evidence of what took place was altered," he said.
We obtained the April 2017 police report that claims Obie Trice was acting disorderly. However, according to his lawsuit, it was the security guards who were out of control. They were accused of profiling the rapper and badgering him as he tried to book a hotel room. He eventually changed his mind and put his hands in his pockets. That's when the report says security officers started to use force. Five security guards punched and pinned him to the ground as they choked, beat, and pepper-sprayed the unarmed 39-year-old.
Barnes said they were never trained to use excessive force. 
"He was pepper sprayed from three feet away. That's known as the hydraulic needle effect. Almost blinding him. Every pressure point was applied to him over and over again. There was no cause for this – he wanted to use the restroom," Barnes said. "He is already restrained, already down, and the man puts stress on his knee and a third officer comes in. Meanwhile, he is being choked."
Trice spent the night in jail but again was never charged.
That was back in 2017 and, since then, FOX 2 has learned there have been multiple victims who have filed complaints like this. Many are being represented by attorney Danielle Safran.
"In interviews with dozens of witnesses, it appears to me that they wanted to keep out any undesirables from the Riverfront area, the Marriott hotel (so they could) bring in the millennials, bring in the money, make this place to hang out for these people and let's keep others away," Safran said.
Part 2: 'Someone's going to get killed'
Possibly the most heinous assault inside the building happened in August 2022 when a 61-year-old homeless woman was given permission to come in with her bike to escape the rain.
The question is simple: Why?
"This has got to stop. People have to come forward. Someone is going to get killed, and I am speaking from my professional aspect, not my emotions in this," Barnes said.
As a supervisor tasked with training and assessing use of force, Barnes knew something drastic had to be done after seeing the attack of a 61-year-old homeless woman. 
"If you are homeless, if you are a stranger off the street, if you're a juvenile, you are vulnerable. Who are you going to tell? Who is going to believe you over me?" Barnes said.  
The woman walks across the RenCen to get her bike and leave. We're told she had permission to be inside to escape the rain – but that apparently didn't stop a security guard from confronting her. The video shows they speak for about a minute until she reaches for her bike to leave. The officer blocked her with his arms and, a few moments later, he attacked her and slammed her against the wall and ground. He then punched her in the face and head over and over again, and then violently restrained her.
"This incident was buried. No meeting held. We didn't go over anything and this was brutal," Barnes said. "I worked there for 32 years and I've never seen a 61-year-old white woman beaten."
Security police arrested her and kept her in the building's basement cell before she was sent to the hospital but never charged.
According to Barnes, nothing has ever been done. The officer and security guard are still on the job and faced no discipline, Barnes said. 
Whenever he said he has filed complaints, Barnes claims he was ignored and retaliated against. 
Now, instead of filing case complaints, he has to go through a third party.
Even more troubling, Barnes said he was told to delete the surveillance video that contained evidence of what really happened. It's also why he's a whistleblower in a class-action lawsuit.
"These are such clear displays of abuses of authority, excessive force, violations of constitutional rights – people are being assaulted," attorney Danielle Safran said. "These officers should be in jail, they should have their license pulled. But there is no transparency, people don't know about it."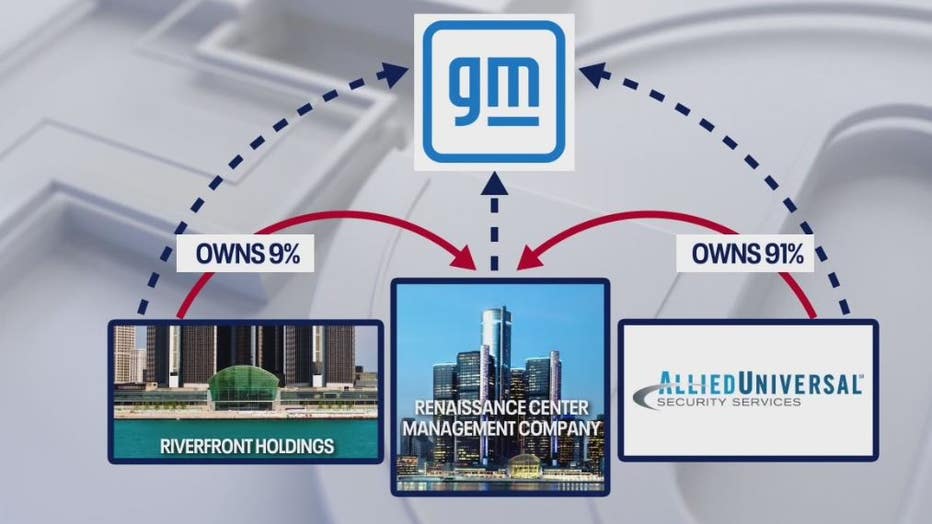 As we've dug into the security problems at GM's world headquarters, we've learned a few things:
GM is in charge of the security police officers at the RenCen – and it's a company that GM owns.
GM's Riverfront Holdings owns 9% of the Renaissance Center Management company, the same company that holds the security police license
Allied Universal owns 91% of the General Motors subsidiary - that corporation is Renaissance Center Management Company. It means all roads lead back to the client: General Motors.
"They have moved from doing illegal activity to being a public safety threat," Barnes said. "So, yeah, I'm continuing on. No one else wants to but I'll continue on to do my duty."
We've also learned that the only reason Renaissance Center Management Company was created was so it could obtain a state license under Public Act 330 – which basically gives a regular security guard much more power.
Court documents show the state-mandated license is registered under one person, Gregory Jenkins, a GM employee. He claims it's not his job to deal with complaints or compliance, but he also admits his only job is to renew the license every three years. 
FOX 2 tried to talk to Jenkins, but he ignored our attempts. 
The Michigan Commission on Law Enforcement Standards (MCOLES), is in charge of issuing the license and regulating the security police. It's also the only entity with the sole power to revoke the security license. MCOLES had no idea about the happenings, despite it being 18 months since Barnes first filed his complaint with the organization.
FOX 2: "As the director of MCOLES, is that concerning?"
"Of course it is, which is why we are investigating it," said MCOLES Executive Director Tim Burgeois.
Barnes detailed compliance violations, alleged racial profiling, and excessive force used against innocent civilians more than a year and a half ago, but MCOLES never addressed it.
FOX 2: "What happened to that complaint?"
"Yes, (it's) very unfortunate. Mr. Barnes did send us an email in May of 2022. And for a variety of reasons, that email was never acted upon – and we own that 100%," he said.
Barnes even followed up in July to check on the status – but that was also ignored.
"We researched and looked back, and saw that we had received that, and so we picked the matter back up," said Burgeois. "We contacted Mr. Barnes, then we contacted the state police."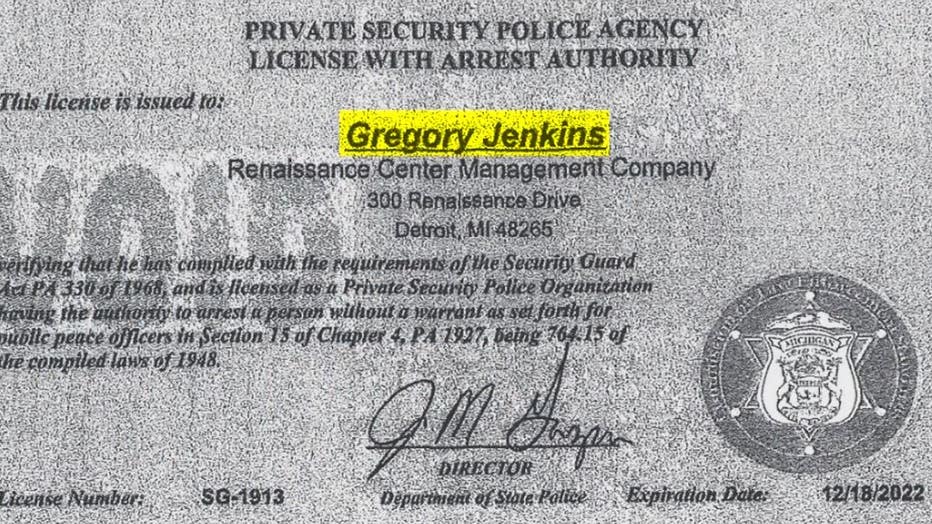 According to Burgeois, Michigan State Police is now investigating the alleged criminal activity and MCOLES will wait for the results before deciding whether to revoke the license to Renaissance Center Management Company under Gregory Jenkins.
FOX 2: "Did MCOLES do what it needed to do, because with any license it needs to be maintained and questions have to be asked to make sure a company is running like it was licensed to do. Is MCOLES responsible for any of this?"
"We always bear responsibility for enforcing the act," Burgeois said. "But when someone comes to us and says here is all of the paperwork and, on the face of it, it is appropriate, we have to accept that. There is a limited amount of people that work at MCOLES."
So who IS keeping tabs on the security police officers? 
Remember, former GS4 Security Director Larry Payne is the one who first relayed the order to be more aggressive with the 211s (undesirables). Even when Allied Universal took over and Payne retired, his successor Michael Baldwin Jr. is accused of allowing the rogue officers to continue to abuse their power and cover it up.
"The fact that it is still happening with all of these eyes on them is unconscionable," Safran said. "The public needs to know so that they can protect themselves."
Despite it all, Barnes continues to show up every day for work. He refuses to give up because he says lives are at stake.
"Regardless of his corruption, these are still people that we are still responsible for. All of them. Black, white, it doesn't matter. We're still responsible for them. And now we have an opposing force abusing that authority and those persons. 
"I can't walk away from that."  
Part 3: General Motors, Allied Universal issue responses as an investigation is underway
Because of our story, Michigan State Police are now investigating the criminal allegations. There are also three civil suits filed against the security companies and GM.
There are also three civil lawsuits filed against the security companies and General Motors.
Allied Universal issued this statement Friday, despite FOX 2 reaching out for comment prior to the release of the story:
"Allied Universal has zero tolerance for discrimination and use of force of any kind. We were shocked and appalled upon learning of the incidents taking place at the renaissance center. The entity that operates the security program at Detroit's Renaissance Center was created and jointly owned by G4s and General Motors.
The entity became a subsidiary of Allied Universal when it acquired G4s two years ago. We are taking all allegations involving this site very seriously and are reviewing all of the actions that have occurred during, and prior to, our involvement in this jointly owned entity."
Documents show the only thing that changed with the security company was the name. 
GM also released a statement on Friday, saying the accused officers have been removed from their positions and all GM sites while an investigation is underway. In addition to the officers, the company is reviewing its contract with Allied Universal.
Below is GM's statement in full: 
"General Motors has zero tolerance for harassment or discrimination, and we are disturbed by the images of altercations involving Allied Universal officers and members of the public at Detroit's Renaissance Center. We are taking the matter seriously and are reviewing the alleged incidents where bias and use of excessive force are claimed, Allied Universal's practices and protocols, and our contractual relationship with the company. 
In the meantime, we have requested that Allied Universal immediately remove, from all G-M sites, the officers involved in any incidents under review. Additionally, we have mandated that Allied Universal officers assigned to G-M properties in Detroit undergo racial sensitivity and de-escalation training. We will fully cooperate with all investigations by law enforcement into these matters."