US drops largest non-nuclear bomb in Afghanistan after Green Beret killed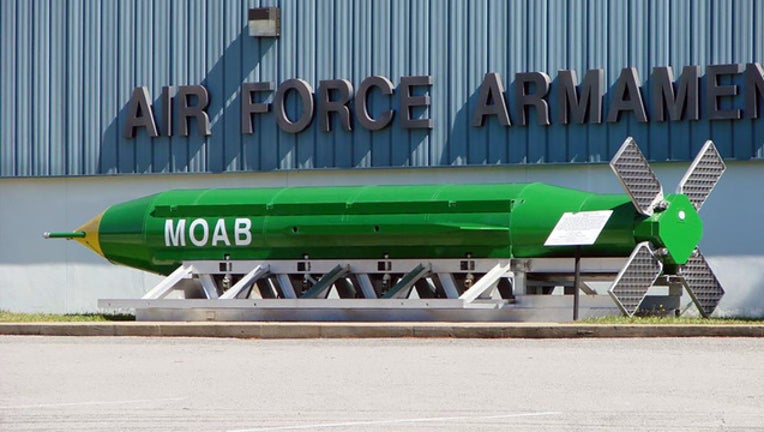 article
The U.S. military dropped the largest non-nuclear bomb in eastern Afghanistan on Thursday.
Adam Stump, a Pentagon spokesman, says it was the first-ever combat use of the bomb, known as the GBU-43, which he said contains 11 tons of explosives. The Air Force calls it the Massive Ordnance Air Blast bomb. Based on the acronym, it has been nicknamed the "Mother Of All Bombs."
Stump says the bomb was dropped on a cave complex believed to be used by IS fighters in the Achin district of Nangarhar province, very close to the border with Pakistan.
White House Press Secretary Sean Spicer elaborated on the bomb at his daily press briefing Thursday afternoon. He says the bomb targeted a system of tunnels and caves that ISIS fighters use to move around freely, making it easier for them to target US military advisors. FOX News is reporting the bombing happened just a few days after a Green Beret was killed fighting ISIS.
Spicer says the US is taking the fight against ISIS very seriously.
"In order to defeat them we must deny them operation space - which we did," he said. He added that all necessary precautions were taken to prevent civilian casualties.
It's not known yet if there are any casualties. The bomb was detonated around 7:32 p.m. local time.
Stump said the bomb was dropped from a U.S. MC-130 special operations transport. He said the bomb had been brought to Afghanistan "some time ago" for potential use.
The U.S. estimates 600 to 800 IS fighters are present in Afghanistan, mostly in Nangarhar. The U.S. has concentrated heavily on combatting them while also supporting Afghan forces battling the Taliban. Just last week a U.S. Army Special Forces soldier, Staff Sgt. Mark R. De Alencar, 37, of Edgewood, Maryland, was killed in action in Nangarhar.
Army Gen. John W. Nicholson, commander of U.S. forces in Afghanistan, said in a written statement that the strike was designed to minimize the risk to Afghan and U.S. forces conducting clearing operations in the Achin area "while maximizing the destruction" of IS fighters and facilities. He said IS has been using improvised explosive devices, bunkers and tunnels to strengthen its defenses.
"This is the right munition to reduce these obstacles and maintain the momentum of our offensive against ISIS-K," he added, using the U.S. military's acronym for the IS affiliate.
This is a developing story. Stay with FOX 2 for updates.
The Associated Press contributed to this report