USA Boxing holds National Qualifier at Detroit's Huntington Place
DETROIT (FOX 2) - Hundreds of elite fighters are at downtown Detroit's Huntington Place, which is hosting USA Boxing's National Qualifier to help decide who goes to the 2024 Olympics.
"I'm here to accomplish the main goal - and that's to win everything, become no. 1, and get to the Olympic Trials 2024," said boxer Steven Williams.
Williams who traveled from Pennsylvania to Detroit for the 2023 USA Boxing National Qualifier event, has already beaten cancer. He's healthy and ready to make it to the Olympic stage.
"I had stage four Hodgkin's Lymphoma," he said. "It means everything because from battling cancer and getting through everything, it means the world to me."
Williams joins hundreds looking to turn boxing dreams into reality.
"I'm up against the best 147-pounders in the nation," said Zachry Carter, from Chicago. "If you win the whole tournament and you qualify for the Olympics that's history."
And it's all happening right here in Detroit.
"We're here for our national qualifying event, (those) over the age of 18, will be qualifying for the Olympic trials which will be holding in December in Louisiana,"said Mike McAtee, executive director of USA Boxing.
Younger boxers also have an opportunity to showcase their talent and participate in the event.
"For the younger kids it's a great way to get experience, and we have boxers from all over the country," McAtee said.
It's no coincidence that Huntington Place is home to the statue honoring one of the world's most iconic boxers, Joe Louis.
"Boxing is part of Detroit sports landscape, all the history dating back to Joe Louis," said Marty Dobek, deputy director, Detroit Sports Commission.
Local officials say this is one of many big sporting events to come, as Detroit solidifies its reputation as a destination city.
"Hosting USA Boxing here it really speaks to the momentum taking place in this city right now," Dobek said. "We're definitely on track to host some major sporting events here over the next couple of years and it starts with USA Boxing and ends in 2027 when we host the NCAA Men's Final Four. So (it is) really a great time for our city."
To learn more about USA Boxing, click here.
For more on the Detroit Sports Commission and upcoming events coming to the city, click here.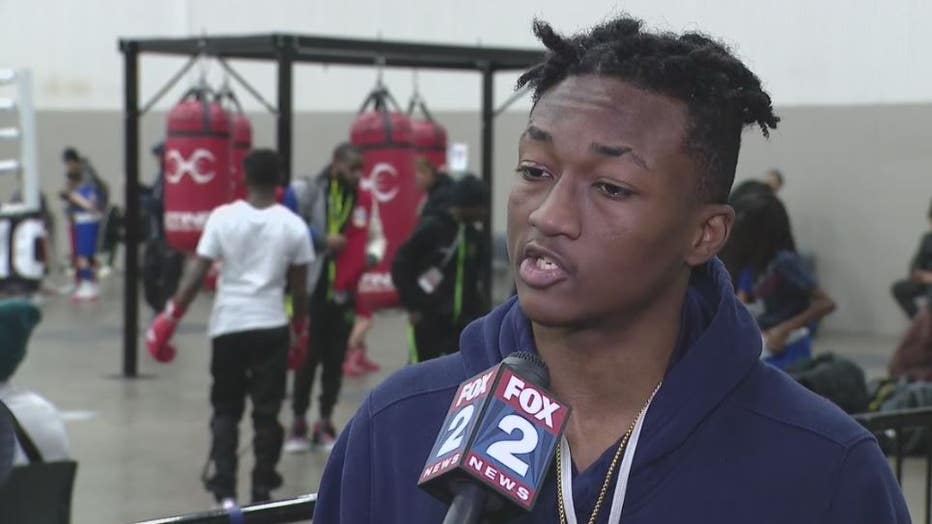 Zachary Carter is competing in the 147-pound boxing weight class at the USA Boxing qualifier in Detroit.