VIDEO: Man who carjacked pizza delivery tries to run across I-75 to get away from police
A man who was out delivering pizzas was violently carjacked and then run over by his car as a convicted felon then led a high-speed chase through multiple communities.
The Pizza Hut delivery driver in Dearborn was making a run on St. Patrick's Day when he left his car running and police said Kenneth Davis saw an opportunity.
According to Dearborn Police Commander Timothy McHale, Davis jumped in, drove over the owner, and then hit speeds of 90 MPH on the freeway.
"There was a brief physical interaction between them. The suspect proceeds to put the car in drive and drive away with the delivery driver hanging on for dear life," he said.
The 30-year-old man is a parole absconder - meaning he's wanted for violating his parole - and showed no mercy.
"He ends up crashing into a parked car and, while this is happening, the pizza delivery driver falls off and is run over by his own vehicle," McHale said.
As Davis sped off, other law enforcement including Wyandotte Police picked up the chase when Davis dipped into heir neighborhood.
"He is a parole absconder. Currently on parole for armed robbery. Quite the extensive criminal past," McHale said.
According to McHale, Davis' reckless actions made pursuing a must. 
The chase eventually wound downriver before turning and coming back north. Officer eventually forced Davis to lose control on I-75 near Woodward but he made a run for it. But officers were right behind, jumping over the concrete barrier and took him into custody on four fresh felonies.
"We had a responsibility to take this individual off the streets to prevent any more victims," McHale said.
Davis is being held on a $1 million bond as the judge cited his past criminal history and the warrants for his arrest.
The driver was hospitalized for a day with an injured leg but will be okay.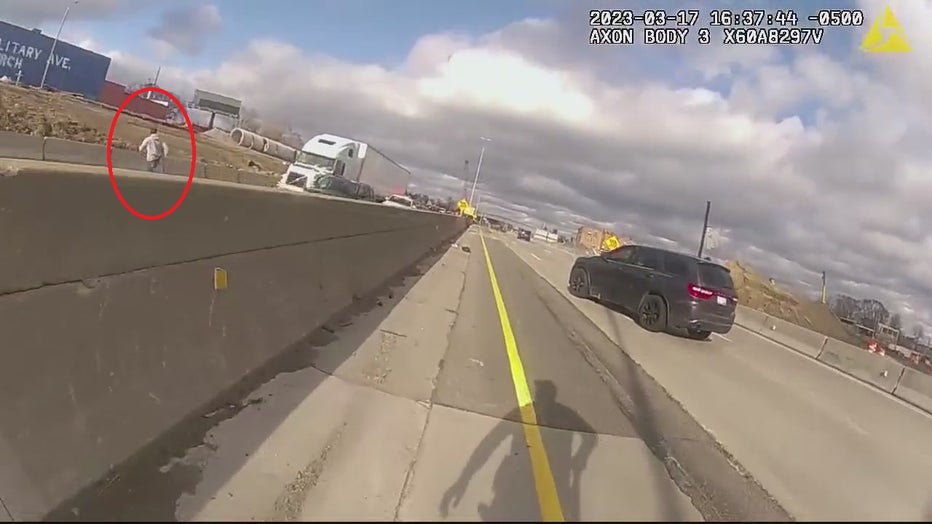 A man wanted for carjacking a pizza delivery driver in Dearborn led a highspeed chase throughout Metro Detroit and ultimately tried to run across I-75 to evade police.