Vigil planned at site of gas station triple murder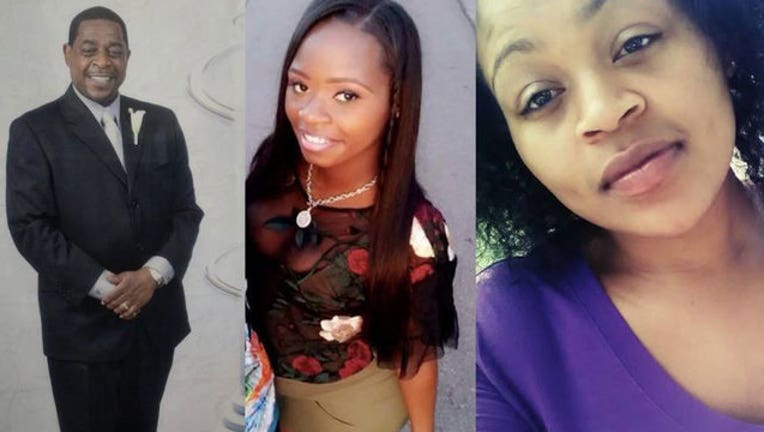 article
DETROIT (WJBK) - A vigil has been planned the day after four people were murdered in Detroit. Three were shot dead at a gas station on Fenkell, the fourth shot at a home just two miles down the road.
The three killed at the gas station were members of Citadel of Praise in Detroit. The church says, in lieu of its Tuesday evening service, that it's holding a prayer vigil at the Sunoco gas station where they died. 
Police say George Davis Jr. was the one who pulled the trigger, killing Deacon Raphael Hall, his daughter Ciera Bargaineer, and Kristen Thomas -- and then say Davis drove to a nearby home where he shot and killed his cousin. 
A few hours later on Monday, Davis was spotted in Van Buren Township when police say he carjacked a driver there, driving the vehicle south into Ohio. 
Authorities eventually caught up with Davis on I-75, and the pursuit ended at a truck stop near I-280 outside of Toledo. The pursuit ended when police say Davis shot himself. He died later at the hospital. 
Suspect in Detroit quadruple murders had 'hit list', police say
The prayer vigil for the victims will begin at 7 p.m. Tuesday at the Sunoco gas station at 22700 Fenkell, between Lahser and Telegraph. The church says they'll sing, read scripture, pray and launch ballons. Everyone is welcome. 
Meanwhile, loved ones are trying to learn how to come to terms with the unimaginable loss. 
The girlfriend of the cousin killed at the home, Jamon Thomas, woke up to the gunshots and ran to hide in the attic with their 6-month-old baby. Davis never found her, and she ran for help after she heard him leave the house. 
Woman hides in attic with infant as murder spree suspect kills boyfriend
Family says within the last week, Davis had become increasingly paranoid, questioning the paternity of his own child and hallucinating. They say he even went to his mother's home to kill her but thankfully she wasn't home.
Davis had a child with Bargaineer, one of the victims from the gas station. Police believe he was talking to her before he pulled out a gun and started shooting. 
Bargaineer's father, Hall, was killed while he was pumping gas. They were also giving a neighbor, Kristen Thomas, a ride to work. She was in the backseat of the car and was killed. 
21-year-old killed in murder spree had just found direction in life, mom says
Now everyone is left asking the same question.
"Why? We can ask ourselves that a thousand times. It still can't bring my grandson back," said Anthony Vaughn, Jamon's grandfather.