Visitation, funeral info for Rep. John Dingell in Dearborn Feb. 11-12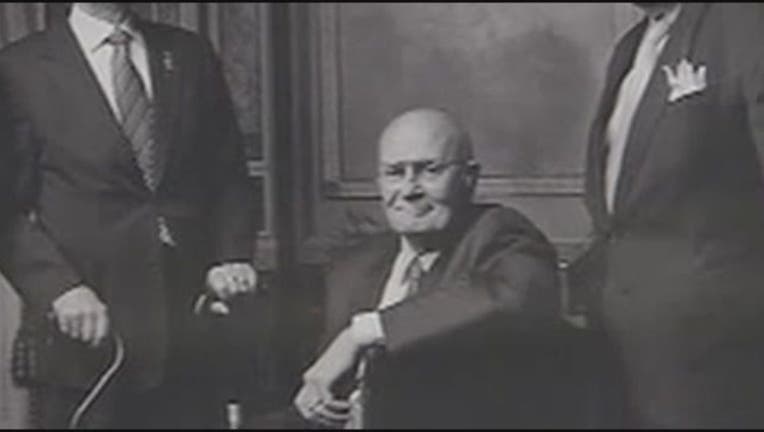 article
DEARBORN, Mich. (FOX 2) - Some visitation and funeral arrangements have been announced for former Rep. John Dingell, who died Thursday night at the age of 92. 
A visitation and funeral mass will take place in Dearborn, Mich. early next week followed by services in Washington, D.C. Dingell will be interred at Arlington National Cemetery.
A visitation will be held at the Ford Community and Performing Arts Center on Monday, Feb. 11 from 11 a.m. - 8 p.m. Then, a funeral mass will be held at 11 a.m. on Tuesday Feb. 12 at Church of the Divine Child at 1055 North Silvery Lane, in Dearborn. Both the visitation and the funeral mass are open to the public. 
Following the Tuesday service, Dingell's casket will be flown to Washington and will be driven past the United States Capitol on the East Plaza.
On Thursday, February 14, a funeral mass will be held at 10:30 a.m. at Holy Trinity Catholic Church. This event is open to the public. A reception at Georgetown University will follow the service with further details to come.
President Trump has ordered the flags at the White House and other federal builtings to be lowered to half-staff until sundown on Saturday, Feb. 9. 
John Dingell served in Congress longer than anyone in United States history. He was a proud World War II veteran, public servant and Michigander. The Democrat was first sworn in as a member of the House in 1955, taking over the seat his father John Dingell, Sr. held for more than two decades. His wife, Debbie, currently holds his seat.
She posted on social media early Friday morning that her "heart is broken" and that her "true love is gone."
Along with his wife, Dingell is survived by two daughters, two sons, one of whom served 15 years in the Michigan Legislature, and several grandchildren.
John Dingell's political career spans from working in the House Page School from 1938 to 1943 to being one of the chief authors of the Affordable Health Care Act. His passion was public service.
"You never know how long you're going to stay and you just hope that the people keep you around and let you continue your public service," he once said. "We are not important - the job is important."
Dingell served as chairman of the House Energy and Commerce Committee and served under 11 presidents - from Eisenhower to Obama. He helped get the Affordable Care Act passed during his final year in office. 
In November of 2014 Dingell was awarded the Presidential Medal of Freedom - the country's highest civilian honor.