Whitmer signs new laws expanding rights of crime victims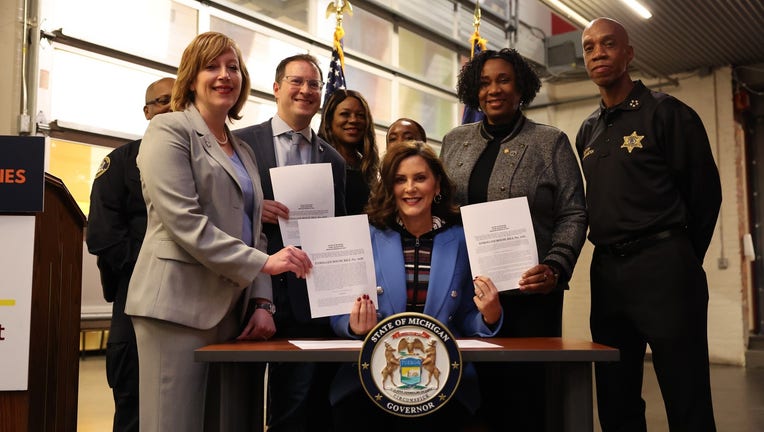 article
(FOX 2) - Legislation that expands the rights of crime victims in Michigan were signed into law by the governor Monday morning.
The bills help boost access to support services for domestic violence victims, blurs the images and videos of crime victims shown in court, and expands the definition of a serious misdemeanor. 
"I am proud of our record, bipartisan investments in public safety. Let's keep working together to build a safer, stronger Michigan," said Gov. Gretchen Whitmer.
The governor cited her former work as a prosecutor when expressing a need for expanded rights among victims of crime, especially those victimized during sexual assault and domestic violence cases.
The legislation is part of the legislature's Crime Victim's Rights Bill package. Recently, the legislature approved other violence prevention bills including one last week that would disarm convicted domestic abusers.
HB 4420
Sponsored by state Rep. Julie Rogers (D-Kalamazoo), the bill allows police officers or prosecutors to share victims' contact information with domestic and sexual service providers. The aim is to offer supportive services to victims
HB 4421
Sponsored by state Rep. Stephanie Young (D-Detroit), the bill guarantees a crime victim's image could be blurred during court proceedings. The individual's identity would be covered in images, videos, and other court sketches during hearings that are streamed online
HB 4422
Sponsored by state Rep. Graham Filler (R-Clinton County), the bill amends a current crime victim's rights act by expanding the definition of a serious misdemeanor. It will now include other offenses, such as threatening state health officials, embezzling from a vulnerable adult, or causing serious injury or death while driving
HB 4423
Sponsored by state Rep. Greg VanWoerkorn (R-Nortion Shores), the bill allows a victim to provide an oral impact statement virtually.