Woman discharged from hospital on frigid night wearing only hospital gown and socks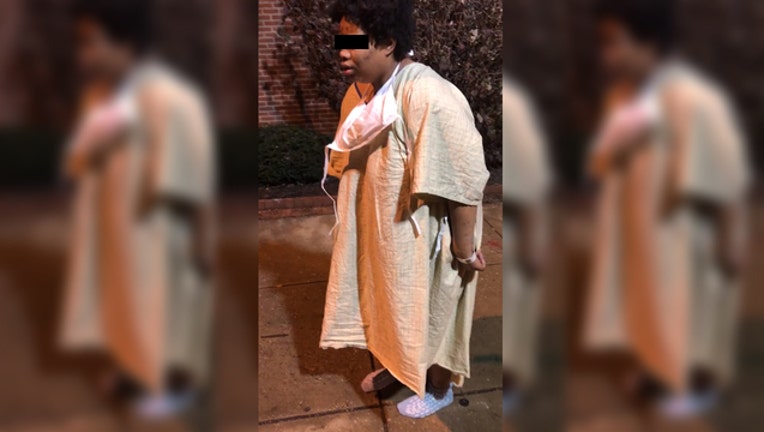 article
WASHINGTON, DC (WTTG) - Video posted earlier this week to social media shows the apparent discharge of a woman from a hospital at night wearing only a gown and socks.
The video was posted to Facebook by Inamu Baraka who says he was outside of Baltimore's University of Maryland Medical Center when he caught the incident on video.
In the video, Baraka can be heard questioning several people who appear to be workers after they had apparently left the woman on a bus stop. "Wait - so ya'll just going to leave this lady out here with no cloths on?" he asks in the video. "That is not OK," he says.
Baraka walks to the doors of the hospital doors and then walks back to the bus stop where the woman, clothed only in a hospital gown and socks, was standing. The woman appears to be disoriented and cries out incoherently as Baraka tries to get her to sit at the bus stop. Baraka says he will call for help.
On his Facebook page, Baraka wrote:
"Is this what healthcare in Baltimore City has come to?
*** PLEASE WATCH, SHARE and COMMENT ***
I just witnessed this with my own eyes. I had no choice but to give this young lady a voice in this moment. University of Maryland Medical Center Midtown Campus (UMMC) as a Doctor of Healthcare Administration (DHA) student -- may I remind you of the importance of the VISION of your MEDICAL CENTER: "UMMC will be known for providing high value and compassionate care, improving health in Maryland and beyond, educating future health care leaders and discovering innovative ways to advance medicine worldwide." You can do better. You must do better.
*** PLEASE WATCH, SHARE and COMMENT *** "
In a separate video, Baraka says an ambulance picked up the woman.
The Associated Press released a statement from the University of Maryland Medical Center Wednesday that expressed "shock and disappointment" by the hospital. The Associated Press says the statement confirmed that the woman was discharged Tuesday night from the emergency department of its Midtown campus.
"This unfortunate event is not representative of our patient-centered mission," the statement said.
"While there are many circumstances of this patient's case that we cannot address publicly, in the end we clearly failed to fulfill our mission with this patient, no matter the circumstances of her case or the quality of the clinical care we provided in the hospital (which is not depicted in the video)."
The hospital said it is evaluating an appropriate response, "including the possibility of personnel action."
The Associated Press contributed to this report.