Andrew Copp, Alex DeBrincat each score twice, Red Wings beat Penguins 6-3
DETROIT - DETROIT (AP) — Andrew Copp and Alex DeBrincat each scored twice, Ville Husso made 30 saves and the Detroit Red Wings beat the Pittsburgh Penguins 6-3 on Wednesday night.
"We have a lot of depth here and you can see that every line can score," said DeBrincat, one of the many players acquired by Detroit desperately hoping to make the playoffs for the first time since 2016. "We just have so many options that it is hard for anyone to cover all of them."
Copp scored in a three-goal second period to give Detroit a 4-1 lead, but Pittsburgh pulled within a goal midway through the third.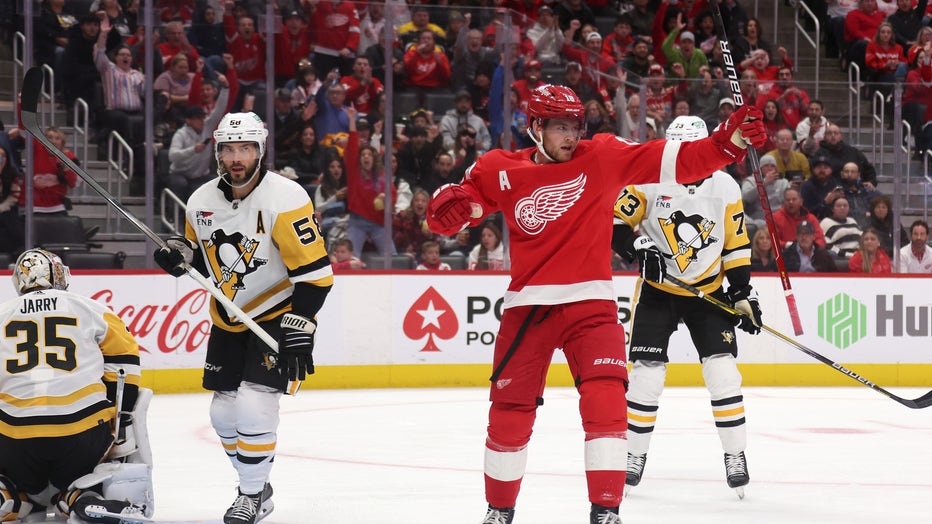 DETROIT, MICHIGAN - OCTOBER 18: Andrew Copp #18 of the Detroit Red Wings celebrates his second period goal next to Kris Letang #58 of the Pittsburgh Penguins at Little Caesars Arena on October 18, 2023 in Detroit, Michigan. (Photo by Gregory Shamus/G
"I loved the pushback," Penguins coach Mike Sullivan said.
Copp sealed the win with an empty-net goal with 1:32 to go. DeBrincat also took advantage of the Penguins pulling their goaltender to add an extra skater, restoring the Red Wings' three-goal lead 21 seconds later.
DeBrincat has five goals and eight in his first four games with the franchise he grew up rooting for in suburban Detroit.
"I have to give a lot of credit to my teammates," DeBrincat said.
Evgeni Malkin gave the Penguins their only lead in the opening minute, when he extended his goals streak to three games. Tristan Jarry stopped 23 shots.
Ben Chiarot, David Perron and Copp scored in the second period.
"We just lost ourselves for 6 or 7 minutes," Sullivan said.
Erik Karlsson cut Pittsburgh's deficit to two goals early in the third period. Shortly thereafter, Copp was given a penalty shot and he couldn't get it past Jarry.
Husso kept the two-goal lead midway through the third by stopping shots by Rickard Rakell and Karlsson.
The Red Wings needed the cushion because Bryan Rust redirected a shot to make it 4-3 with 6:57 left.
"They got two easy shots through traffic, and after that we were back on our heels," Detroit coach Derek Lalonde said.
Detroit has won three in a row since losing the opener by a goal at New Jersey, showing some promising signs after general manager Steve Yzerman made a series of signings and trades to bolster the team's chances.
"I think they've got a good team," Sullivan said. "Some of their young players are starting to emerge and they've added some veteran guys that are impactful players, like DeBrincat. They're a tough opponent. They've got a lot of speed in their lineup."
Pittsburgh had won two straight games since dropping its opening game by two goals against Chicago.
MALKIN MOVES UP
Malkin scored his 474th goal, breaking a third-place tie with Alexander Mogilny for the most NHL goals by Russian-born players. The 37-year-old center trails Washington superstar Alex Ovechkin (822) and former Red Wings great Sergei Fedorov (483) on the list.
Malkin, though, lamented defensive breakdowns that led to the loss.
"We need to block shots more," he said. "We need to play harder in front of the net because every forward tries to screen the goalie and play for rebounds."
THAT'S A FIRST
Jeff Petry had his first point with his hometown Red Wings, assisting on Copp's first goal. The 35-year-old defenseman had 31 points in 66 games with the Penguins last season.
UP NEXT
Penguins: At St. Louis on Saturday night.
Red Wings: At Ottawa on Saturday night.