Angels pull away and pound Tigers 11-4 and win series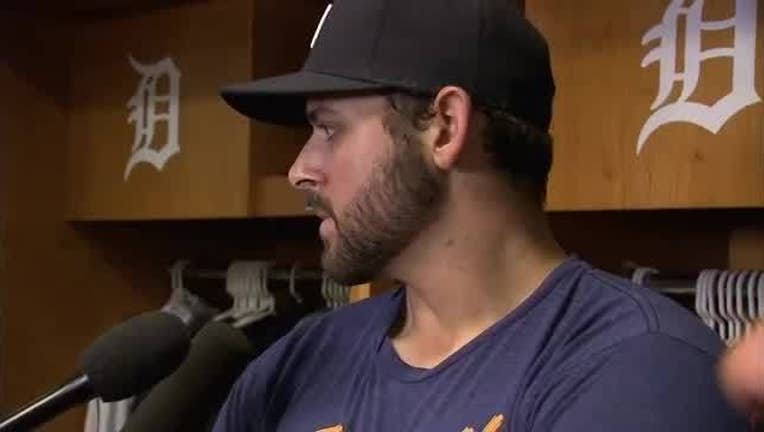 article
DETROIT (AP) - Eric Young Jr. is taking advantage of the opportunity to play in place of Mike Trout.
Young had three hits and scored three runs, helping the Los Angeles Angels rout the Detroit Tigers 11-4 Thursday.
The 32-year-old outfielder is hitting .333 since getting called up from Triple-A Salt Lake on May 29 to fill in for in for Trout, a two-time AL MVP recovering from a hand injury.
"He's showing what his skillset is and he's playing good defense," Angels manager Mike Scioscia said. "And on both sides of the plate, he's just getting clutch hits."
The switch-hitting Young shrugged off the success he's having, saying he's not thinking about it too much about regularly being in the lineup.
"As long as I see my name in there, hopefully I'm doing something that warrants keeping me in there," Young said. "If I come in the next day and see my name in there, I must have done something well enough the night before to get the next start.
Albert Pujols hit a tiebreaking sacrifice fly to cap a four-run fifth inning and the Angels added six runs in the seventh, allowing them to pull away and win the three-game series.
JC Ramirez (6-4) gave up four runs - allowing the Tigers to take an early 4-1 lead - and 10 hits over five innings.
Michael Fulmer (6-4) allowed five runs and nine hits over a season-low, 4 1/3 innings.
"I made some good pitches. I made some bad pitches," he said. "And, they hit both."
Danny Espinosa had three hits and three RBIs and Andrelton Simmons had three hits and two RBIs for the Angels, who got two runs batted in by C.J. Cron .
Detroit relievers Arcenio Leon and Daniel Stumpf combined. Nick Castellanos extended his hitting streak to a season-long seven games with three hits, including a solo homer in the second, and had two RBIs for the Tigers.
TRAINER'S ROOM
Angels: Scioscia discussed life without Trout, who had surgery May 31 on his left thumb and is expected to be out until at least mid-July.
"It's a void no doubt, but even with Mike our lineup needed to get deeper," he said. "We weren't really firing on all cylinders. Without him, it was paramount that the guys who were struggling get going, and we're starting to see it with Kole (Calhoun). C.J. Cron is coming back. These guys have to become productive."
Tigers: RHP Justin Verlander threw Thursday under the watchful eye of manager Brad Ausmus and pitching coach Rich Dubee. Verlander left his previous start Sunday with groin tightness in his right leg, but an MRI came back clean.
"His health is key," Ausmus said. "He's a horse. He drives the wagon."
He's expected to start Saturday in Boston, but his status could affect whether catcher James McCann (cut left hand) is activated from the DL for Friday's game.
If Verlander needs to miss a start, Ausmus indicated he might wait a day or two to activate McCann and perhaps make a move to recall a pitcher. McCann had four hits Wednesday off top Pirates pitching prospect Jameson Taillon during a rehab assignment with Triple-A Toledo.
IRONED OUT
Ausmus met with Castellanos on Wednesday night to discuss the incident in which Castellanos angrily threw his bat when removed for pinch-runner Andrew Romine in the eighth inning. The helmet accidentally clipped teammate Miguel Cabrera in the head.
"We talked," Ausmus said. "It's done. Players throw helmets on almost a daily basis."
Ausmus was not perturbed by Castellanos' actions.
"I don't want him to be happy about being taken out of the game," Ausmus said. "I don't want pitchers to be happy when I take them out of the game. I don't want anyone to be happy about being pinch-hit for, but it's also part of the game. I was mad when I got pinch-hit for. They're competitors. You don't want them to be, 'Ho hum, you pinch-hit for me.' You should want the bat in your hands and the ball in your hands."
UP NEXT
Angels: RHP Matt Shoemaker, who is 4-1 in his last five starts, pitches the opener of a three-game set at Houston.
Tigers: RHP Jordan Zimmermann, who is 0-3 on the road this season, opens a weekend series at Boston.