Blues snap 7-game skid with 2-1 win over Red Wings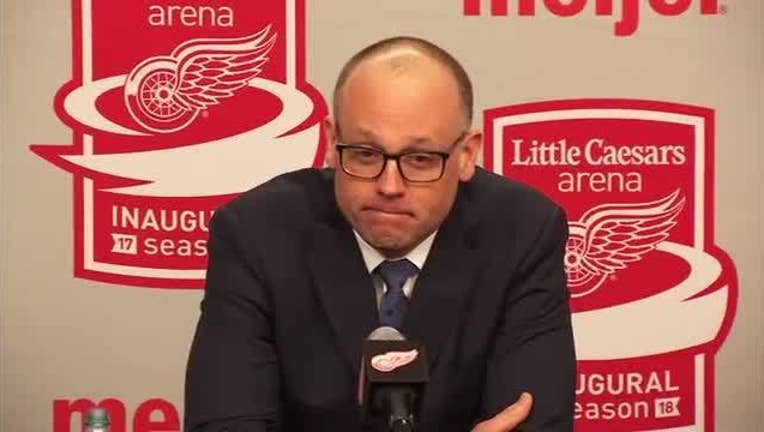 article
ST. LOUIS (AP) - St. Louis coach Mike Yeo turned to desperate measures to try and snap his team out of its roughest stretch of the season.
Yeo decided that the fourth line would start the game Wednesday against the Detroit Red Wings.
He told the players about his unorthodox choice minutes before they took the ice.
"It got a chuckle out of the guys," said Scottie Upshall, a member of the trio.
The bold move paid dividends as Upshall scored a second-period goal and Carter Hutton made 35 saves to help the Blues snap a seven-game losing streak with a 2-1 victory.
St. Louis won for the first time since beating Winnipeg 5-2 on Feb. 9.
Alex Pietrangelo also scored for the Blues, who were coming off an 8-3 loss at Minnesota on Tuesday night.
"This is just what we needed," Hutton said.
Upshall banded with Kyle Brodziak and Chris Thorburn to add some early-game energy.
"Those guys are workers," Yeo said. "We needed guys to step up and I believe those guys were ready."
Explained Brodziak, "He wanted us to get out there and set the tone."
Upshall scored for the first time since Dec. 30, beating Jimmy Howard off Colton Parayko's rebound at 1:12 of the second period.
Pietrangelo scored on a blast from the faceoff circle with 5:23 left in the third period.
"This was a good character win," Pietrangelo said. "After last night a lot guys put a lot of effort in."
Brodziak agreed, "I thought last night could have been pretty deflating. But we came back. Everybody refocused. This was big."
The Blues were outscored 29-10 during the seven-game skid, their longest since they dropped seven in a row from Dec. 26, 2009, to Jan. 7, 2010.
Detroit fired 13 shots at Hutton in the third period.
"I thought we matched their intensity," Red Wings center Henrik Zetterberg said. "The game was a little back and forth. It would have been nice to get the first goal, but they got that one. And we still hung in there."
Detroit coach Jeff Blashill was pleased with the effort, but not the result.
"I thought our guys played hard and competed hard," Blashill said. "We've got to just keep grinding."
FREE FALLING
On Dec. 10, the Blues were 21-8-2 and tied with Tampa Bay for the most points in the NHL at 44.
NOTES: Howard made 23 saves. ... St. Louis C Patrik Berglund was a healthy scratch for the first time since March 12, 2015. ... Pietrangelo played in 600th career game, all with St. Louis. ... Zetterberg has 68 points in 68 career games against St. Louis.
UP NEXT
Red Wings: At Winnipeg on Friday night.
Blues: At Dallas on Saturday night.