Braves beat Tigers 10-7 and 6-5 to sweep DH and win series
DETROIT - DETROIT (AP) — Eddie Rosario hit a tiebreaking home run in the sixth inning and the Atlanta Braves held on to beat the Detroit Tigers 6-5 Wednesday night and sweep a doubleheader.
Ozzie Albies and Ronald Acuna Jr. had solo homers earlier for the NL-East leading Braves, who scored in five of the first six innings.
Andy Ibanez, Matt Vierling and Jake Rogers also cleared the fences in the second game, pulling Detroit into a 5-all tie after five innings.
Collin McHugh (3-0) pitched three perfect innings after starter Dylan Dodd allowed five runs on six hits and three walks over four innings.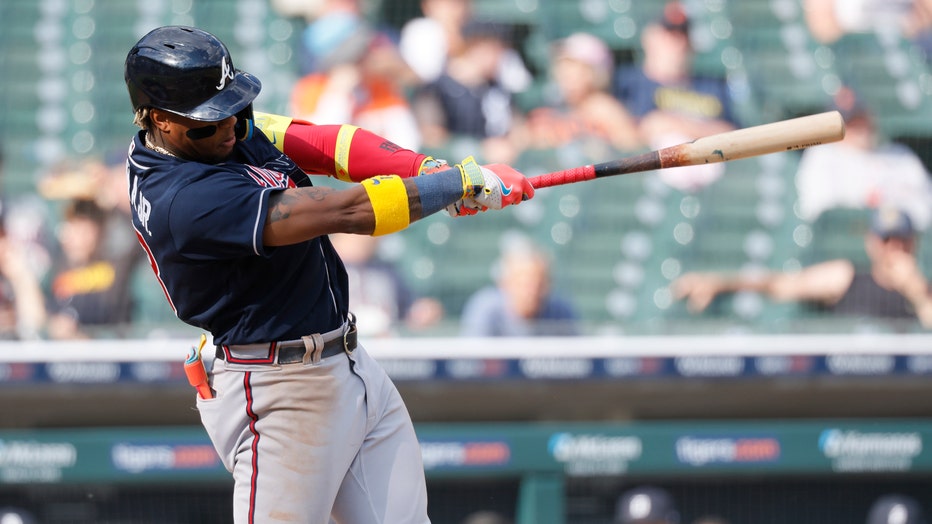 DETROIT, MI - JUNE 14: Ronald Acuna Jr. #13 of the Atlanta Braves hits a solo home run against the Detroit Tigers during the third inning of game two of a doubleheader against the Detroit Tigers at Comerica Park on June 14, 2023 in Detroit, Michigan.
Joe Jiménez, who pitched in Detroit in his first six seasons, had an eight-pitch eighth inning and retired the first two batters in the ninth. A.J. Minter struck out pinch-hitter for the final out and his 10th save.
Michael Lorenzen (2-4) gave up six runs on nine hits over six innings.
In Atlanta's 10-7 win earlier in the day, Michael Harris went 4 for 4 with a homer and four RBIs while Acuna Jr. had three hits, including a homer, and drove in three runs.
"They're unafraid and there's no defensiveness to them when they're in the batter's box," Tigers manager A.J. Hinch said. "It starts at the top with Acuna and they're a threat from pitch one. Their offense is built with balance. They have power throughout.
"They have a certain flair and freedom that they play with that usually comes with teams that believe they can win."
Atlanta ace Spencer Strider (7-2) benefitted from pitching for a high-scoring team, picking up the win despite giving up five runs and seven hits in five innings of the opener. The right-hander gave up three homers, walked two, hit a batter and struck out six to increase his major-league leading total to 127 this season.
"I wasn't very good, and we won the game, that's what matters," Strider said. "So, credit to everybody else."
Tigers rookie Reese Olson (0-2) gave up seven runs — six earned — on five hits and two walks over three innings.
Detroit ended a nine-game losing streak Monday night in 10 innings against Atlanta after trailing by three in the ninth, but couldn't pull off another comeback in the second game of the series. Haase hit a bases-loaded single to pull within three runs, but Jonathan Schoop followed with a grounder up the middle that was tracked down by second baseman Ozzie Albies and his throw to first ended the game.
The Tigers got off to a powerful start in the afternoon when Spencer Torkelson hit a 436-foot homer to left-center that went off the brick wall beyond the fence.
Miguel Cabrera hit a two-run homer, his first of the year and No. 508 of his career, and Haase in the next at-bat had a solo shot that gave the Tigers a 4-0 lead.
The cushion didn't last long.
Acuna hit a two-run homer — his 14th — in the third and later in the game, the speedy outfielder stole his NL-leading 29th base.
Harris hit a tiebreaking, two-run double to put Atlanta ahead in a five-run inning that gave the Braves a 7-4 lead. The reigning NL Rookie of the Year, who has turned around his season offensively over the last week, hit his fifth homer in the seventh to restore a three-run lead.
Detroit had chances to keep up with the Braves by loading the bases against Strider in the fifth, but came away with only one run on a wild pitch before Andy Ibanez struck out to end the inning. The Tigers loaded the bases again in the eighth against Nick Anderson, who struck out Matt Vierling to get out of the jam.
CLIMBING THE CHARTS
Cabrera hit a double in the ninth and his three-hit game in the opener pulled him within one hit of matching Alex Rodriguez's total of 3,115 for 21st on the all-time list.
In the second game, Cabrera went 0 for 3 with a walk.
TRAINER'S ROOM
Braves: RHP Jesse Chavez was helped off the field by two athletic trainers, keeping weight off his left leg, after he was hit on the shin by Cabrera's comebacker in the sixth inning.
"X-rays here were negative," manager Brian Snitker said. "He's getting further tests and we'll know more later."
Tigers: RHP Trevor Rosenthal is expected to have elbow surgery next week. The former St. Louis closer, who hasn't pitched in the majors since 2019, was signed to a minor league deal for $2 million.
UP NEXT
The Braves, who expect to start RHP AJ Smith-Shawver, return home to play the Colorado Rockies on Thursday night.
Detroit plays at the AL Central-leading Minnesota Twins on Thursday night, planning to start LHP Matthew Boyd.