Bulls top Pistons 107-105 in Zach LaVine's return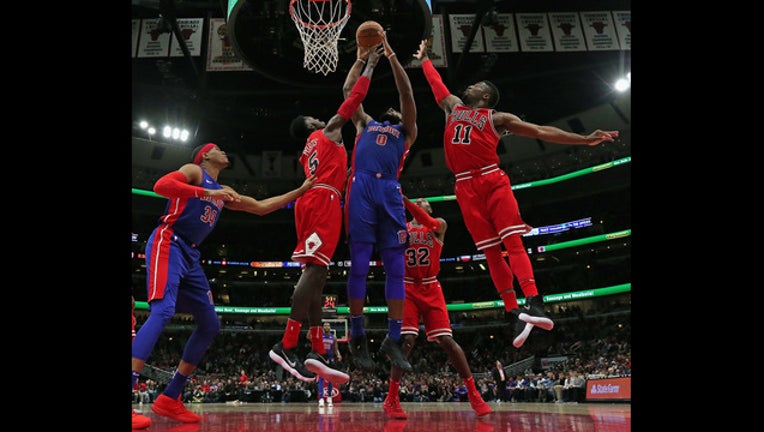 article
CHICAGO (AP) - Zach LaVine scored 14 points in his first game in 11 months, rookie Lauri Markkanen added 19 points and the Chicago Bulls beat the Detroit Pistons 107-105 on Saturday night.
Chicago made 17 3-pointers and held off several late charges by the Pistons to win for the 13th time in its last 20 games.
LaVine was making his Bulls debut after being acquired from Minnesota in the Jimmy Butler trade. LaVine, who last season averaged 18.9 points in 47 contests, hadn't played since he suffered a torn ACL against Detroit on Feb. 3.
Avery Bradley scored 26 points and Andre Drummond had 21 points and 15 rebounds for Detroit, which lost its sixth road game in seven tries.
Markkanen hit a 17-foot shot with 1:08 to go to give the Bulls a 106-105 lead. The game featured 23 lead changes and seven ties.
With LaVine on the court, the Bulls reached 100 points for the 17th time in 20 games after reaching the mark only eight times in their first 23 contests.
LaVine made his first shot, a 27-footer from the right of the key, before he assisted on Robin Lopez's basket inside. The fourth-year guard followed with an easy 15-footer at the 8:12 mark in the first quarter to give Chicago an early 12-11 lead.
Dwight Buycks had six points for Detroit as it used a 14-3 run to go from down by eight points to taking a 90-87 lead with 9:50 to go in the fourth quarter.
Kris Dunn had 18 points, eight assists and eight rebounds for Chicago. Nikola Mirotic had 16 points and six rebounds off the bench. Bobby Portis scored 15 points.
Eight of Drummond's 15 rebounds were on the offensive end, which helped Detroit to a 30-6 advantage in second-chance points.
Ish Smith had 12 points and six assists for the Pistons.
TIP-INS
Pistons: Forward Stanley Johnson sat out Saturday's game with a sore right hip flexor after missing practice on Friday. "They're not really seeing any structural things, he's just really tight," coach Stan Van Gundy said. "Problem's moving in one direction. I don't know if it's necessarily a pain thing. It's his ability, in his mind, at least, to move."
Bulls: Connected on 17 3-point tries to match the franchise record with a seventh consecutive game with at least 10 3-pointers made. Chicago made its first six tries from beyond the arc, including all three by Marrkanen, to equal the previous stretch from March 21-April 2, 2017. Markkanen finished with four triples made.
UP NEXT
Pistons: Host the Charlotte Bobcats on Monday afternoon.
Bulls: Host the Miami Heat on Monday afternoon.