Cabrera, Abreu, Chisox beat Tigers 6-4 in 10, 6th win in row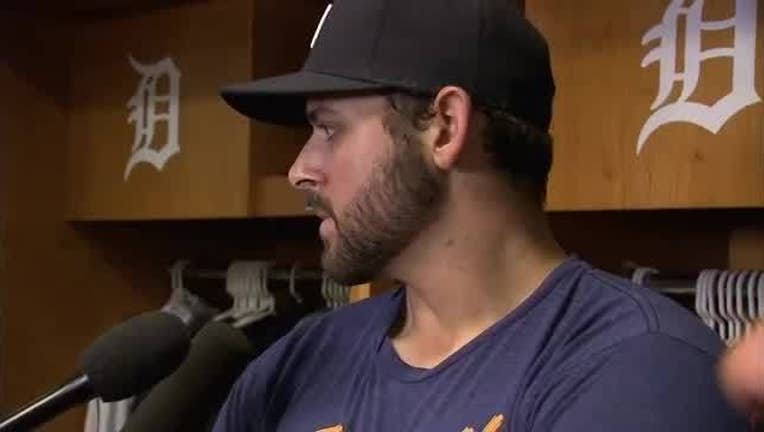 article
DETROIT (AP) - The Chicago White Sox are making breaks, and getting some, in a surge that has put them atop the AL Central. The Detroit Tigers, meanwhile, have plummeted under .500 for the first time this season.
Melky Cabrera led off the 10th inning with a solo homer off Justin Wilson and Avisail Garcia added an RBI triple, lifting the White Sox over Detroit 6-4 Saturday for their sixth straight win.
Jose Abreu homered twice in his return to the lineup for Chicago. Detroit has lost four in a row.
The White Sox held onto a two-run lead in the 10th with David Robinson (1-0) making the most of an opportunity to pitch a second inning after losing a two-run advantage in the ninth.
"I'm not happy with myself when I go out there and blow a save and ruin the game that everybody else played so well in," Robertson said. "I was supposed to go and nail it down. To get a second chance is always nice."
Wilson (1-1) hadn't allowed a hit or a run in his first 11 appearances this season until Cabrera hit his first homer of the season.
"A real unfortunate time for it," Wilson said.
Abreu, who played for the first time since leaving a game Wednesday with a hip injury, hit solo home runs to give the White Sox two-run leads in the third and eighth innings. He homered for the first time in 32 games, dating to last season.
Chicago's Derek Holland allowed two runs on five hits and two walks in six-plus innings. Anthony Swarzak followed and got Jose Iglesias to hit into an inning-ending double play in the seventh, extending his scoreless-inning streak to 12 1-3 innings over nine games. Tommy Kahnle struck out the side in order in the eighth for a White Sox bullpen that went into the day with 7 1-3 scoreless inning stretch over the previous two games.
Robertson, who had saves in his first five opportunities this season, allowed Victor Martinez to lead off the ninth with a solo homer for his first of the year. John Hicks followed with a one-out double and pinch hitter Alex Avila tied the game with a single off Robinson, a former teammate at Alabama and with the White Sox last season.
With a chance to come back from another two-run deficit to extend the game, Martinez hit a liner to left with a runner on third to end it.
"When you're scuffling a little bit like we are, those are the games you end of losing," Avila said.
Tigers starter Michael Fulmer gave up three runs on four hits and a season-high three walks over six innings.
"Walks will kill you," Fulmer said. "I had trouble throwing strikes. I've got to do something to fix it."
UPON FURTHER REVIEW
Both managers challenged a call that stood after review. White Sox manager Rick Renteria had a relatively long conversation with the home plate umpire after unsuccessfully challenging that Tim Anderson didn't foul off a pitch, but was hit by it.
"It was just the replay protocol, so to speak," Renteria said. "It's something that's going to have to be cleared up. I'll just leave it at that. It's a work in progress."
SILVER LINING
Martinez, who was hitting just .218 with no homers and 10 RBIs before the game, cleared the fences for the first time, had an RBI single in the first and hit the ball relatively hard in the 10th.
"The home run was good to see," Tigers manager Brad Ausmus said. "Even the last out of the game was hit pretty well."
TRAINER'S ROOM
White Sox: Renteria said Abreu didn't want to be held out of the lineup Saturday after missing a game to recover following an off day.
"We were still protecting him from a bit of a strain in his hip area," Renteria said. "He said he was ready to go. We'll see how he is (Sunday).
Tigers: OF JaCoby Jones, on the 10-day DL with a cut lip after being hit in the face by a pitch, started a rehab assignment Saturday with Triple-A Toledo. ... OF J.D. Martinez, on the 10-day DL with a sprained right foot, was in an extended spring training game on Friday.
UP NEXT
White Sox: RHP Miguel Gonzalez (3-0, 2.00) pitches Sunday with a shot to help Chicago earn a sweep at Detroit.
Tigers: RHP Jordan Zimmermann (2-1, 6.35) takes the mound, aiming for his second straight win.