Castellanos ready for leadership role with rebuilding Tigers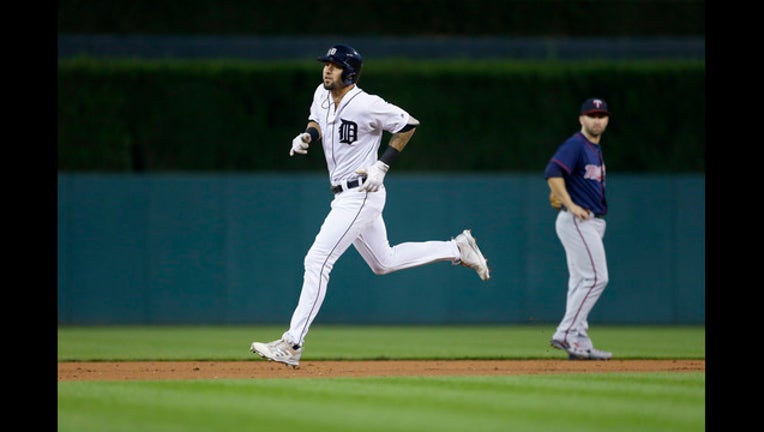 article
DETROIT (AP) - With 580 big league games under his belt, Nicholas Castellanos qualifies as a veteran on the rebuilding Detroit Tigers.
He's still only 25.
As Castellanos takes on a bigger leadership role this year, he made it clear he'll have his own approach to mentoring younger players. His attitude will be a carefree one - which he says helped him play well down the stretch in 2017.
"I think I'm going to be a playful leader. I think that it's not going to be work," he said Saturday at Detroit's TigerFest event at Comerica Park. "My goal is that win, lose or draw, we're kids playing baseball, and the rebuild is going to be as fun or as miserable as we make it."
It was pretty rough at the end of last season, when the Tigers traded Justin Verlander and went 6-24 down the stretch. Castellanos, though, hit .368 in September and finished with career highs of 26 home runs and 101 RBIs.
Castellanos said he had "a blast" in September, in part because he didn't feel a lot of pressure. That was also when he began playing extensively in right field after moving from third base.
"To be honest, I love it out there," Castellanos said. "I want to be called a very good outfielder. I think my arm is going to play a lot better than it did at third base. I think that my speed is going to be able to come into play a lot more than it did at third."
The 6-foot-4 Castellanos has only seven career stolen bases, but he showed some athleticism last year when he led the American League with 10 triples.
Castellanos made his major league debut in 2013, when the Tigers were in the middle of their run of four straight AL Central titles. He's played with plenty of respected veterans and learned a lot from them.
"What I picked up from (Ian) Kinsler was his dirtbag mentality of, 'I'm going to grind, and I'm here to beat you.' ... What did I take from Torii Hunter? Just treating everybody as if everybody's an equal," Castellanos said. "Who else? David Price. Take pride in everything that you do. David Price spent time in calligraphying the scorecard on days that he wasn't pitching, cheering for everybody. If somebody else had a superstition, David Price would buy into that just to make that kid feel more special."
None of those standouts are on the Tigers anymore. Kinsler was traded this offseason, the latest big name to depart after the Tigers dealt Verlander, Justin Upton and J.D. Martinez last season. Miguel Cabrera and Victor Martinez are still around, but there's an opportunity for a younger core of players like Castellanos, right-hander Michael Fulmer and catcher James McCann to take on more leadership.
"I'm actually looking forward to that a lot," Castellanos said. "Coming up, all throughout my amateur career, I was always like a leader on the team, but it wasn't something that I tried to be. It was just, I was always really good, so I was having the most fun, and the only thing I would try to do was make everybody else have as much fun as I was having."
That will be his goal again. This next season could be a difficult one for the Tigers, but Castellanos is determined to keep his teammates relaxed and enjoying themselves.
"I'm a competitor, but I'm not a very serious competitor," he said. "I think that when you start putting handcuffs mentally on yourself, and you try so hard, you get frustrated really easily."