Caulfield scores in OT as Canadiens beat Red Wings 3-2
DETROIT - DETROIT (AP) — Cole Caufield scored a power-goal at 4:04 of overtime, Cayden Primeau stopped 27 shots for his first win of the season and the Montreal Canadiens beat the Detroit Red Wings 3-2 on Thursday night to snap a four-game skid.
Mike Matheson had a goal and two assists, and Nick Suzuki had a goal and an assist for Montreal, which ended an 0-3-1 slide.
Christian Fischer and J.T. Compher had goals for the Red Wings, who have lost six of eight (2-4-2) overall and four of their last five (1-3-1) at home. James Reimer finished with 23 saves.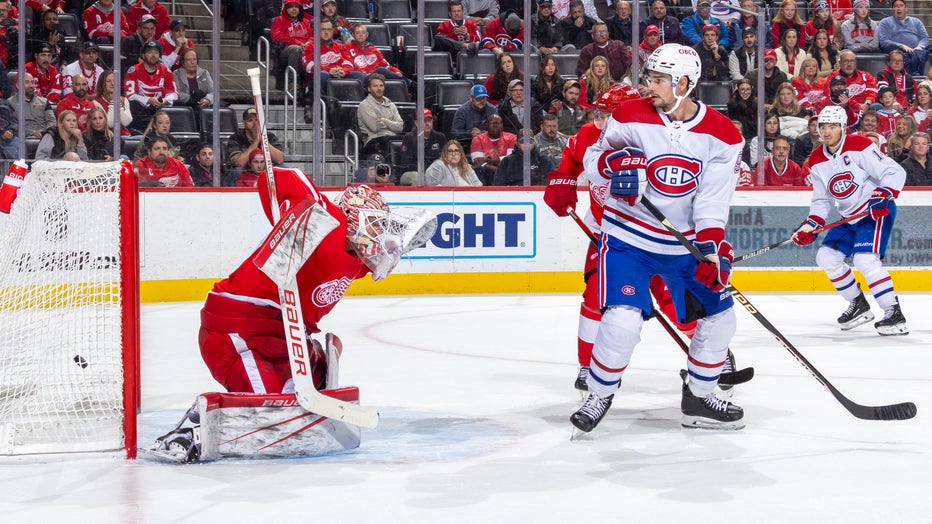 DETROIT, MI - NOVEMBER 09: Sean Monahan #91 of the Montreal Canadiens Cole Caufield #22 (not pictured) scores the game winning goal in O.T. on James Reimer #47 of the Detroit Red Wings at Little Caesars Arena on November 9, 2023 in Detroit, Michigan.
In the extra period, Caufield zipped a high wrist shot over Reimer's left shoulder for his fifth goal of the season. It was Reimer's holding penalty that had put Montreal on the power play.
With the score tied after two periods, the Canadiens took the lead early in the third on a power-play goal by Suzuki. Using Monahan as a screen, Suzuki fired a low shot past Reimer on the short side 26 seconds in for his fifth. The Canadiens' captain has scored in three straight games and four of the past five.
Detroit tied it again when Compher picked the top corner over Primeau's shoulder at 6:02.
Detroit's first-period woes continued as the Canadiens scored the only goal of the opening period. Left open in the high slot, Matheson took a drop pass from Alex Newhook and snapped a quick shot over Reimer's left shoulder at 7:02.
The Red Wings have been outscored 8-1 in the first period of their last eight games and are 2-5-1 over that stretch.
The Canadiens thought they'd doubled their lead when Sean Monahan scored in the second period. However, following a Detroit coach's challenge, the goal was reviewed and Montreal's entry into the zone was ruled offside at the blue line.
Late in the second, Detroit tied it when Michael Rasmussen's shot banked in off Fischer's left glove for his first.
UP NEXT
Canadiens: Host Boston on Saturday night
Red Wings: Host Columbus on Saturday afternoon.