Couturier scores 16th goal, Flyers beat Red Wings 4-3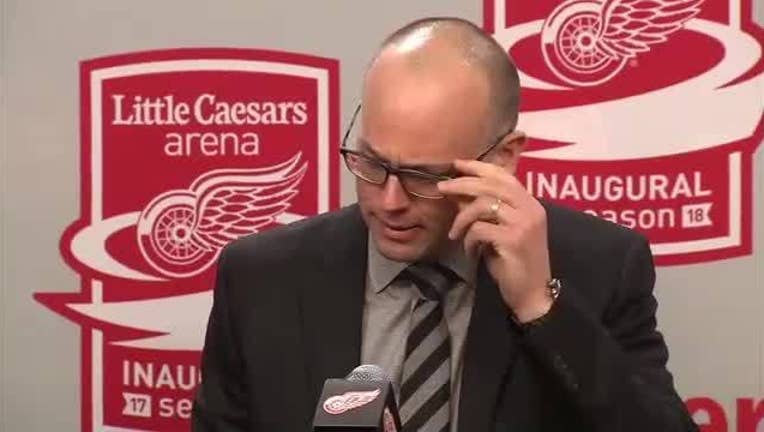 article
PHILADELPHIA (AP) - Sean Couturier scored off his own rebound to snap a tie early in the third period and the Philadelphia Flyers beat the Detroit Red Wings 4-3 on Wednesday night for their seventh victory in eight games.
Robert Hagg added his first NHL goal, Dale Weise and Wayne Simmonds also scored as Philadelphia overcame two one-goal deficits. Claude Giroux had three assists, and Brian Elliott made 25 saves. The Flyers finished a five-game homestead 4-1.
Martin Frk and Mike Green had power-play goals, Gustav Nyquist also scored and Jimmy Howard made 27 saves for the Red Wings. They were trying to win three straight for the first time this season.
Couturier, in his seventh season, set a career high for goals in a season with his team-best 16th when he beat Howard with a second-chance shot at 5:57.
BLUE JACKETS 4, MAPLE LEAFS 2
COLUMBUS, Ohio (AP) - Seth Jones had a goal an assist, and Joonas Korpisalo made 39 shots to help Columbus beat Toronto.
Lukas Sedlak, Pierre-Luc Dubois and Alexander Wennberg also scored for the Blue Jackets.
Korpisalo, starting in place of Sergei Bobrovsky on the first night of a back-to-back, allowed a second-period goal to Jake Gardiner and another in the third to Mitchell Marner in playing one of his strongest games of the season. Toronto has lost four of five.
FLAMES 2, BLUES 1
CALGARY, Alberta (AP) - Dougie Hamilton broke a tie at 7:57 of the third period and Calgary beat St. Louis.
After goalie Carter Hutton stopped an initial shot from the blue line, Ivan Barbashev was about to skate away with the rebound when Hamilton swung at the puck and, all in one motion, knocked it off Barbashev's stick and into the goal.
Michael Frolik also scored for Calgary.
Brayden Schenn had his team-leading 17th goal for St. Louis. The Blues have lost four of five.