Drummond Ejected, Pelicans Beat Pistons 109-86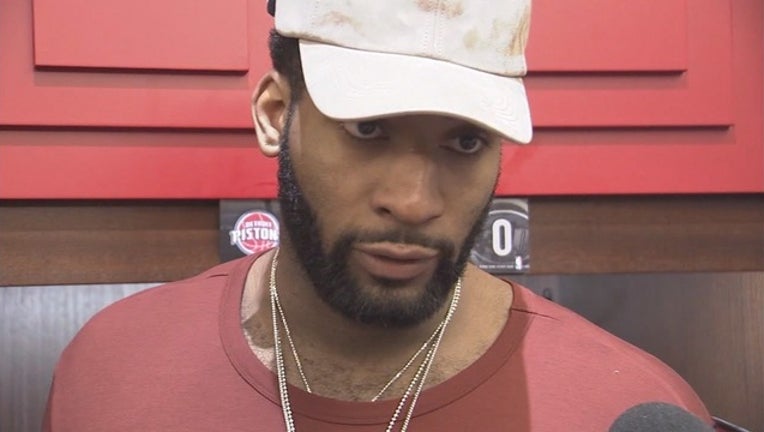 article
NEW ORLEANS (AP) - For all of power forward Anthony Davis' usual dominance, a feisty play by point guard Tim Frazier seemed to turn a tight game into a fourth-quarter romp for the previously slumping Pelicans.
Davis had 33 points and grabbed 14 rebounds, Frazier's hustle play in the paint led to the ejection of Detroit center Andre Drummond, and New Orleans snapped a three-game skid with a 109-86 victory over the Pistons on Wednesday night.
The 6-foot-11 Drummond was sent to the locker room for swatting at the back of Frazier's head after Frazier, who is 6-1, had ripped away a rebound late in the third quarter. Drummond had 13 points and 17 rebounds to that point, but also missed nine of 10 free throws.
"That turned the game around," Davis said, noting that Drummond was "killing us on the boards."
"That was just a good effort play by Tim to go and steal that rebound from him and get him a foul, and also what happened after that," Davis continued. "It gave us a little momentum boost."
Drummond initially didn't seem inclined to discuss the play in the locker room, tersely answering the first three questions about it by saying, "We lost the game."
"One thing led to another, I was in the locker room. They won the game. Simple as that," Drummond then added.
Asked if he was disappointed in his reaction to Frazier's feistiness, Drummond said he was "disappointed our team lost. I wish I could have been out there to help out. We've got to shake this one off."
Jrue Holiday had 22 points for the Pelicans, who were without newly acquired All-Star DeMarcus Cousins because of Cousins' one-game suspension that was triggered when he received his 18th technical foul of this season Sunday night.
Dante Cunningham added 16 for New Orleans, hitting four 3-pointers.
Jon Leuer scored 22 points and Tobias Harris added 15 points for Detroit. But the Pistons had few answers for Davis, even when Drummond was in the game.
"You try to double AD and he's shooting over a double team, shooting floaters over everybody," Drummond said. "He's obviously one of the best bigs in the league. And it's going to be tough to stop a player like that."
TURNING POINT
Drummond's 10 offensive rebounds helped Detroit to a 21-13 advantage in second-chance points. His ejection made it tough for the Pistons, who'd played a night earlier, to keep pace down the stretch.
Detroit trailed by only six at the time of the brief scuffle. Tensions rose when Drummond initially tried to seize his lost rebound back from Frazier and was slow to release his grip after officials had whistled him for a common foul. Frazier then ripped the ball away again and appeared to utter something angrily, at which point Drummond took his swat at a player he towered over, inciting a torrent of boos.
"I'm not going to back down from anybody," said Frazier, who was undrafted out of Penn State in 2014 and worked his way up from the NBA Development league. "That's how I was raised and I had to fight for a lot to get where I am."
Officials reviewed the exchange on replay before increasing the severity of the call on Drummond to a flagrant-2 foul, triggering an ejection.
Detroit coach Stan Van Gundy said he felt Drummond lost his composure, describing his player's reaction as "ridiculous."
The Pelicans then started to pull away when Holiday's 3 made it 88-78. Cunningham and E'Twaun Moore each added 3s soon after, and when Davis hit a short fade as he was fouled, New Orleans went up by 22.
OFF THE MARK
Detroit did itself in by going 3 for 17 from the foul line and 3 of 23 from beyond the 3-point line. The Pistons missed their first 11 free throws.
"I don't even know what to say. It's pretty hard to play like that," Van Gundy said. "On top of that, it's incredibly disheartening when you make a good offensive play and you draw the foul and it amounts to zero. It's the same thing as a turnover. Yeah it was a really, really rough night."
TIP-INS
Pistons: Drummond recorded his 100th steal of the season. He leads all NBA centers in that category. ... The Pistons finished with 23 offensive rebounds, the most New Orleans has allowed this season.
Pelicans: Alexis Ajinca, seeing more playing time than usual because of Cousins' absence, had 10 points, eight rebounds and three blocks. ... Coach Alvin Gentry said 7-foot center Omer Asik of Turkey has not been with the team since it returned from the All-Star break because of an undisclosed illness that has lasted more than a week and has caused him to lose "significant weight." Asik was playing only sparingly before his illness.
UP NEXT
Pistons: Visit Philadelphia on Saturday night.
Pelicans: Host San Antonio on Friday night.