Drummond has another big night, Pistons beat Knicks 115-109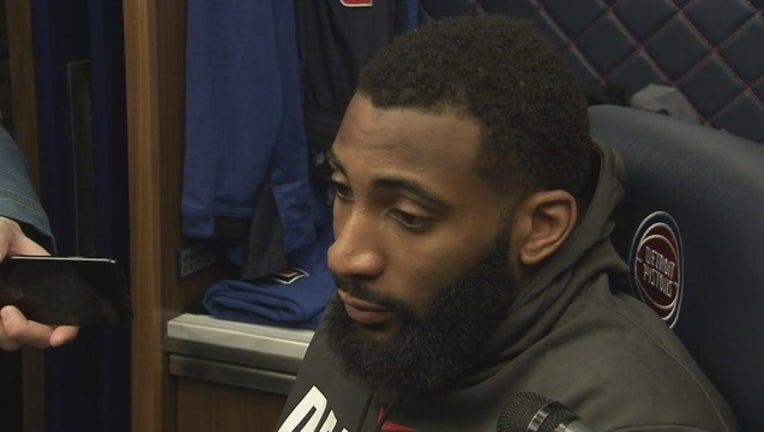 article
NEW YORK (AP) - Blake Griffin sat with his injured ankle wrapped on one side of the locker room while Reggie Jackson dressed on the other.
The Detroit Pistons didn't get to see much of them together on the court, part of the reason their playoff hopes are just about finished.
So they're trying to take the positives from a strong finish in a season where so much else went wrong.
Andre Drummond narrowly missed a second straight 20-20 game with 22 points and 17 rebounds, and the Pistons beat the New York Knicks 115-109 on Saturday for their fourth straight victory.
"It's been a long season. It's been a tough one for us. We're not where we necessarily envisioned ourselves, but like I said I'm just proud of the resiliency this team's had," Jackson said. "Despite what our record may say, coming in every day and trying to get better and continue to battle."
Jackson and Anthony Tolliver each scored 17 points for the Pistons, who won for the sixth time in seven games despite playing without Griffin because of a bone bruise. Reggie Bullock added 16.
Griffin went down not long after Jackson returned from a 37-game absence with a sprained right ankle. Had the Pistons had more time with both along with Drummond, they may have been a playoff team. Instead, they were five games back of Miami and Milwaukee after Saturday's win with six to play.
Drummond was 8 for 13 from the floor and the formerly woeful free-throw shooter was 6 of 8 from the line. The All-Star center had 24 points and 23 rebounds in a victory over Washington on Thursday and leads the NBA with seven 20-point, 20-rebound games this season.
Michael Beasley scored 32 points and Trey Burke Jr. added 18 points and 15 assists for the Knicks, who have dropped three straight and locked up another 50-loss season, which didn't sit well with Beasley.
"Not good. I'm a bad loser. Sore (loser)," he said. "But at the same time, you have to be able to accept the situation."
Tim Hardaway Jr. also scored 18 points.
The Pistons swept the three-game season series, having won the other two games by a combined seven points.
The game was close throughout and Detroit finally opened the first double-digit lead of the night for either team at 111-101 on Ish Smith's basket with under 2½ minutes remaining.
TIP-INS
Pistons: There was a moment of silence before the game for Zeke Upshaw, who died after collapsing on the court while playing in a game for the Grand Rapids Drive, the Pistons' affiliate in the NBA G League. Detroit coach Stan Van Gundy said Pistons chief of staff Andrew Loomis and assistant coach Rex Walters had represented the organization at Upshaw's funeral.
Knicks: The Knicks played without rookie center Enes Kanter (back, right wrist), Frank Ntilikina (illness) and Courtney Lee (left foot). ... Kyle O'Quinn started at center in Kanter's place and grabbed 15 rebounds.
BACKING HIS BROTHER
Van Gundy, told that the Knicks had showed his brother Jeff on the overhead video board while he was at Madison Square Garden calling a game for ESPN, was asked if he thought that meant the franchise appreciated his brother. Jeff Van Gundy coached the Knicks from March 1996 until early in the 2001-02 season and was popular with fans but angered management by resigning.
"It would be great if there was a true appreciation from the organization, but you never know on things like that," Stan Van Gundy said, before comparing it to when Knicks Hall of Famer Patrick Ewing was his assistant in Orlando.
"Like, I used to walk in here and Patrick would be sitting next to me on the bench and they'd put him up on the Jumbotron and everybody would clap and boom, boom, boom, and he could never get an interview for any freaking job they had, so that's sort of fake appreciation in my opinion. So I don't know what it is in Jeff's case. If it's genuine appreciation then that's great. If it's just a way for them to appease their fans, a little bit different."
BULLOCK'S SUPPORT
Bullock took part in a panel discussion with Athlete Ally at New York's LGBT Center earlier Saturday, which was Transgender Day of Visibility. Bullock became a supporter in the fight for transgender rights after the murder of his sister Mia in 2014.
UP NEXT
Pistons: Visit Brooklyn on Sunday.
Knicks: Host Orlando on Tuesday.