Dyson sparks Mariners to a 7-5 comeback win over Tigers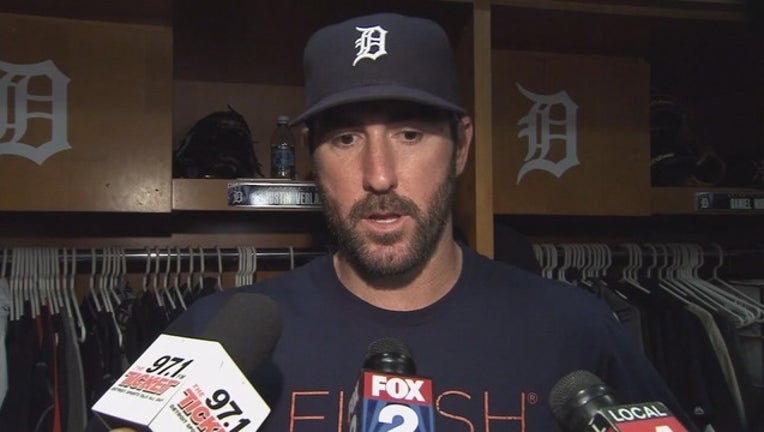 article
SEATTLE (AP) - After five innings of offensive futility, Jarrod Dyson was just looking to get on base. He did, and turned the game around.
Dyson's bunt single broke up Justin Verlander's bid for a perfect game in the sixth inning Wednesday night and sparked the Seattle Mariners to a 7-5 comeback win over the Detroit Tigers.
Nelson Cruz had three RBIs and Mitch Haniger homered as Seattle overcame a 4-0 deficit with three runs in the sixth and four in the seventh to hand the Tigers their fifth consecutive defeat.
Verlander retired his first 16 batters but didn't make it through the sixth. With one out, the speedy Dyson gave the Mariners their first baserunner, beating out a drag bunt between the mound and first that Verlander was unable to reach.
"I was just trying to get something going," said Dyson, whose earlier throwing error helped Detroit build a 4-0 lead. "The guy was having a perfect game on us. I'm not just going to keep going up there hacking at him. I know how our matchups have been in the past. He always wins the battle, so I had to just try to play my game and I was able to get down a good bunt."
Mike Zunino walked and Jean Segura, just activated from the disabled list, followed with a broken-bat single to load the bases.
Ben Gamel lined a single to make it 4-1. Robinson Cano struck out looking, but Cruz followed with a two-run double to left field, chasing Verlander after 110 pitches. He struck out 11 and walked one.
Verlander had no problem with Dyson bunting to break up a no-hit bid.
"It was a perfect bunt," Verlander said. "That's part of his game. I don't think it was quite too late, given the situation, to bunt, especially being as how that's a major part of what he does. I really didn't have any issues with it. It wasn't like I got upset about it."
Haniger tied the score with his sixth homer, driving an 0-1 pitch from Shane Greene (1-1) over the wall in left to open the seventh. Segura and Gamel reached on consecutive two-out singles and Cano followed with a two-run double to right-center to give the Mariners a 6-4 lead. Cruz's single to center scored Cano.
"Sixth and seventh inning, they just hit us," Tigers manager Brad Ausmus said. "They got hits, they scored runs, scored seven runs in those two innings and that was the ballgame."
Tony Zych (3-2) pitched 1 2/3 scoreless innings for the win. Nick Vincent worked the eighth and Edwin Diaz finished for his 12th save, despite allowing a two-out homer to Ian Kinsler, his seventh.
Verlander, who has pitched two no-hitters, was charged with three runs and four hits.
Detroit scored twice in the sixth to open a 4-0 lead against starter James Paxton. Miguel Cabrera and J.D. Martinez opened with consecutive singles and both runners advanced on a throwing error by Dyson in center. Justin Upton followed with a two-run single.
James McCann led off the third with his eighth home run to put the Tigers in front. They made it 2-0 in the fourth when Martinez doubled and Upton followed with an RBI single.
"The way he was throwing out there, I just thought if we could get him in the stretch, get him off his comfort zone, and we did," Mariners manager Scott Servais said about Verlander. "Dyson made a great bunt and kind of took it from there. I can't say enough, when you're facing that quality of a pitcher who's on top of his game, you just have to hang in there, hang in there, keep grinding, keep grinding. Once we got him in the stretch, we got some pitches we could hit. We didn't kill the ball by any means against him, but we got enough to get it going and get into their bullpen."
STAYING HOT
Gamel extended his hitting streak to 13 games. During that span, he's hitting .463 with seven doubles, one triple, one home run and 21 runs, raising his batting average to .354.
TRAINER'S ROOM
Mariners RHP Hisashi Iwakuma (right shoulder inflammation), who allowed four runs in two innings Monday in his second rehab start at Triple-A Tacoma, is expected to throw a bullpen before making another rehab start. "I don't expect to take a normal turn, which probably would have been Saturday," Servais said. "He'll probably take a day or two extra before he goes back out."
MARINERS MOVES
Segura (high right ankle sprain) was activated from the DL and batted leadoff. INF Tyler Smith was optioned to Triple-A. ... RHP Andrew Moore was called up from Tacoma. RHP Christian Bergman was optioned to Triple-A, and RHP Tyler Cloyd was designated for assignment. ... Seattle signed RHP Sam Carlson, its second-round draft pick and the 55th overall selection, out of Burnsville High School in Minnesota.
UP NEXT
Tigers: LHP Daniel Norris (4-4, 4.42 ERA) has won his last two starts, allowing five runs over 11 innings. He is 0-1 with a 5.19 ERA in four career appearances against the Mariners.
Mariners: Moore makes his major league debut. One of the team's top pitching prospects, Moore began the season at Double-A Arkansas. He quickly earned a promotion to Triple-A, and was 3-1 with a 3.19 ERA and 44 strikeouts in eight starts at Tacoma.