3 free agents in Conference Championship games the Detroit Lions could sign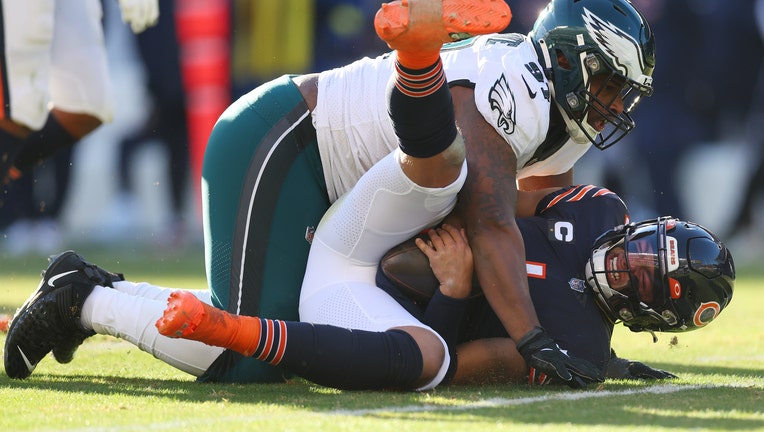 article
(FOX 2) - The Detroit Lions are looking to improve upon their nine-win season in 2023. To get better, they could add a player or two competing in the conference championship games this weekend.  
With a bunch of impressive talent lacing up their cleats this weekend, it was hard to narrow it down to just a handful of players.  
Looking at the Lions' biggest needs and players who could make an impact as soon as they put on a Honolulu Blue jersey, here are some names Detroit fans should pay attention to this Sunday. 
Javon Hargrave - Philadelphia Eagles  
Twenty-nine-year-old Defensive Tackle Javon Hargrave had a very successful season working with the rest of the impressive Eagles defensive line.  
He played his first four seasons in Pittsburgh before signing a three-year deal with Philadelphia. Hargrave has improved each of the last three seasons with his solo tackle and sack numbers increasing rapidly.  
Over the past season, Hargrave has 37 solo tackles and 11 sacks.  
There is a chance the Eagles will re-sign him, but there is a ton of talent in Philadelphia and he may slip through the cracks and need a new home.  
Hargave is a nice veteran presence who can successfully help stop the run and can assist younger players like Aidan Hutchinson and Alim McNeill go from good to great.  
He will also put more pressure on the NFC North Division quarterbacks like Aaron Rodgers, Kirk Cousins, and Justin Fields. More pressure means more turnovers, which would go a long way toward keeping opponents from scoring.
Germaine Pratt - Cincinnati Bengals   
Germaine Pratt, a 26-year-old linebacker from the Cincinnati Bengals could be on his way out of Ohio when their season ends.  
One of the main needs for the Lions is a linebacker who can cover and make tackles. Perhaps the best free agent answer that problem is Pratt.
Pro Football Focus labeled Pratt as their "top pass coverage linebacker" over the past season.  He had 50 tackles and was used to cover tight ends for the Bengals.  
The Lions do not have a great coverage linebacker with Alex Anzalone, Derrick Barnes, Chris Board and Malcolm Rodriguez. They get plenty of tackles and are able to sometimes cause chaos in the other team's backfield, but there are still a lot of weapons open with these linebackers.  
Pratt could be a good pickup Detroit will utilize against many of the NFC North Division's tight ends.  
Juju Smith-Schuster - Kansas City Chiefs 
Wide receiver is not really a position of need for the Lions with Amon-Ra St. Brown looking like a 100-catch-a-year player, rookie Jameson Williams finally healthy, and Josh Reynolds always able to be a safety blanket for Quarterback Jared Goff.  
It wouldn't be the worst thing to grab a veteran receiver who could be another red zone target for the offense. Juju Smith-Schuster from the Kansas City Chiefs was able to stand out in a crowded offense this season.  
Smith-Schuster's 78 catches for 933 receiving yards and three touchdowns in a Kansas City offense helped them reach the conference championship game this weekend. 
A potential receiving room with Reynolds, Smith-Schuster, St. Brown, and Williams could help the Lions have the best offense in the division. This would also be a short-term option. A two-year deal would fit perfectly and anything more than that maybe giving Smith-Schuster a chance to over stay his welcome.