Fulmer Wins 5th Straight, Leads Tigers over Yankees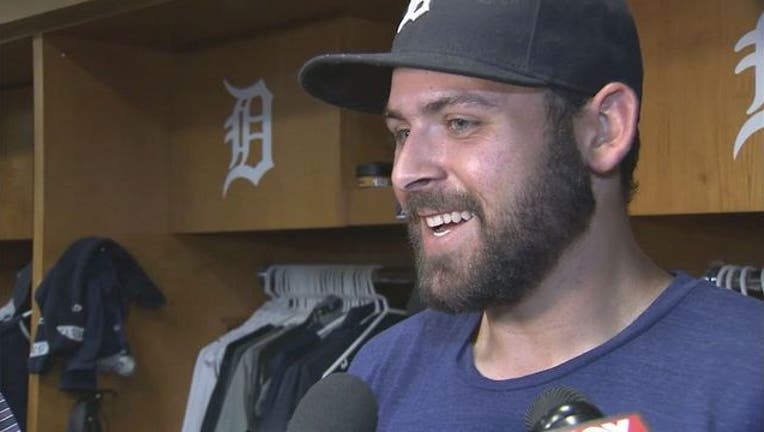 article
NEW YORK (AP) - On an Old-Timers' Day at Yankee Stadium filled with Hall of Famers and World Series MVPs, the youngest player on the field by far was the biggest star.
Detroit rookie Michael Fulmer dominated Sunday, winning his fifth straight start while extending his scoreless streak to 28 1/3 innings to lead the Tigers over New York 4-1.
"Just looking to give my team a chance to win and put up zeros while I'm at it," Fulmer said.
With Whitey Ford, Rickey Henderson and Bernie Williams on hand for the pregame festivities, the 23-year-old Fulmer excelled.
Fulmer (7-1) blanked the Yankees on two hits for six innings and left with a 2.52 ERA. He's won six consecutive decisions overall — in a tremendous string of five starts, he's yielded just one run and 13 hits in 34 1/3 innings.
According to the Elias Sports Bureau, Fulmer became the first pitcher since 1893, when the mound was moved to its current distance, to throw at least six shutout innings and permit no more than three hits in four straight starts in the same season.
"Baseball's a game over the long haul," Tigers manager Brad Ausmus said. "He's been very good over this one-month span. I want him to be this good the rest of his life."
"Ride the wave," he added.
Fulmer has, without getting a big ego or, as of yet, a really big profile.
As Fulmer walked from the shower to his locker, Tigers pitcher Shane Greene was doing a TV interview in an adjacent stall. Mindful of his place as a rookie, Fulmer waited out of the way for Greene to finish.
A moment later, Yankees great Reggie Jackson strolled right past Fulmer in the clubhouse — "Mr. October" never even noticed the bearded newcomer.
Fulmer struck out three and walked three, mixing a fastball in the mid-90s (mph) with an effective changeup. He escaped his only serious jam by retiring Carlos Beltran on a flyball with the bases loaded to end the fifth.
"The slider was good. For me, especially, I was having trouble picking the spin on the slider. He got me chasing a couple of times," Beltran said.
Before this season, Fulmer had never pitched above Double-A. The Tigers got him last July in a trade that sent slugger Yoenis Cespedes to the New York Mets.
"Just trying to convince the Tigers they didn't make a mistake," Fulmer said.
Fulmer's scoreless string is longest by a Tigers rookie since John Hiller had a 28 2/3-inning streak in 1967.
Ian Kinsler homered, drove in two runs and scored twice as the Tigers won a series in the Bronx for the first time since 2008 at the old Yankee Stadium. Detroit has won seven of its last nine, with Kinsler homering and driving in five runs during Saturday night's victory.
The Yankees lost their second in a row following a five-game winning streak. This loss ended a stretch in which New York played 40 games in 41 days, going 23-17 in that span.
Chase Headley hit an RBI single in the eighth off Justin Wilson. Francisco Rodriguez closed for his 19th save in 20 chances.
Michael Pineda (3-7) gave up two runs and struck out eight in six innings. Miguel Cabrera singled to open the fourth and Victor Martinez then hit a liner that glanced off Pineda's backside for a single.
Pineda seemed shaky after that, with Nick Castellanos getting a sacrifice fly later in the inning and Martinez adding an RBI grounder in the fifth. Kinsler hit his 13th homer, a two-run drive off Anthony Swarzak in the seventh.
MIGGY MOVES UP
Cabrera doubled in the first for his 2,400th career hit. At 33 years old, he became the fifth-youngest player to reach that mark, Elias said. Tigers great Ty Cobb was the youngest to do it at 31.
JUST RELAXING
Actor Jeff Daniels stayed for the first four innings before leaving to get ready for the Tony Awards. He was nominated for best leading actor in a play for "Blackbird." The show closed Saturday night, giving the 61-year-old Michigan man a chance to see his favorite team in person. Daniels said he watched and listened to the Tigers this season in his dressing room. "I'm off for the summer, so I'll see my first game back in Detroit in a couple of weeks," he said.
UP NEXT
Tigers: LHP Matt Boyd (0-1, 3.38 ERA) starts Monday night in Chicago vs. White Sox RHP James Shields (2-8), who got hit hard in his first outing after being acquired from San Diego.
Yankees: After a day off, New York and RHP Nathan Eovaldi (6-2, 4.42) visit LHP Jorge De La Rosa (2-4, 8.81) and Colorado. Eovaldi is 6-0 with a 3.86 ERA in his last nine starts.