Harbaugh Hails Michigan and Notre Dame Resuming Rivalry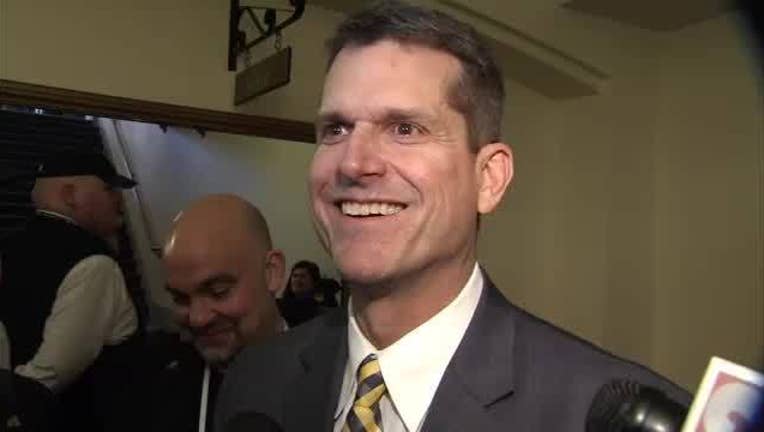 article
ANN ARBOR, Mich. (AP) - Jim Harbaugh hailed Michigan and Notre Dame for finding a way to resume their rivalry.
The two winningest programs in college football history announced Thursday they will play each other again: Notre Dame will host the Wolverines on Sept. 1 2018, and the storied series will shift to Michigan Stadium on Oct. 26, 2019.
"Two of football's premier programs, Michigan and Notre Dame playing each other makes sense on every conceivable level and is good for football, good for the players and good for the fans," Harbaugh wrote in a text message to The Associated Press. "Geographically it makes sense. In 2 to 2 2/1 hours we can get on a bus and be on their campus and in 2 to 2 ½ hours they can get on a bus and be on our campus. Any other argument is a distraction, it makes sense, so let's play."
Notre Dame opted out of its series with Michigan in 2012, canceling games in 2015-2017, two of which would have been at the Big House. The Fighting Irish said at the time the move was a "necessary precaution" as it began the process of a scheduling commitment to the ACC.
"We've wanted to make this happen for quite some time," Notre Dame coach Brian Kelly insisted.
Athletic director Jack Swarbrick said that he and his counterpart at Michigan, Warde Manuel, had worked together to renew a rivalry that ended when Swarbrick handed former athletic director Dave Brandon a letter on the field at Notre Dame prior to the game four years ago.
"Today is a great day for Notre Dame, Michigan and college football fans across the country," Swarbrick said. "While the schedule commitments of both Notre Dame and Michigan make an annual series impractical, we're optimistic that additional games can be scheduled in the future."
The move came at a cost: Michigan will pay Arkansas $2 million to cancel a home-and-home series in 2018-19.
Arkansas athletic director Jeff Long, who previously worked for Michigan's football program and athletic department, was informed the Wolverines were opting out of the series via e-mail Wednesday night.
"Primarily, we are disappointed in Michigan's timing in pulling out of a non-conference football series between the SEC and the Big Ten that has been set for four years," Long said. "While there are many other quality opponents that would help us strengthen our non-conference schedule, the late notice of Michigan's cancellation makes securing those games substantially more difficult."
Razorbacks coach Bret Bielema, a former Wisconsin coach, added: "As a former player and coach in the Big Ten, I was looking forward to the opportunity for our team to compete against one of my favorite Big Ten conference rivals. I'm disappointed that won't happen now."
The Big Ten also moved the Wolverines' home game against Rutgers from Oct. 26, 2019, to Sept. 28 of the same year to make room. Manuel thanked officials at Arkansas and Rutgers for their help "so we could bring this Notre Dame rivalry back to the field."
The rivalry dates to 1887, and Michigan leads the all-time series 24-17-1.
"We are having on-going discussions regarding extending the series with Notre Dame but nothing is finalized," Manuel said. "I look forward to working with Jack (Swarbrick) to try to accomplish this common goal while striving to achieve a balance of seven home games each season. Scheduling is a fluid process and we need to be strategic in the way we schedule out into the future."
Former Michigan star receiver Desmond Howard was thrilled to learn the series was coming back. Howard made a diving catch in the end zone against Notre Dame on a fourth-and-1 in the fourth quarter in 1991, helping Michigan win the game and him the Heisman Trophy.
"The disappointment that we all felt, not only former players who understood the significance of the series in college football, has been flipped upside down now that Notre Dame has finally figured out that this rivalry is good for them and good for college football," Howard said in a telephone interview with the AP. "Playing them in late October is a very weird spot on the calendar, but with conference alignment, this is where we are in college football. At least it's on the schedule again."
Conference realignment has contributed to the loss rivalries including Texas vs. Texas A&M and Kansas vs. Missouri. Notre Dame and Michigan will soon leave that list.
"I'm excited to see Notre Dame and Michigan, two brand-name programs, get back together on the football field," Kelly said.