Helm, Mrazek lead Red Wings to 4-1 win over Hurricanes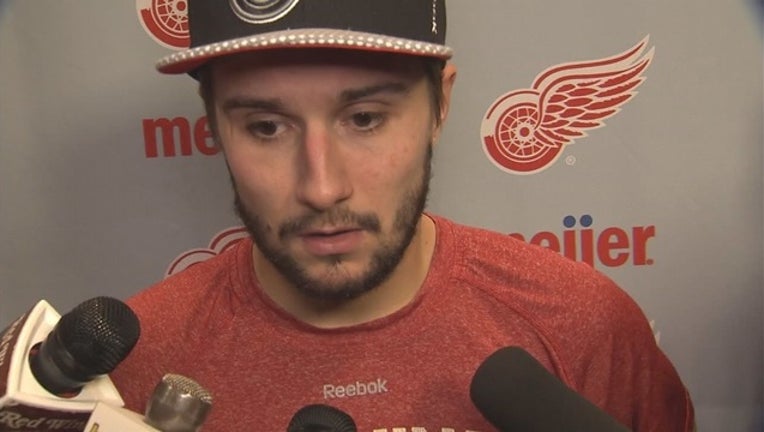 article
RALEIGH, N.C. (AP) - After two months of struggles, Darren Helm finally had the breakout game he's been seeking.
Helm had a goal and two assists, Petr Mrazek stopped 36 shots, and the Detroit Red Wings beat the Carolina Hurricanes 4-1 on Friday night.
Helm's goal was his first since Dec. 5, and he also had his first multi-assist game of the season.
"It feels great," Helm said. "I don't know if I played a whole lot better than I had in previous games, but it's definitely nice when the puck finally gets in the back of the net, either by myself or given to teammates."
Gustav Nyquist, Danny DeKeyser and Trevor Daley also scored for the Red Wings, who won their second straight after dropping six of eight.
Helm was at the center of it all, assisting on DeKeyser's tying goal and Daley's go-ahead score before finding the net himself on a breakaway late in the third period.
"He was buzzing," said Red Wings forward Henrik Zetterberg, who had an assist. "He's a fast guy, strong. It was nice to see him have this game."
Sebastian Aho scored for the Hurricanes, who snapped a three-game win streak. Scott Darling made 34 saves while losing for the sixth time in his last seven starts.
"We gave up too much in transition," Hurricanes coach Bill Peters said. "Their transition from defense to offense is very quick and we gave up a lot of odd man rushes and a lot of shots, and on those there was quality also. I don't think we managed the puck as good as we needed to."
Aho's power-play goal midway through the first opened the scoring. Justin Faulk's slap shot from the blue line nicked Mrazek's glove and fluttered over the Detroit netminder's back, and Aho knocked it in the air and into the net.
Helm and the Red Wings took over from there.
DeKeyser tied it before the period was out. Aided by a screen from Frans Nielsen, DeKeyser took a pass from Helm and ripped a slap shot that beat Darling to his blocker side.
Daley put Detroit ahead 5:06 into the second. Helm came up with a Hurricanes turnover deep in his own zone, raced down the ice and dropped a pass back to Daley at the point and he wound up and fired a vicious slap shot over Darling's glove.
Nyquist provided insurance in the third when he snapped a wrister over Darling's glove with 12:15 remaining.
Helm added the final blow when he came out of the penalty box and picked up a loose puck at center ice for a breakaway, firing a slapper over Darling right in front of his face.
"I just let it rip," Helm said. "I've struggled putting the puck in the net by making moves. I dumbed it down a little bit and it worked out."
NOTES: Mrazek improved to 4-1-1 in his last six games. ... DeKeyser's goal was his first in 18 games dating back to Dec. 15. ... Hurricanes F Teuvo Teravainen set a new career-high with his 28th assist. ... The Hurricanes have 13 power-play goals in their last 14 games.
UP NEXT
Red Wings: Finish their two-game road swing at Florida on Saturday.
Hurricanes: Host San Jose on Sunday.