Hot-shooting 1st half helps No. 20 Michigan beat Wisconsin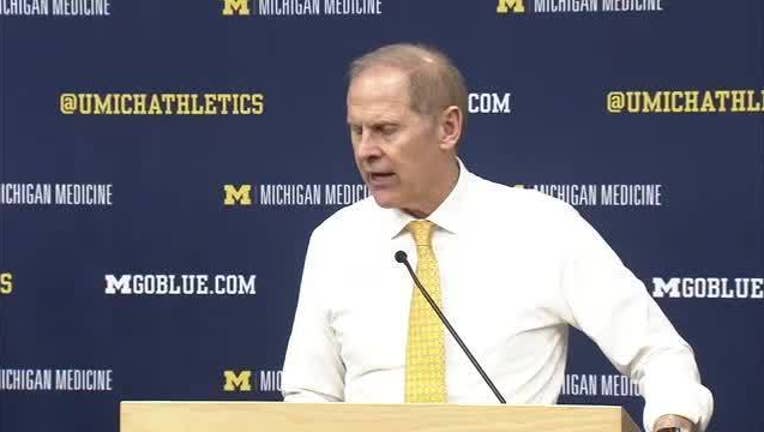 article
MADISON, Wis. (AP) - Duncan Robinson earned his first start in a month after putting on a 3-point shooting clinic at practice.
He rewarded coach John Beilein's trust and kept hitting from long distance in the first half against Wisconsin.
Robinson scored 16 points and made all four of his 3s in the first half, Moe Wagner had 20 points and 11 rebounds and No. 20 Michigan rode a hot-shooting start for an 83-72 win on Sunday. The Wolverines (20-7, 9-5) won on the road for the first time since upsetting Michigan State on Jan. 13.
This time, Michigan had to hold on after allowing much of its 22-point halftime lead slip away in the second half.
"Our defense in the first half was very good; second half not as good," coach John Beilein said. "We did not execute down the stretch. It melted a little bit."
But the Wolverines made more than enough shots and stops in the first half to hold off the Badgers.
The Wolverines started 12 of 16 overall and 7 of 9 from 3-point range. Robinson was 5 of 9 from the field, including 4 of 7 from 3, in his first start since Jan. 9 against Purdue.
"I watched this kid the other day. There was a goal of making 48 3s in 40 minutes. He made 50 in 55 shots," Beilein said about Robinson. "You're not going to make them if you don't shoot them."
Forward Ethan Happ led Wisconsin (11-16, 4-10) with a season-high 29 points, including 18 on 7-of-10 shooting in the second half.
A quiet Kohl Center crowd reawakened after a 12-0 run drew the Badgers within 58-47 with 8:52 left. Aleem Ford's 3 with 2:37 left to get within eight kept Wisconsin's flickering hopes alive.
But a prototypical fundamentally sound Michigan team kept its composure and Wisconsin ran out of time. Allowing Michigan to shoot 65 percent in the first half proved to be too problematic.
"Just too much early, and with the way they spread the floor ... it got us out of being able to play two bigs together because we had to be able to cover more on the perimeter," coach Greg Gard said.
Michigan adjusted by going to the hoop.
"First off, we gave up too many 3s," Happ said. "That opens up a lot of stuff for them."
Brevin Pritzl added 13 points. Nathan Reuvers scored seven, including a jumper and a 3 that started Wisconsin's second-half run.
BIG PICTURE
Michigan: The Wolverines reached the 20-win plateau for the eighth time in Beilein's 11 seasons as coach. Robinson was 4 of 5 from 3-point territory in the first half, matching his output from long range for his four previous games combined (3 of 14). ... Wagner was 3 of 6 from 3-point range before fouling out with 39 seconds left.
Wisconsin: The Badgers trailed at home by at least 19 points at the half for the third time this season. With so many freshmen playing key roles and the guard rotation limited by injuries, Wisconsin doesn't have enough offensive firepower to come back from such big deficits.
ETHAN HAPPENS
Happ had his way in the paint down the stretch with an array of baseline drives and post moves. Michigan didn't double-team Happ often, as other opponents have done this year, though Happ did miss some easy looks inside in the first half.
"I was getting to the spots I wanted to go, stuff I practice every day," Happ said. "It didn't go in for me."
HAIL VICTORY
Winning at Wisconsin, let alone so easily, is a rarity for Michigan. The Wolverines secured a road victory in the series for just the second time since 2000, with a 77-70 victory over the then-No. 3 Badgers in 2014 the only other win in that stretch.
MICHIGAN D
Wisconsin shot 49 percent for the game (27 of 55) but just 36 percent (9 of 25) in the first half. Michigan also held a 33-23 edge on the boards and tracked down other loose balls in the first half to limit Wisconsin's opportunities.
"It all started with our defense. When we get out in transition and get easy baskets, everything is a lot easier for us," Wagner said.
UP NEXT
Michigan: Hosts Iowa on Wednesday.
Wisconsin: Faces its second straight ranked opponent when No. 3 Purdue visits on Thursday.