Illinois Outlasts Michigan State 73-70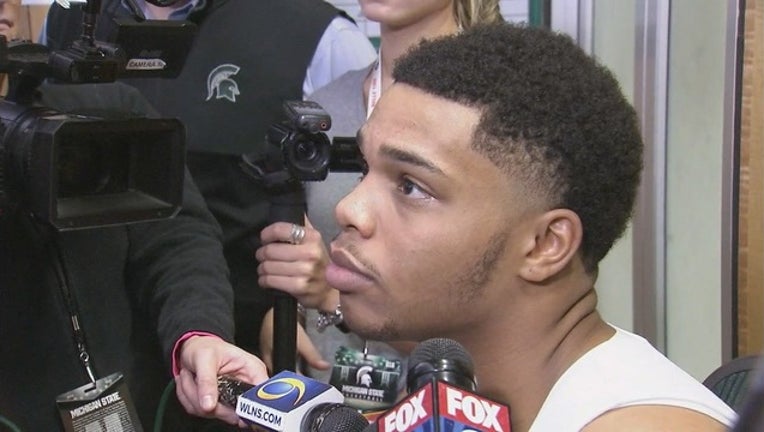 article
CHAMPAIGN, Ill. (AP) - Too many times, Illinois had fallen to pressure.
In a season filled with disappointment for Illinois coach John Groce and his team, Wednesday's 73-70 win over Michigan State showed the team Groce thought he would have all season, and one players knew they could be.
The Spartans fought all the way, erasing a couple of double-digit leads, but the Illini relied on a defense that's grown stronger in the last few games.
"It just feels different," said Malcolm Hill, who led the Illini with 22 points. "I think it's just clicking for us."
Michigan State had a chance to win the game in the last 10 second, but Miles Bridges missed a layup when Illinois' Te'Jon Lucas stripped the ball away.
Illinois led 73-70 with three seconds left after Kipper Nichols made one of two free throws and Lourawls Nairn Jr. attempted a 3-pointer with the game clock expiring, but the shot caromed off the backboard, securing the Illini win.
Hill scored 22 points on 6 of 16 shooting and helped the Illini control the pace for what was a close game for much of the night - leading for 25:33.
Much of the success came from hot shooting. Illinois (18-12, 8-9 Big Ten) shot 45 percent from the field and 11-26 from 3-point range.
But the key was a strong defensive effort that has helped Illinois win four straight and five of the last six games.
For a team that has gone through a clich? rollercoaster ride this season, Illinois still has a postseason shot with one game left. Insiders and fans may not have seen that coming after the rough start to the season.
"It was a high-level game, there was a lot of emotion both ways," Groce said. "It's kind of cool when you're still playing for something."
Michigan State coach Tom Izzo had fewer answers on the other hand.
His team shot 48 percent from the field, 8-21 from 3-point range, out-rebounded Illinois 33-25, but despite all the category wins, the Spartans couldn't overcome Illinois and only led for 8:40.
Izzo was worried about his team's confidence after the Spartans beat No. 16 Wisconsin on Sunday, and he was right to be worried.
"It was not the focus that we need on the road to beat a good, experienced team," Izzo said. "I'm just disappointed. We didn't do enough."
Bridges led the way for Michigan State (18-12, 10-7 Big Ten) with 21 points and Alvin Ellis III scored 15 points, 13 of which came in the second half. The Spartans turned the ball over 15 times.
Izzo's team has one more game before the postseason starts. He wants an accountable team, and is eager to see how the Spartans respond.
"This time I thought the players did not bring what they needed to bring, and we'll find a way to bring it to Maryland," Izzo said.
BIG PICTURE
Michigan State: Izzo can't be happy with his team, losing a game that it should've won. With a game left in the season, the Spartans are poised for strong runs in both the Big Ten and NCAA tournaments.
Illinois: The Illini won arguably their most important game of the season. A win against Rutgers and a few more in the Big Ten Tournament might be enough for an NCAA Tournament berth and save Groce's job.
HIGHLIGHT REEL
Freshman guard Te'Jon Lucas continued to make flashy plays Wednesday. With 5:52 left in the game, the guard made a no-look pass to give Leron Black an uncontested dunk.
FRESHMAN STANDOUT
Kipper Nichols continued a strong first season, scoring five points and bringing in three rebounds and one steal.
STAT OF THE NIGHT
Bridges had a strong start to the game, scoring seven points and bringing in six rebounds in the first 10 minutes of the game.
UP NEXT
Michigan State ends the season with a road tilt at Maryland on Saturday.
Illinois travels to Rutgers on Saturday for its season finale.