J.D. Martinez Hits 3-run HR in Tigers' 9-2 Win over Mets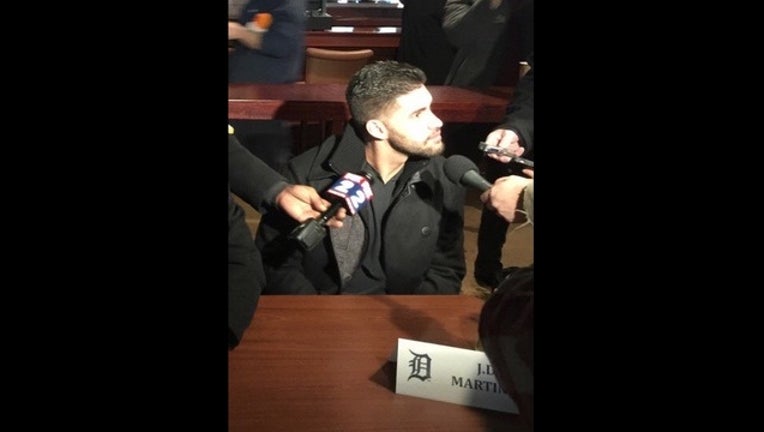 article
LAKELAND, Fla. (AP) - Minor injuries befell key components of the Mets and Tigers on Monday. Neither manager, however, is worried.
Detroit designated hitter Victor Martinez pulled his left hamstring after a single in the Tigers' 9-2 win over New York. At first, it looked serious, and Tigers manager Brad Ausmus thought it might be an injury to Martinez's left knee, but after the game, he said Martinez was fine but would miss a few games.
"I'm not too concerned," Ausmus said. "If it were, that would be serious, but it is mild. He'll be ready in a couple of days."
Ausmus was even able to joke about it. "I don't think it will affect his ability to steal bases," he said of Martinez, who has seven stolen bases in his 14-year career.
For New York, pitcher Jacob deGrom is struggling with back stiffness and missed Monday's start, instead throwing batting practice at the Mets' spring training facility.
"He'll be starting by the end of the week," Collins said.
J.D. Martinez led the Tigers' offensive onslaught Monday, hitting his third homer of the spring and second in two days to boost his batting average to .217. Meanwhile, Ian Kinsler had another hit and raised his spring average to .391.
For the Mets, third baseman Wilmer Flores went 3-for-3 with two doubles.
STARTING TIME
METS: With deGrom on the shelf, the Mets started Seth Lugo, who went two innings without allowing a run.
TIGERS: Daniel Norris and Shane Greene are battling for the last rotation and got to audition against the Mets.
Norris started and went two innings, allowing three hits and a run. "I felt like I had good velocity and threw a lot of strikes," said Norris, who struck out four. "I got a couple of pitches up but I know I have to do better."
Greene threw four scoreless innings and notched the save.
HEAVY HITTERS
TIGERS: Detroit has come out slugging this spring, with 15 players with at least one home run. OF Steven Moya has four homers and C Bryan Holaday has three homers. IF Ian Kinsler, who usually bats leadoff, has 12 RBI.
UP NEXT
METS: RHP Noah Syndergaard will pitch Tuesday in Jupiter against the Marlins.
TIGERS: Justin Verlander will make his third start of the spring against the Atlanta Braves. He hasn't allowed a run in five innings this spring.