J.D. Martinez Homers as Tigers beat Pirates 3-0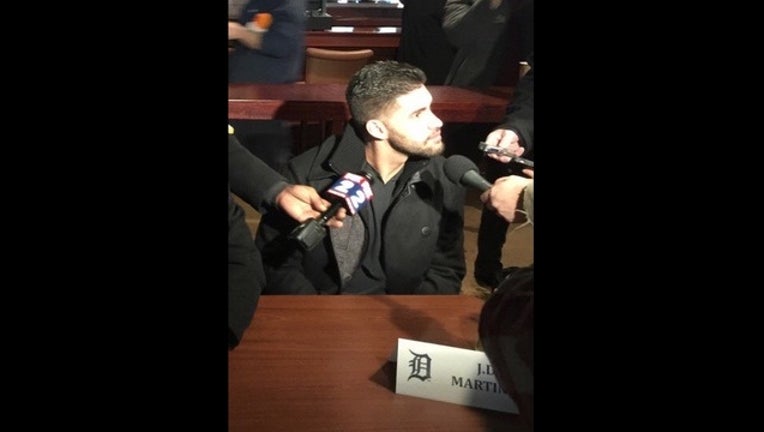 article
LAKELAND, Fla. (AP) - Francisco Rodriguez made his spring debut for Detroit and pitched an inning in relief of Mike Pelfrey, helping the Tigers to a 3-0 victory over the Pittsburgh Pirates on Saturday.
Rodriguez was acquired in a trade with Milwaukee in November and is expected to serve as Detroit's closer. Rodriguez, who turned 34 in January, had 38 saves in 40 chances with the Brewers last year.
Rodriguez's arrival at spring training was delayed by visa issues. But the right-hander struck out three in his one inning against the Pirates. He also walked a batter and allowed a single.
"I felt fine," Rodriguez said. "My location wasn't as good as I wanted but I got to work on things. I never want to throw the same pitch to the same batter so getting command is what I need to do."
Rodriguez said he plans on at least seven more spring outings, all one inning. He said he counts on pitching every other day until the last week of spring training and then several consecutive outings leading up to the season opener.
"I'll be ready," Rodriguez said. "My work ethic has always worked for me. I don't really look at my numbers in the spring, I just want to get my work in."
Pelfrey allowed four hits in five innings in his third and longest outing of the spring. J.D. Martinez broke out of a spring slump with a long home run.
STARTING TIME
Pirates: Jeff Locke's spring ERA ballooned to 6.00 when he allowed two runs in four innings, including the Martinez home run. He struck out five and walked one.
"I'm still feeling healthy and strong," Locke said. "Right now I am trying to make all of my pitches look like fastballs even when I am mixing them up. I am happy with where I am but it is a process."
Tigers: Pelfrey struck out three and walked one. The right-hander signed with the Tigers over the winter after three years with the Twins.
"I feel like I am finding my command," Pelfrey said. "The last time I started, I was all over the place. I wasn't expecting five innings, but the count was down so we gave it another inning and I feel fine."
TRAINER'S ROOM
Tigers: OF Cameron Maybin is still out with a non-displaced fracture of his left wrist after being a hit by a pitch on Wednesday. His wrist will be immobilized and he is expected to be out for up to six weeks.
UP NEXT
Pirates: Gerrit Cole will make his first appearance of the spring in Bradenton against the Tigers. The ace right-hander will be followed by Tony Watson, Neftali Feliz and Rob Scahill.
Tigers: Matt Boyd will start against the Pirates on Sunday.
ROSTER MOVES
The Tigers reassigned RHP Joe Jimenez, LHP Kevin Ziomek and catchers Austin Green and Kade Scivicque to their minor league camp.
OPENING DAY
Pirates manager Clint Hurdle announced that left-hander Francisco Liriano will start against the St. Louis Cardinals on April 3. It will be Liriano's third straight opening-day start.
SLOW START
Tigers newcomer Justin Upton, expected to provide a spark in left field, is off to a slow start. He is batting .125 after an 0-for-2 performance on Saturday. He said he isn't concerned yet.
"I hit one to deep center but it was an out," Upton said.
"I am just trying to stop swinging at bad pitches. I still see a lot of good signs."