JD Martinez's 3 Homers Power Tigers past Yankees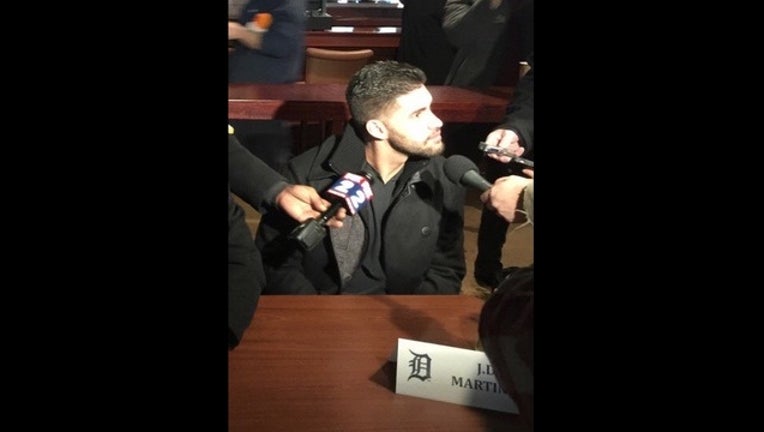 article
LAKELAND, Fla. (AP) - J.D. Martinez hit three home runs, one to each part of the ballpark, to lead the Detroit Tigers past a New York Yankees' split squad 10-6 on Thursday.
Martinez entered the game with a .213 batting average and raised it to .255 on his three hits.
"I'm finally starting to hit the ball well," he said. "It's just about time to start locking in."
Martinez, who had 38 homers and 102 RBIs for the Tigers last year, is looking to cut down on his strikeouts. He has struck out a team-high 17 times this spring.
"I know my average isn't where it needs to be, but I am where I want to be," Martinez said. "I am finally starting to really see pitches and it's starting to come naturally."
Tigers manager Brad Ausmus isn't concerned about the batting average. Martinez is a lock in right field.
"I am not surprised by anything he does," Ausmus said. "He's going to be right in the middle of the order all year."
Victor Martinez also homered for the Tigers. It was his third homer of the spring and his first since returning from a hamstring strain he suffered on March 14.
BROTHERLY LOVE
Tigers ace Justin Verlander threw 77 pitches during a minor league game, but his younger brother Ben, an outfield prospect, hit a long home run off of his brother. Ausmus wondered if Justin threw a "cookie." Verlander wouldn't say.
"Yeah, the pitch was kind of right down the middle," he said with a grin. "I know he'll brag about it. I just laughed. He'll enjoy it for a long time."
After his last start in Lakeland, Verlander said he felt fine.
"I'm not as good as I can be but I'll be ready when we get north."
Brian McCann caught the minor league game and said there's nothing to worry about with Verlander, who won only five games last season.
"They weren't teeing off on him or anything," McCann said. "He looks great."
STARTING TIME
Tigers: Kyle Ryan missed his start with what Ausmus described as a minor illness. Ausmus said Ryan could pitch on Friday. Logan Kensling started instead and didn't allow a run in two innings. Lendy Castillo, the other finalist for the last spot in the Tigers' rotation, gave up a two-run homer to New York's Austin Romine.
Yankees: Starter Chad Green gave up six runs and six hits in 4 1/3 innings. He walked two and struck out four.
TRAINER'S ROOM
Tigers: OF Cameron Maybin has been out for most of the spring with a fractured left wrist but took batting practice on Thursday. He won't be with the team for opening day, but Ausmus said Maybin is recovering more quickly than expected. Ausmus said he wants Maybin to get at least 40 at-bats before putting him in the lineup.
UP NEXT
Yankees: Nathan Eovaldi is scheduled to start on Friday in Miami against the Marlins. It will be his fourth start of the spring.
Tigers: Anibal Sanchez will start against the Tampa Bay Rays. He has only pitched four innings this spring, all in one start. He is penciled in as the No. 2 pitcher in the Tigers' rotation.