Kennard, Moreland have career nights as Pistons rout Bulls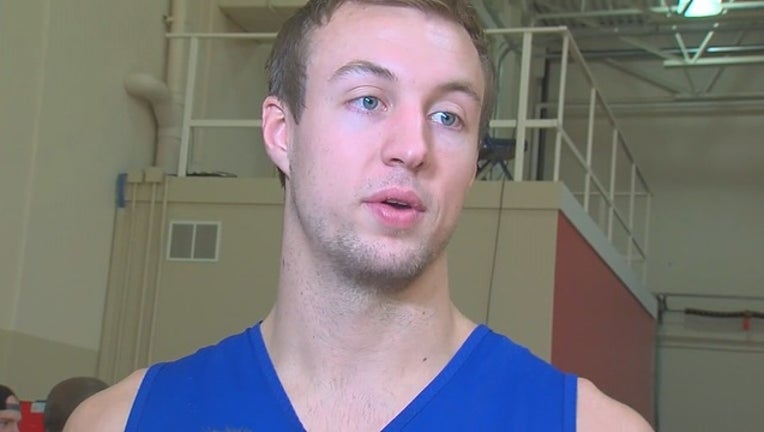 article
CHICAGO (AP) - Eric Moreland got the most playing time of his career - and he delivered with peak production.
The center, starting in place of the injured Andre Drummond and without Blake Griffin in the front court, helped the Detroit Pistons end a disappointing season on a high note with a 119-87 rout of the Chicago Bulls on Wednesday night.
Moreland had career highs with 16 points, 17 rebounds, four blocks and four steals in 41 minutes, and rookie Luke Kennard added a career-high 23 points for Detroit, which won 14 of their first 20 but fell short of the playoffs.
"We also have a resilient group, everybody cares on this team, and everybody just comes to work every day," Moreland said. "But even coming out not making the playoffs, I knew everybody would play hard and go into the offseason with our heads high knowing we played hard."
Anthony Tolliver had 18 points and Henry Ellenson added 14 points and 10 rebounds as the Pistons snapped a two-game losing streak and won for the ninth time in their last 13 games.
"I was really happy with the way we played," Pistons coach Stan Van Gundy said. "Eric was outstanding. Everybody who played, played well."
Rookie Lauri Markkanen had 20 points, and Sean Kilpatrick added 14 in his only start of the season for Chicago.
The rebuilding Bulls maintained their seventh position heading into the draft lottery on May 15, losing their fourth straight. It was also Chicago's 11th loss in 14 games.
"We learned a lot as a team and I learned a lot as an individual," Markkanen said. "When I look back now, I don't know what I was thinking when I was coming in. I know a lot more now, even though it's only one season. I'm a lot better player than when I was coming in, but I have a lot of work ahead of me."
Tolliver made his first five shots and also keyed an early 22-4 run as Detroit took a 35-21 lead after one quarter.
The Pistons shot 26 of 45 (57.8 percent), including 10 of 19 (52.6 percent) on 3-pointers, to take a 66-50 halftime lead.
The Bulls had a 13-5 run early in the third quarter and got the margin down to 71-63 after six straight points from Markkanen. But Ish Smith had six points during an 11-0 run that re-established a 20-point margin for Detroit, which led by as many as 34 in the fourth quarter.
"Throw this game out," Chicago coach Fred Hoiberg said. "It was a team that was a lot of fun to coach. It was a group that whether we were going through good times or bad, they came in with the right approach."
The final margin of victory was the second-largest of the season for Detroit, behind a 114-80 win on Jan. 10 against Brooklyn.
TIP-INS
Pistons: Starters Reggie Bullock (left knee swelling), Drummond (sore Achilles tendon) and Griffin (right ankle contusion) were again held out with minor injuries. ... The Pistons (39-43) finished under .500 for the ninth time in the last 10 seasons.
Bulls: Justin Holiday and Robin Lopez were held out by the Bulls, and injured Kris Dunn, Zach LaVine, Antonio Blakeney, Denzel Valentine, Paul Zipser and Noah Vonleh were on the inactive list. ... The Bulls (27-55) finished under .500 for the first time since 2007-08.
EVEN MATCH
Detroit evened the all-time series with Chicago at 129-129.
HOMETOWN HERO
Kay Felder had his first basket for Detroit with a late jump shot, scoring two points. The Detroit native and former star at nearby Oakland University played 3 minutes in one previous game this season after being acquired Jan. 15 as a two-way player with the Grand Rapids Drive of the G League.
ANOTHER MARK
Markkanen hit three 3-pointers, setting a record with 145 3-pointers made as a rookie, breaking Kirk Hinrich's franchise mark of 144 set in 2003-04.
The 20-year-old from Finland recently became the fourth Bulls rookie with 1,000 points and 500 rebounds, joining Elton Brand, Michael Jordan and Dave Greenwood.
QUOTABLE
"The Bulls won 72 (in 1995-96), how many games did (Michael) Jordan play? He played 82, all six years. It wasn't, 'We're five games up, so we need a rest.' And he seemed to have something left in the playoffs to me," Van Gundy said, while holding court for more than 10 minutes in a pregame media session about NBA teams tanking and resting players down the stretch.
On tanking: "To me, it's a lack of integrity in your league and a lack of respect for your fans," Van Gundy said.
Owner Tom Gores said Monday he expects to meet with Van Gundy next week about the future of the franchise.
"I've seen enough from our team, in terms of results and the way guys have played, that I know this is a good team if we're healthy," Van Gundy said. "We're just disappointed. When you get to the end of any year. We had high expectations for this year and to not be in the playoffs and to have it done tonight, it's disappointing, there's no question about it."
UP NEXT
Pistons: Season over.
Bulls: Season over.