Kinsler, Cabrera Homer as Tigers beat White Sox 2-1 in 7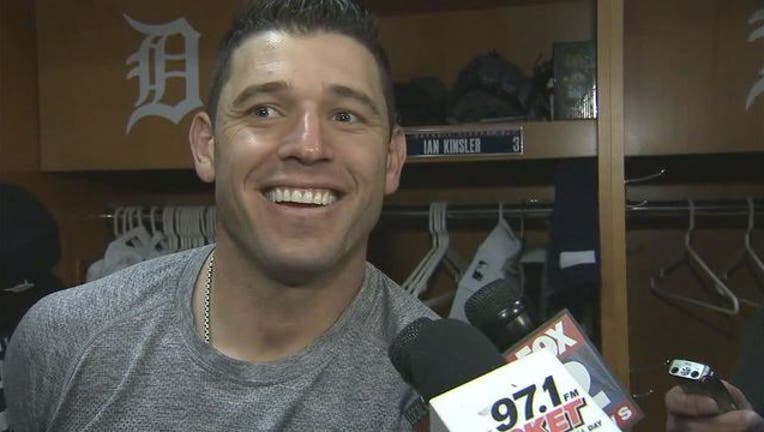 article
CHICAGO (AP) - The Detroit Tigers had to wait out a marathon rain delay before the game was finally called. They won't get too many wins like this, and they won't complain about it, either.
Ian Kinsler hit his 20th home run, Miguel Cabrera added his 19th and Detroit beat the struggling Chicago White Sox 2-1 in a game that was stopped after more than a two-hour rain delay in the seventh inning on Thursday.
A heavy downpour before the bottom of the seventh sent players and umpires running for cover. And after two hours, five minutes the game was called.
"A lot of riddles, dominos, cribbage, poker, watching other games," Kinsler said, describing the scene in the clubhouse during the delay. "Just kind of hanging out, trying to stay aware of the weather situation and if we're gonna have a chance to play. There's not really much you can do."
The Tigers did what they needed to do before the rain came and opened a seven-game trip on a winning note. The White Sox have now dropped seven of eight.
Kinsler and Cabrera made it 2-1 with solo homers against James Shields (4-12) in the fifth. Mike Pelfrey (3-9) won for just the second time in nine starts, and the Tigers came out on top after dropping two of three against Minnesota.
Adam Eaton had three hits and scored for Chicago. Shields gave up two runs and seven hits in six innings, but the White Sox continued their slide after going 1-5 on a trip to the Los Angeles Angels and Seattle.
"We found another way to lose a game today," Eaton said. "It's just crazy."
Held to four runs in the Minnesota series, the Tigers used the long ball to grab the lead in the fifth.
Kinsler tied it with one out on a drive to center for his second homer in as many games. Cameron Maybin followed with a fly to deep right before Cabrera made it 2-1 with his shot to left-center. The home run — his 427th — tied Mike Piazza for 47th all-time. It also gave him 1,499 RBIs.
"We only scored two runs but, truthfully, this is the second day in a row where we hit the ball hard," manager Brad Ausmus said. "We didn't have a lot to show for it in terms of runs, but up and down the lineup guys hit the ball hard."
REBOUND PERFORMANCE
Pelfrey, knocked out in the second by Kansas City last week, picked up the win after going 1-4 in his previous eight starts. The right-hander gave up a run and eight hits before leaving with one out in the sixth and runners on first and second.
Shane Greene came in and hit Tyler Saladino with two out to load the bases. He then retired J.B. Shuck on a soft grounder to first for his second save in as many chances.
TRAINER'S ROOM
Tigers: RF J.D. Martinez took batting practice for the first time since he broke his right elbow last month. "It still bothers him a little bit to throw," said manager Brad Ausmus, who indicated they've yet to determine when he'll begin a minor league rehab stint. . RHP Jordan Zimmerman (neck) threw a 40-pitch bullpen session. Next up, a rehab start Sunday for Triple-A Toledo. . OF Tyler Collins (neck) said he felt much better, but remained out of the lineup.
White Sox: 2B Brett Lawrie is day to day after leaving the game because of tightness in his left hamstring. He popped out to the pitcher in the second inning and was replaced at second base by Tyler Saladino in the fourth. ... GM Rick Hahn said LHP Carlos Rodon (wrist) "is progressing nicely" and will make a minor-league rehab start before returning. ... Catcher Alex Avila (hamstring) suffered a setback in a rehab game with Triple-A Charlotte and likely won't be activated for another month. ... RHP Zach Putnam (right elbow) also had a setback and will likely need to have bone spurs removed from his elbow. Hahn said OF Austin Jackson, recovering from a torn meniscus in his left knee, will start "ramping up non-impact activity" in the coming days.
UP NEXT
RHP Michael Fulmer (9-2, 2.13 ERA) — 7-1 in his past 10 starts — looks to stay on a roll for Detroit while RHP Jacob Turner (0-1, 18.00) makes his second start for Chicago.