Kinsler, Iglesias lead Tigers to 6-3 win over Astros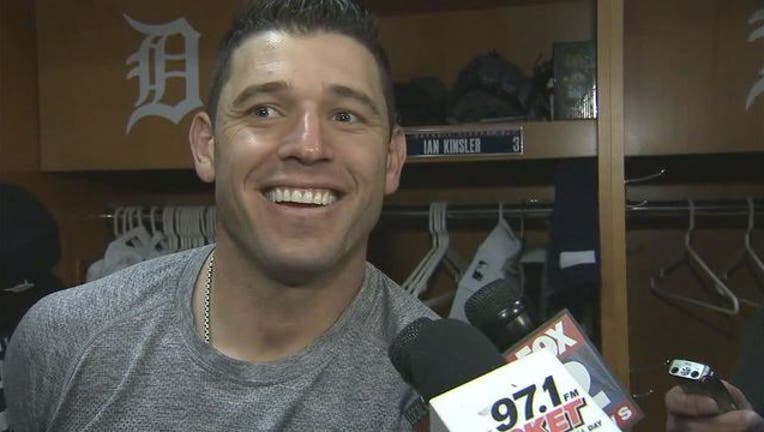 article
HOUSTON (AP) - It took the Detroit Tigers three games, but they got the offense going again.
Jose Iglesias finished a triple shy of the cycle, Ian Kinsler had two hits and scored twice, and Detroit beat the Houston Astros 6-3 on Wednesday night to snap a three-game skid.
Iglesias, who scored three runs, doubled to lead off the eighth. He moved to second on a single by Kinsler before scoring on Alex Avila's RBI grounder off Chris Devenski (3-3) to give the Tigers a 3-2 lead. Following an intentional walk to Miguel Cabrera, Kinsler scored on Victor Martinez's RBI grounder.
Iglesias hit a two-run homer in the ninth.
In their three-game losing streak, the Tigers had scored four runs.
"It took a little bit of time, but we got the bats going better tonight," Detroit manager Brad Ausmus said. "It was a much better night. We're going to score runs through the course of the season. The last two games were a team-wide slump."
In the third, Iglesias scored on Charlie Morton's wild pitch before Kinsler scored on Cabrera's double-play grounder to give Detroit a 2-0 lead.
"We were able to put some good at-bats together and get the victory," Iglesias said. "As a team, we needed it. I hope we get some momentum from this."
Shane Greene (1-0) retired all five batters he faced for the win.
Evan Gattis, and Norichika Aoki hit sacrifice flies in the third and fourth innings, respectively, to tie it at 2-2. Alex Bregman hit a solo home run with two outs in the ninth off Justin Wilson.
Houston finished 0 for 8 with runners in scoring position.
"I think we had a few chances on (Daniel Norris) early," Bregman said. "We put some good at-bats together. He did a good job later in the game limiting us to only two runs. Made some good pitches."
Norris gave up two runs and four hits with five strikeouts in 6 1/3 innings. Norris, Greene and Wilson combined to retire 17 straight batters until Bregman's homer.
"From the fifth inning on, I was letting the ball go and trusting my stuff, and that is where I get strike one," Norris said. "Before that, I was pressing for a lack of a better term. I was trying to throw strikes, being very conscious of not walking them."
Morton allowed two runs and four hits with six strikeouts in seven innings. The right-hander retired 14 of the last 15 batters he faced.
"To get through seven, he labored a little bit, but as he got into the game, he got a little bit better as the game went on," Houston manager A.J. Hinch said. "Happy for him to get through as many innings as he did and keeping the game right where it was."
TRAINER'S ROOM
Astros: SS Carlos Correa was out of the lineup for a second straight game because he wasn't feeling well. ... LHP Dallas Keuchel, who is on the 10-day DL with a pinched nerve in his neck, played catch Wednesday, Hinch said. "It's going in the right direction, but we have a few days," Hinch said. "He's feeling a little better. I know his mind is getting right to possibly come back. We'll see if his neck can cooperate with his throwing program and all the things he does to prepare."
NICE GRAB
Bregman made a tricky catch before going into the Tigers' dugout to start the fifth. Tyler Collins hit a towering foul ball that forced Bregman to run in front of the Detroit dugout. Bregman reached over and made a leaning catch on the railing of the dugout just before heading down the steps.
"I thought I was going to run into the fence actually," Bregman said. "I kind of put my hand down a little bit to try and put it on the fence but there was no fence it was just the steps. I slipped a little bit but I got it."
UP NEXT
Tigers: RHP Justin Verlander (4-3) will make his 10th start of the season Thursday in the finale of the four-game series. Verlander is 4-0 with a 2.05 ERA in seven starts against Houston in his career.
Astros: RHP Mike Fiers (1-2) will look for a second straight good start Thursday after allowing two runs in six innings in his last outing.