Kinsler's 5 RBIs Help Verlander, Tigers beat Yankees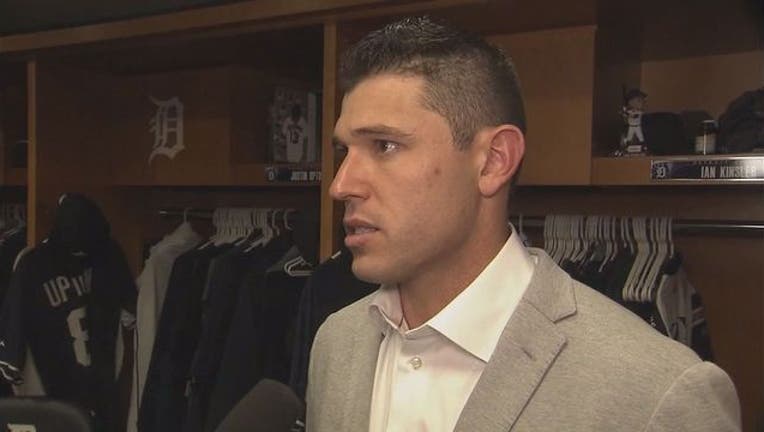 article
NEW YORK (AP) - Ian Kinsler homered and drove in a career-high five runs, and Justin Verlander finally won in the new Yankee Stadium in the Tigers' 6-1 victory over New York on Saturday night.
Verlander (6-5) allowed one run on five hits in 6 2/3 innings and struck out five to snap the Yankees' five-game winning streak. Verlander had been 0-4 with a 4.84 ERA in seven starts at this park, which opened in 2009.
Kinsler hit a tiebreaking three-run homer in the fifth and a two-run double in the seventh. Nick Castellanos also homered, and No. 9 hitter Jose Iglesias was 2 for 4 and scored twice.
New York's No. 9 hitter, Rob Refsnyder, went 2 for 3 and drove in its only run. Normally a second baseman who's starting at first because four Yankees who play that position are on the disabled list, Refsnyder had been 0 for his last 12.
Masahiro Tanaka (3-2) allowed five runs on six hits in 6 1/3 innings for New York, striking out four. He had given up two or fewer earned runs in 10 of his 12 starts this season.
Tigers reliever Alex Wilson loaded the bases with two outs in the bottom of the ninth. But with the tying run in the on-deck circle, closer Francisco Rodriguez got Chase Headley to ground out to convert his 18th straight save opportunity.
With the score tied in the fifth, Justin Upton and Iglesias singled, then Kinsler hit a high fly down the left-field line that hooked around the foul pole for a 4-1 lead.
Tanaka departed after allowing a one-out single to James McCann in the seventh. Kirby Yates came on and immediately gave up a single to Iglesias and the double to Kinsler to make it 6-1.
Castellanos homered to lead off the top of the second for a 1-0 lead.
With one out in the bottom of the third, Headley drove a ball down the left field line that hit near the base of the foul pole. It was ruled a triple on the field, and the call was upheld on review after a delay of 2 minutes, 40 seconds. Headley may not have gotten the home run, but he promptly scored anyway when Refsnyder singled him in on the first pitch he saw to tie the game.
DOUBLED OFF
With one out in the fourth and J.D. Martinez on first, Castellanos hit a deep drive to left-center that Brett Gardner tracked down. Martinez had rounded second by then, and as he tried to dash back, a perfect relay from Gardner to shortstop Didi Gregorius to Refsnyder doubled him off to end the inning.
UP NEXT
Tigers: Rookie RHP Michael Fulmer (6-1) brings in a streak of 22 1/3 scoreless innings as he seeks his fifth straight win.
Yankees: RHP Michael Pineda (3-6) made it through seven innings for the first time in 23 starts in a win over the Angels in his last outing.